Amsterdam
General
Weather
Airports
Attractions
Kids Attractions
Events
Restaurants
Shopping
Nightlife
---
Introduction Region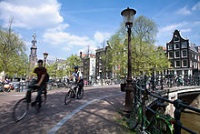 A familiar Amsterdam scene. ©Jorge Royan
Lively, lascivious Amsterdam has a unique atmosphere that makes a mockery of the caricature of the 'conservative Dutch'. Radiating out from Dam Square, the historic centre of the city is ringed by quaint canals and cobbled streets, and throngs with bicycles, tourists, houseboats, students and street performers. Amsterdam wears two faces: on one, it smiles and beckons hedonistic youth with its notorious Red Light District and liberal view of marijuana use; while on the other it offers discerning travellers some of Europe's finest museums and art galleries.
For the tourist, one of the joys of Amsterdam is its compactness. The old part of town is a pleasure to explore on foot, strolling across ancient bridges and down narrow lanes past gabled houses, and dropping in to browse inviting souvenir boutiques crammed with blue and white Delft china, wooden clogs and tulips. Pavement cafes and cosy bars offer rest and refreshment. An alternative is to take a circular canal-boat cruise and see the city from the water, peering in on the lives of the locals who live on houseboats lining the waterways.
At night even the most conservative visitor is drawn by the lively atmosphere of the infamous Red Light District, known as De Wallen, which is bounded by the Oudezijds Voorburgwal and Oudeziujds Achterburgwal canals near Dam Square. Here prostitutes display their charms in shop windows and touts encourage passers-by to view raunchy floorshows. The best nightclubs and bars, and theatres and cinemas are mainly to be found in the bustling Leidesplein and Rembrandtplein.
Climate Info
The oceanic climate of Amsterdam is temperate, generally mild and damp. Winters (December to February) are fairly mild, though frost can occur; while summers (June to August), are warm but seldom hot. Temperatures in summer average between 68°F (20°C) and 71°F (22°C), and in winter temperatures average around 32°F (0°C). Cloudy, rainy days can be expected at any time of year, and light rainfall is common. On the whole the weather in Amsterdam is very changeable, and even in mid-summer visitors should be prepared for sudden drops in temperature. Spring and autumn in particular are unpredictable. The best time to visit Amsterdam is spring (March to May) when the beautiful gardens are in bloom, although summer is still the peak tourist season and can be crowded. Amsterdam is considered a year-round destination and some travellers prefer to visit in autumn or winter, when the city is at its cheapest and least crowded.
Convert to Imperial
Convert to Metric
| | | | | | | | | | | | | |
| --- | --- | --- | --- | --- | --- | --- | --- | --- | --- | --- | --- | --- |
| Month | Jan | Feb | Mar | Apr | May | Jun | Jul | Aug | Sep | Oct | Nov | Dec |
| rain (cm) | 79 | 44 | 89 | 39 | 50 | 60 | 73 | 60 | 80 | 104 | 76 | 72 |
| max temp (c) | 5 | 6 | 9 | 12 | 17 | 19 | 20 | 21 | 18 | 13 | 9 | 6 |
| min temp (c) | 1 | 1 | 2 | 4 | 8 | 11 | 12 | 13 | 11 | 7 | 4 | 1 |
| good weather | no | no | no | no | yes | yes | yes | yes | yes | yes | no | no |
Getting Around
The central area of Amsterdam is fairly compact and easy to get around on foot. The GVB public transport office at Central Station has route maps and a guide to the ticketing system, which is based on zones with the same ticket valid on buses, metros and trams. After midnight there are night buses that run from Central Station to most parts of the city. Taxis are among the most expensive in Europe and renting a car or driving one's own to Amsterdam is not recommended. The ideal way to get around is by bicycle; there are several rental agencies around town (about €7 daily).
Amsterdam Schiphol Airport (AMS)
| | |
| --- | --- |
| Location | The airport is about thirteen miles (20km) from Amsterdam. |
| Time Difference | GMT +1 (GMT +2 from the last Sunday in March to the last Sunday in October). |
| Contacts | Tel: +31 207 940 800, or from the Netherlands: 0900 0141. |
| Getting to city | The airport railway station is located beneath Schiphol Plaza and trains depart for central Amsterdam and other destinations around the Netherlands. Trains leave the airport station regularly, except from 12.30am to 5am when the service only runs every hour. The short 20-minute journey costs around €4.20. Most buses into Amsterdam run every 15-30 minutes from 6am until midnight on weekdays and slightly less frequently on weekends. Many hotels offer free shuttle services to guests. |
| Car Rental | Car rental desks can be found inside the arrivals hall, and include Avis, Budget, Europcar, Hertz, Sixt and Enterprise. |
| Airpor Taxis | A taxi to the city centre takes around 30 minutes. Visitors can go to Schiphol Plaza where they will find the metered Schiphol Travel Taxis, which offer fixed rates for everyone who travels to and from the airport. |
| Airport Facilities | Facilities at Schiphol include ATMs and currency exchange facilities, a lost and found, information desks, luggage lockers and wrapping services, state-of-the-art conference facilities, a medical clinic, pharmacy and casino. There are also numerous shops and restaurants, a food court, and duty-free shopping. |
| Car Parking | Short-stop parking facilities are located close to the terminal with the first 15 minutes free and then cost €1.20 per subsequent 11 minutes. The daily maximum cost is €36. Daily parking can be booked in advance on the Schiphol website and the lots are connected to the terminal via a frequent shuttle bus service. Valet parking is also available. |
| Website | www.schiphol.nl |
Anne Frank House




This museum is dedicated to the memory of Anne Frank, whose famous diary, recorded over a two-year period, describes the experiences of a Jewish teenager during World War II. Part of the house that is now the museum was used as a hiding place by the Franks and others to escape Nazi perse
▼ see more




Model of Anne Frank House ©Alexisrael
---
Van Gogh Museum




The Van Gogh Museum is a definitive tourist attraction in Amsterdam. Situated in a modern building, the simple architecture subtly underscores the artists' colourful and extraordinary work. The museum houses the largest collection of Van Gogh's work in the world, comprised of more than 2
▼ see more




Almond Blossom, Vincent Van Gogh ©Public Domain
---
The Rijksmuseum




The Rijksmuseum was opened in 1885 and is best known for its collection of 17th-century Dutch Masters such as Rembrandt, Vermeer, Frans Hals and Jan Steen. The most notable of these paintings is Rembrandt's masterpiece The Night Watch which has pride of place. The museum contains thousan
▼ see more




Rijksmuseum, Amsterdam ©Velvet
---
Stedelijk Museum of Modern Art




The Stedelijk Museum of Modern Art closely traces the developments in art of the second half of the 20th century, showcasing the most impressive collection of modern art in Amsterdam. The permanent exhibition focuses on De Stijl, Cobra, Nouveau Realisme, Pop Art, Colorfield Painting, Zer
▼ see more




Stedelijk Museum ©bMA
---
Rembrandt House




This museum provides an insight into the life and times of the famous Dutch master. Rembrandt lived here between 1639 and 1658, the pinnacle of his career. The famous artist went bankrupt in 1656 and a list of his possessions was drawn up to pay his debts; this list has allowed the histo
▼ see more




Rembrandt House ©Michiel1972
---
Amsterdam Museum




Housed in a lovely 17th-century building that was formerly an orphanage, the Historical Museum explores Amsterdam's development from a small medieval settlement along the river into a thriving modern city. The museum's galleries showcase the progress of each century, with particular emph
▼ see more




Abraham de Vries - Portrait of the regents of the Amsterdam city orphanage in 1633 ©Public Domain
---
Red Light District (De Wallen)




A visit to Amsterdam would not be complete without a stroll around the notorious Red Light District. The atmosphere can be chaotic, with throngs of tourists jostling for space alongside city slickers, pimps and drug dealers. The prostitutes of De Wallen are part of a legal and regulated
▼ see more




Red Light District ©Bjarki Sigursveinsson
---
The Dutch Resistance Museum (Verzetsmuseum)




Between May 1940 and May 1945, during World War II, the Netherlands was occupied by Nazi Germany, and this museum documents the everyday effects of this foreign invasion on the Dutch population as well as the resistance movement. A trip to the Dutch Resistance Museum, or Verzetsmuseum, i
▼ see more




Dutch Resistance Museum, Amsterdam ©Nick-D
---
The Royal Palace (Koninklijk Paleis)




Although the Royal Palace is the official royal residence, it is mainly used for functions and is one of three palaces that the royal family of the Netherlands reside in. Visitors should check the calendar on the official website listed below to ensure that the palace is not closed for a
▼ see more




The Royal Palace ©Robert Scarth
---
Maastricht




Maastricht is the oldest city in the Netherlands, peacefully perching on the banks of the Maas River. It is also one of the sunnier spots, located at Holland's southernmost point, squeezed in between the Belgian and German borders. Once a humble Roman settlement, Maastricht now boasts al
▼ see more




Maastricht ©Les Meloures
---
Peace Palace




The Peace Palace was so named to emphasise its significance as a place for arbitration and for the maintenance and promotion of world peace. Situated in The Hague, the building houses the International Court of Justice, the Permanent Court of Arbitration and The Hague Academy of Internat
▼ see more




Peace Palace ©Public Domain
---
Keukenhof




One of the top attractions in the Netherlands, and the best reason to visit in the spring, Keukenhof is one of those magical places that frequently earns itself a spot on lists like 'Places You Have to Go in Your Lifetime'. A huge spring garden that is home to more than seven million tul
▼ see more




Keukenhof, Amsterdam ©Tiago Fioreze
---
National Maritime Museum




Covering four centuries of Dutch naval history, the National Maritime Museum, or Het Scheepvaartmuseum, allows visitors a glimpse into the adventurous seafaring past of Dutch explorers and merchants through exhibits of antiquarian maps, navigation instruments, paintings and ship models,
▼ see more




Maritime Museum, Amsterdam ©Eddo Hartmann
---
Heineken Experience




One of the most popular tourist attractions in Amsterdam, and indeed in the Netherlands, the Heineken Experience is not to be missed. After opening its doors in 2001, the Heineken Experience has been attracting international beer-lovers for almost a decade. Housed in the original brewery
▼ see more




Heineken ©Brodie319
---
Amsterdam Coffeeshops




Amsterdam's coffeeshops are an iconic part of the city, and for many tourists they constitute a unique and essential element to any visit to the Netherlands. In Amsterdam, 'coffeeshop' means a place where cannabis is openly sold and smoked, while 'café' refers to somewhere that sells co
▼ see more




Coffeeshop, Amsterdam ©shelleylyn
---
Artis Zoo




Locally known as the Plantage, the Artis Zoo is something of an oasis in the centre of Amsterdam and a must for children and other animal lovers. Boasting more than 700 species of animals and 200 species of local and exotic trees, many of which are on the verge of extinction, the Artis Z
▼ see more




Artis Zoo ©Martin Fisch
---
Efteling




Built in the 1950s, and still one of the leading theme parks in Europe, the popular theme park of Efteling is a must for children of all ages. Its fairytale theme captivates children and transports them into their favourite imaginary world. Complete with a fairytale forest, lakes and tra
▼ see more




Flying Dutchman Castle ©Hullie
---
Madurodam




Located around 30 minutes outside of Amsterdam, in The Hague, and first opened in 1952, Madurodam is quite literally the smallest city in the Netherlands, featuring hundreds of miniature Dutch structures. The park features houses and factories that reflect real Amsterdam architecture, ex
▼ see more




Madurodam ©Misty and David
---
Amsterdam Canal Tour




Amsterdam's famous canal tours are an essential experience for visitors to the city, and continue to delight and amaze tourists from all over the world. Amsterdam's UNESCO-listed canals were essential to the city's transport and defensive strategies in the 17th century, but these days th
▼ see more




Keizersgracht Canal, Amsterdam ©Massimo Catarinella
---
Hoge Veluwe National Park




For exercise fiends unsatisfied with simply walking around Amsterdam's historic city centre, a trip out to the Hoge Veluwe National Park is a fantastic way to enjoy the Netherlands' (somewhat limited) great outdoors. The Hoge Veluwe National Park covers an area of 55 square kilometres (5
▼ see more




Hoge Veluwe National Park, Netherlands ©Stefan Kruithof
---
Concertgebouw




The Concertgebouw (literally, 'concert building') is one of Amsterdam's top-rated tourist attractions, and is widely regarded as one of the finest concert halls in the world, easily comparable to the Vienna Musikverein or the Moscow Conservatory. Not only is the Concertgebouw a building
▼ see more




Concertgebouw, Amsterdam ©Hans-Peter Harmsen
---
Vondelpark




Sometimes when you're on holiday in a foreign city, it's nice to take a break from sightseeing and experience the city as the locals do. Amsterdam's Vondelpark, dating back to 1850, offers visitors the chance to do just this, in a relaxed and beautiful public space that sees about 10 mil
▼ see more




Vondelpark, Amsterdam ©Felipek
---
Haarlem




Just a short, 15-minute train trip from Amsterdam lies Haarlem, a quaint city that has the distinction of boasting more museums per capita than any other city in the Netherlands. With its cosy, small-town feel and cheaper accommodation rates, many tourists are choosing to make Haarlem th
▼ see more




Grote Kerk, Haarlem ©Fryslan0109
---
Sex Museum Amsterdam




Amsterdam's fame as the home of legalised prostitution is well-known to visitors, so it is only fitting that the world's oldest sex museum be situated here. The museum opened in 1985 with just a few displays of 19th-century erotic objects and there was some doubt originally about how the
▼ see more




Amsterdam Sex Museum ©Ankur Gulati
---
Nightlife
Famed for its wild nightlife, Amsterdam offers visitors something quite unique when the sun goes down. Offering a mixture of all sorts of entertainment, Amsterdam is sure to have something for everyone, from the coffeeshops and soft drugs, to the clubs and pubs, not to mention the sex trade.
Amsterdam's nightlife wouldn't be what it is today if it weren't for the infamous Red Light District, which serves up its own unique brand of entertainment along the bustling canal-lined streets. Many tourists opt to simply wander through and see the women posing in shop windows and insistent touts without stopping to sample their wares. Those who do this should stick to main streets and beware of pickpockets and other petty criminals. Travellers should understand that De Wallen, as the locals call the Red Light District, is a nightlife hub quite apart from the sex trade and it is quite possible to enjoy a night out pub hopping without intending to participate in the sex trade at all.
Amsterdam is also famous for its tolerant stance on marijuana use, which is available in some coffeeshops. The shops, often instantly recognisable by their drug-related names, will sell small amounts of weed or hash for personal use, which may be smoked in the shops themselves or at some nightclubs, though officially not in public places. The coffeeshops do not serve alcohol. Tourists should note that the use of marijuana is tolerated, but not strictly legal and caution should be exercised.
Amsterdam has literally thousands of cafes, bars and nightclubs, which means there is something for every taste. The mainstream nightlife centres round Leidseplein, where you can find all the most popular bars, restaurants and clubs which, although not as big and flashy as their rivals in London and New York, are still the perfect place to showcase your dance moves. And since Leidseplein never really closes, revellers can literally dance the night away. Live music is very popular in Amsterdam and jazz is a favourite with the locals, as many of the world's great jazz legends have settled here. The city offers some fun jazz clubs and you can also catch world-class rock and pop acts in many venues, while bigger concerts take place at the Koninklijk Theater Carré, Heineken Music Hall, and the huge Amsterdam Arena.
For a more cultured night out in Amsterdam, there are a number of highly-regarded orchestras that perform in a number of venues. You can also catch performances by the National Ballet and Netherlands Opera. There are many theatres that perform shows in both English and Dutch, including De Balie, Felix Meritis, Theater Frascati, and the Vondelpark Open-Air Theater.
Blauw aan de Wal
One of Amsterdam's delightful secrets, this charming restaurant is peaceful and tranquil in the midst of the bustling Red Light District. An alley leads patrons to the tiny square where Blauw aan de Wal (Blue on the Quay) is hidden, a modern minimalist restaurant with a courtyard that was once part of a monastery. The fare is Mediterranean inspired and the service renowned for its excellence. Reservations necessary. Closed Sunday. Dinner only.
Food Type:
French
Style:
Price:
4
Address:
Oude Zijds, Achterburgwal 99
Website
blauwaandewal.com
---
D Vijff Vlieghen
The 'Five Flies' is one of the world's famous restaurants, oozing old-world charm with antiques and Rembrandt etchings on the Spui, and offering New Dutch Cuisine, created using only fresh Dutch products. Brass plaques on the chairs remind diners of the famous names like Orson Welles and Walt Disney who have patronised the rambling establishment that occupies five adjoining historic houses. D'Vijff Vlieghen also offers an organic five-course vegetarian meal. Open daily for dinner. Reservations advised.
Food Type:
Local
Style:
Price:
5
Address:
Spuistraat 294-302 (opposite the Amsterdam Historical Museum)
Website
www.vijffvlieghen.nl/
---
Cafe de Jaren
Contemporary and stylish, the chief attraction of the Café de Jaren is its waterfront terrace overlooking the Amstel River, in the heart of the city. It makes for a great place for a pre dinner drink, the sampling of a superb bottle of wine or enjoying a strong coffee. The menu is varied and attractive, with fare ranging from soups and sandwiches to steaks and pastas. With a classic French feel to it, the high ceilings and tiled floors of the Café de Jaren exude a refined elegance. Open daily for lunch and dinner.
Food Type:
Gastropubs
Style:
Price:
3
Address:
Nieuwe Doelenstraat 20-22
Website
www.cafedejaren.nl
---
Dynasty
Amsterdam is well supplied with oriental restaurants particularly in its rejuvenated Chinatown district. One of the most popular institutions, serving a mix of Asian cuisine from Chinese, Thai and Vietnamese, to Malay and Filipino, is Dynasty. The themed interior is exceedingly colourful, the ceiling adorned with upturned paper umbrellas. A big attraction is the beautiful Canalhouse Garden, usually packed out for summer dining. Reservations essential. Closed Tuesdays.
Food Type:
Oriental
Style:
Price:
3
Address:
Reguliersdwarsstraat 30
Website
www.restaurantdynasty.nl/
---
Pasta E Basta
The lively Pasta E Basta restaurant has hit on a gimmick that draws customers as much as the delicious plates of pasta it serves: the waiters and bartenders sing opera arias while they tend the tables. This makes for a jovial atmosphere, where guests enjoy the excellent wine list and superb Italian fare in an intriguing environment. Bookings should be made well in advance. Open daily from 6pm for dinner.
Food Type:
Italian
Style:
Price:
3
Address:
Nieuwe Spiegelstraat 8
Website
www.pastaebasta.nl/en
---
Roses Cantina
Amsterdam's most popular Mexican-style bar buzzes with warm Latin-American ambience and serves up notoriously potent margaritas along with a number of food specialities. The menu includes regular Mexican favourites like burritos, nachos and enchiladas. Fillet steak and burgers are also available and are well complimented with Mexican beer. Open daily from 5pm.
Food Type:
Spanish
Style:
Price:
3
Address:
Reguliersdwarsstraat 38-40
Website
www.rosescantina.com
---
De Silveren Spiegel
The elegant Silveren Spiegel (Silver Mirror) is one of Amsterdam's best known traditional restaurants, featuring a romantic atmosphere enhanced by beautifully decorated candlelit rooms in two historic houses. Highlights on the menu include seafood and meat dishes both of which are cooked in traditional Dutch manner.
Food Type:
Local
Style:
Price:
4
Address:
Kattengat 4-6
Website
www.desilverenspiegel.com
---
Cafe Luxembourg
A large established eatery, Café Luxembourg's affordable prices, traditional atmosphere and superb food continue to draw crowds throughout the year. With heavily wooded tables, a long, well stocked bar, soft lighting and a pleasant atmosphere, Café Luxembourg is the ideal place for a lunchtime salad or sandwich, evening drink accompanied by a mouth-watering array of snacks or a laid back wholesome evening meal. In summer patrons can people-watch from the bustling sidewalks and in winter friends and couples can cosy up with a nice bottle of red or a crisp pint. If you're looking for a great meal at an affordable price, Café Luxembourg is the ticket. Open daily from 9am for lunch and dinner.
Food Type:
Gastropubs
Style:
Price:
2
Address:
Spuistraat 24
Website
www.luxembourg.nl/en/index2.php
---
Greetje
The place to go for authentic Dutch food. Greetje is located in a district that includes many beautiful old buildings, and has a great view of Montelbaanse Tower. It's known for having some of the best service in Amsterdam, and offers up traditional Dutch recipes with a modern flair. Try the taster platters for a sampling of many different dishes. Greetje is open for dinner only, from 6pm, seven days a week.
Food Type:
Local
Style:
Price:
2
Address:
Peperstraat 23-25
Website
www.restaurantgreetje.nl
---
Pannenkoekenhuis Upstairs
At the top of a precipitous staircase, hungry visitors can pack into this tiny pancake house for tea and sustenance. This two-man operation serves up savoury and sweet pancakes at reasonable prices. There are only four tables in this charming eatery, and hundreds of teapots hanging from the ceiling. The service can be slow, but locals swear it's worth the wait.
Food Type:
Local
Style:
Price:
1
Address:
Grimburgwal 2, Medieval Centre
Website
www.upstairspannenkoeken.nl
---
Keukenhof
The world's largest garden (32-hectares), also often said to be the most beautiful spring garden in the world, bursts with colour during the eight week spring season. More than seven million tulips, daffodils and hyacinths fill the extensive grounds with colour and fragrance, attracting some 800,000 visitors to its flowery ramparts every year. Keukenhof is divided into themed gardens, sculpture routes and various exhibitions. There are numerous pavilions featuring flower and plant shows for keen gardeners and flower arrangers and many cafes and restaurants for refreshments. There are souvenir stands and flower shops selling bulbs and seeds. It is also wonderful to take a cycling excursion or a boat trip from Keukenhof to explore the bulb fields surrounding the garden. Keukenhof is one of the best reasons to visit the Netherlands in spring and one of the country's greatest attractions. It is best to allow at least a few hours to explore the park and enjoy the many events, displays and performances on offer. Don't forget the camera!


Date 2018-03-22 to 2018-05-13 Website www.keukenhof.nl


Keukenhof flowers in bloom ©Targeman
---
Kings Day
The king's birthday is a very festive occasion in the Netherlands, and Amsterdam goes all out to celebrate staging a street party which starts the night before and keeps going throughout the next day. Traditionally people attending wear orange (the Dutch Royal family is the House of Orange), and ensure they have a beer in hand. The party also resembles a giant jumble sale, with street trade unregulated for the day allowing people to display all their unused and unwanted goods on the street in the hope of selling it to passers-by. It is a great day for bargain hunters and party animals alike, particularly if the sun shines. Live music and street performances abound. A really fun way to experience all the jollity is to spend the day on a boat cruising through Amsterdam's canals, which provides a wonderful vantage point and allows you to avoid some of the crowds and queues on land - although boat traffic is also extremely heavy. The best day of the year to be in Amsterdam!


Date 2018-04-27 to 2018-04-27 Website


Queen's Day ©Bob Tubbs
---
Amsterdam Pride
One of Europe's most popular and well-attended 'gay pride' festivals, Amsterdam's Pride takes place annually in late July and/or early August. The highlight for many is the Canal Parade on the Saturday in which about 75 decorated craft carry revellers along the Prinsengracht, Amstel and Stopera canals to the delight of about 25,000 spectators. The festival includes a full programme of street parties at different venues during the week, sporting events, an open-air film festival on the Nieumarkt and numerous theatrical and cultural events. Amsterdam's club scene also comes alive, with special events and parties all week long. People from all walks of life are welcome to participate - it is a celebration of tolerance after all - but the homophobic should stay far away and sensitive adults travelling with children may want to be selective about where they take them as the festival traditionally involves quite a lot of nudity and crudity. All the main events take place in central Amsterdam. If you are travelling to the city for this event be sure to book your accommodation well in advance as Amsterdam gets very busy over Pride.


Date 2017-07-29 to 2017-08-06 Website www.amsterdamgaypride.nl/canal_parade


Amsterdam Gay Pride Parade ©FaceMePLS
---
Amsterdam Roots Festival
Now a major event on the global music calendar, Amsterdam's Roots Festival started in 1983 as a celebration of African music. Today the annual programme draws top artists from everywhere around the world, and hordes of concertgoers who come to enjoy their talents. The festival concludes each year with a massive open-air concert in the Oosterpark, with performances spanning six stages. This final outdoor concert used to be free but now has a small cover charge; this concert is the highlight of the festival for many and a fantastic experience even if you are not familiar with the music. During the rest of the festival week about 60 concerts are held at different venues around the city. The Roots Festival is part of the Holland Festival and a wonderful experience for lovers of world music. Music genres are diverse, with main stages including World Stage, Club Stage, Urban Groove and Bass Stage and a lot of pop and dance music in the mix. Apart from the music there are dance and music workshops, lots of clothing and craft markets and a massive food fair where you can sample international cuisines as well as local specialties. There is an area dedicated to children's entertainment as well.


Date 2017-06-19 to 2017-06-25 Website www.amsterdamroots.nl


Oosterpark, Amsterdam ©Arthena
---
Holland Festival
The Holland Festival is a yearly trend-setting and innovative presentation of the dramatic arts, and the highlight of the cultural season in the Netherlands. During the month of June each year about 30 productions take to the boards across the full spectrum of the arts including music, opera, theatre and dance. The programme includes everything from pop music to high drama. A street café on Leidseplein serves as the festival centre where bookings can be made. Famous authors, actors and musicians mingle with the crowds and Amsterdam's museums, galleries and theatres come alive with exciting performances and exhibitions. For details on the programme check the official website listed below. Unofficially, the festival also spawns numerous street performances and live music events, and many arts and crafts markets and the like. For culture-vultures there is no better time to visit the Netherlands, but as the Holland Festival takes place during the peak tourism season (summer) and is wildly popular visitors must book accommodation far in advance to avoid disappointment. It is also best to book tickets as far in advance as possible.


Date 2017-06-03 to 2017-06-25 Website www.hollandfestival.nl


Concertgebouw, Amsterdam ©PersianDutchNetwork
---
New Years Eve in Amsterdam
On New Year's Eve locals and tourists pack into the streets and squares of central Amsterdam to celebrate before heading to one of the city's many bars and clubs. Dam Square and the Leidseplein become the centre of most of the revelry and as midnight approaches the sky is lit up with fireworks. The Oosterdok area usually hosts the biggest event (free of charge) with the VOC Ship, Science Centre NEMO and Scheepvaartmuseum forming a backdrop for festivities. These open-air celebrations are suitable for the whole family and are the main highlight of an Amsterdam New Year's Eve. The atmosphere in the bars is festive and friendly, though increasingly more seedy as you move into the red light district. Many nightclubs offer New Year specials with top DJs, music concerts and performances and there are also traditionally a number of quirky themed parties for those who like to dress up for New Year's.


Date 2015-12-31 to 2015-12-31 Website


Funfair on Dam Square, Amsterdam ©Nikthestoned
---
Arrival of St Nicholas
If you are travelling to Amsterdam with kids in November witnessing the arrival of Santa Claus in the city is a must. The true story of Santa Claus began in the 3rd century when St Nicholas (the Bishop of Myra) dedicated his life to helping the poor and needy. Through the centuries many stories and legends have been told about St Nicholas' life and deeds, but he is best known today for giving presents to children. His birthday is commemorated on 6 December, and three weeks before he arrives in Amsterdam on a ship and rides a white horse to Dam Square. The arrival of St Nicholas is a festive occasion: musical bands and Black Peters accompany him on bicycles with acrobats, clowns and animals to entertain the children, and there are many theatrical performances, puppet shows and arts and crafts stalls in honour of his visit. About 300,000 people line the streets to greet the famous saint every year and it is a big occasion on the calendar of children's events in the Netherlands.


Date 2017-11-19 to 2017-11-19 Website www.stnicholascenter.org


Arrival of Santa Claus ©Wouter Engler
---
Uitmarkt
Every year Uitmarkt heralds the official beginning of the cultural season in Holland and is a celebration and introduction to the forthcoming cultural activities in the city. Stages are erected all over Amsterdam and offer a wide variety of free performances, including theatre, music, dance, street theatre and film, as well as numerous workshops around Leidseplein and Museumplein. There are also hundreds of cultural institutions on hand to provide information about their upcoming events and publishers with their latest editions. During Uitmarkt the cultural institutions of the Netherlands compete for the attention of the crowds and free entertainment of a very high quality abounds. Said to be the largest cultural festival in the country, Uitmarkt now attracts about 500,000 visitors, 2,000 performers and covers more than 30 venues. There is a large book market every year, which is a highlight for the literary. There is also a junior programme designed for children and the young at heart.


Date 2017-08-25 to 2017-08-27 Website www.uitmarkt.nl


Uitmarkt, Amsterdam ©Brankoc
---
Cannabis Cup
Amsterdam is as famous for its relaxed attitude towards marijuana as it is for tulips, canals and Van Gogh; and the Cannabis Cup is a celebration of the narcotic that attracts many high-minded tourists who want to partake openly in its appreciation. High Times Magazine sponsors the event and gathers all the best spliff around to sample and ultimately be awarded with the prestigious Cannabis Cup. The event is steadily increasing in popularity and attracts thousands of curious spectators each year who can purchase seeds and winning weed throughout the festival. However, it is not all about getting high, as promoters also try and persuade visitors about the global benefits of the hemp industry. The main event is the giant expo where stalls advertise their produce - some offer free samples and others have to be paid for - but there are also some fantastic live music and comedy events at the festival. The Cannabis Cup is awarded on the basis of a voting system; anybody can be a 'judge' and vote if they buy the judge ticket. In recent years there has been a separate category for medical marijuana.


Date 2017-11-17 to 2017-11-24 Website www.amsterdam.info/cannabiscup/


Cannabis Plants ©Jennifer Martin
---
ING Amsterdam Marathon
This popular marathon is one of the top twelve in the world and part of the IAAF Golden League. Runners from all over the world enjoy the flat terrain, stunning architecture and sparse traffic that characterises the Amsterdam Marathon. The race dates back to 1975 and is recognised as one of the most professionally organised and enjoyable races on the athletics calendar. Apart from the main marathon there are four other races organised on the day: a half marathon, an 8km run, a kid's run and a mini marathon. There is great musical entertainment along the marathon course, with DJs, samba bands and singers egging the runners on and entertaining spectators. The night before the race there is a Pasta Party where participants can carbo-load and socialise at the same time. There is also a popular marathon expo where there are stalls promoting all things athletics. The expo is free and open to the public. The marathon route traditionally starts and finishes at the Olympic Stadium, which is where the majority of supporters gather.


Date 2017-10-15 to 2017-10-15 Website www.amsterdammarathon.nl


Abel Kirui at the 2014 Amsterdam Marathon ©Brankoc
---
Travel Guide powered by www.wordtravels.com, copyright © Globe Media Ltd. All rights reserved. By its very nature much of the information in this guide is subject to change at short notice and travellers are urged to verify information on which they're relying with the relevant authorities. Globe Media and UNIGLOBE Travel does not accept any responsibility for any loss or inconvenience to any person as a result of information contained above.