Chicago
General
Weather
Airports
Attractions
Kids Attractions
Events
Restaurants
Shopping
Nightlife
---
Introduction Region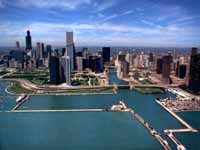 Chicago River ©Robert Cameron
Chicago is the major metropolis of America's heartland, with about three million people hustling and bustling in the city of skyscrapers that appears to rise straight out of the waters of Lake Michigan, in northern Illinois. Once a gangster's hang-out synonymous with infamous names such as Al Capone and Bonnie and Clyde, the 'Windy City' today has a squeaky-clean reputation as an international business and commercial capital boasting an eclectic mix of architecture, world-class theatre and art exhibitions, a fantastic local music scene, and super-enthusiastic sportsmanship.
Chicago emerged as a rough and tough survivor after being destroyed in the Great Fire of 1871, and a huge influx of immigrants from all over the world in the early 20th century brought with them a determined spirit, infusing the city with ethnic diversity and the unmistakable sound of Chicago-style blues music. Chicagoans have built a city that is to be reckoned with, boasting soaring skyscrapers like Willis Tower (formerly the Sears Tower), thriving ethnic neighbourhoods, a lakefront business district, a re-energised and vibrant downtown district, unbeatable shopping along the famed Michigan Avenue, and top-class sports teams.
One thing that does not attract visitors to Chicago is the weather; the city's geographical location means it is breezy at best, and freezing and gale-ridden at worst. It is possible to ignore the weather though, especially in summer, while getting caught up in the myriad things to do, see and experience in this Midwestern metropolis.
Climate Info
Chicago has an extreme continental climate with very hot summers and bitterly cold winters, its lakeside setting only slightly moderating the temperatures and adding some humidity to the atmosphere. Chicago has distinct seasons, with a short spring, when temperatures are moderate and nights frosty. Summers are hot, sunny and humid, from June to the end of September, and are prone to thunderstorms. The daily average high in July is around 84°F (29°C). August is usually the wettest month of the year. Autumn is a lovely time of year when the air is crisp and cool, with blue skies and sunshine. Winters (December to February) in Chicago are icy and prone to cold, harsh winds, with temperatures averaging between 32°F (0°C) highs in the afternoons and around 14°F (-10°C) lows at night. Snow is common.
Convert to Imperial
Convert to Metric
| | | | | | | | | | | | | |
| --- | --- | --- | --- | --- | --- | --- | --- | --- | --- | --- | --- | --- |
| Month | Jan | Feb | Mar | Apr | May | Jun | Jul | Aug | Sep | Oct | Nov | Dec |
| rain (cm) | 48 | 42 | 72 | 97 | 85 | 92 | 89 | 117 | 83 | 68 | 76 | 61 |
| max temp (c) | -1 | 1 | 8 | 15 | 21 | 27 | 29 | 28 | 24 | 18 | 9 | 2 |
| min temp (c) | -9 | -7 | -1 | 4 | 10 | 16 | 19 | 18 | 14 | 7 | 1 | -6 |
| good weather | no | no | no | yes | yes | yes | yes | no | yes | yes | no | no |
Getting Around
Chicago has one of the largest public transportation systems in the country and getting around the city is fast and easy with an extensive network of train and bus routes. The train system is known as the "L"; most visitors only use the "L", but buses also cover every part of the city including the suburbs, albeit less regularly. Most trains run 24 hours a day, with Overnight or Night Owl services taking over between midnight and 5am on some lines. The Metra commuter trains link the city to the outer suburbs, including Lake Michigan, Hyde Park and McCormick Place. During the summer months, a free trolley system operates in the downtown area, connecting Chicago's top cultural attractions, shopping areas and visitor destinations. Taxis are easy to find, and the metered rates are reasonable for short journeys. Although traffic is not as bad as in other major cities (outside rush hour), parking is expensive and difficult to find.
OHare International Airport (ORD)
| | |
| --- | --- |
| Location | Chicago OHare is located 17 miles (27km) northwest of Chicago. |
| Time Difference | GMT -6 (GMT -5 from March to November). |
| Contacts | Tel: +1 773 686 2200 or 773 686 3700. |
| Transfer terminals | A free automated rail system connects all terminals. |
| Getting to city | Blue Line trains run every few minutes between the airport and downtown Chicago; the journey takes around 50 minutes. For safety reasons travellers are advised against using the Blue Line at night. Taxi ranks are situated outside the arrivals hall in each of the airport terminals; the fare is around $40 for the 30-45 minute journey from the airport to downtown Chicago. |
| Car Rental | Companies represented at the airport include Alamo, Avis, Budget, Hertz and National. |
| Airpor Taxis | There are plenty of metered taxis outside, and a taxi to the centre of Chicago takes approximately 30-45 minutes and costs about $40. But be prepared to pay twice as much during rush hour. |
| Airport Facilities | Facilities at the airport include restaurants, bars, shops, duty-free shopping, bureaux de change, a bank and ATMs. The Hilton Athletic Club provides a health club, sauna, steam room and massage. There is a medical centre, baby-change facilities, a play area and a 24-hour interfaith chapel. |
| Car Parking | Parking at Chicago O'Hare is divided into the main lots, international lots, economy lots, and valet lots, with an additional free Cell Phone Lot for pick-ups and drop-offs. Fees range from around $2 per hour at the main lots, or $5 for two hours at the international lot, to $17 per day in the economy lots. Valet parking is also available. |
| Website | www.flychicago.com |
Chicago Midway International Airport (MDW)
| | |
| --- | --- |
| Location | 10 miles from Chicago between interstates I-90 and I-55 |
| Contacts | Tel: +1 (773) 838-0600. Email: aviation@flychicago.com |
| Getting to city | Passengers transfering to Chicago can rent a car, or hire a limo or taxi. The Chicago Transit Authority's Orange Line runs from the airport to downtown Chicago, and Continental Airport Express has door-to-door service on shuttles leaving every 15 minutes. |
| Car Rental | There are several car rental agencies based at Chicago Midway. |
| Airpor Taxis | There are taxis available from the airport to downtown Chicago or any other destination. |
| Airport Facilities | The airport offers restaurants, cafes, gift shops, a business centre, ATMs and a chapel. |
| Car Parking | There is a six-level parking garage attached to the airport by a covered walkway. Complimentary shuttle buses to the terminals run every 15 minutes, 24 hours a day. |
| Website | flychicago.com |
Art Institute of Chicago




An impressive pair of bronze lions guards the entrance to the Art Institute of Chicago in South Michigan Avenue, a museum which houses one of the greatest art collections in the world. Works date from 3,000 BC through to the present, including a renowned collection of Impressionist art f
▼ see more




Art Institute of Chicago ©Leon Petrosyan
---
Chicago Field Museum




Chicago's wildly popular Field Museum of Natural History in Lake Shore Drive is home to 'Sue', the largest and most complete Tyrannosaurus Rex fossil ever found. The dinosaur came to rest here after being unearthed in South Dakota when the museum bought her remains for more than $8 milli
▼ see more




Field Museum ©Shoffman11
---
Frank Lloyd Wrights Home




America's most renowned architect lived and worked in this complex, which served as private residence, studio and architectural laboratory for the first twenty years of his career, between 1889 (when he was 22) and 1909. Wright's haven started out as a simple cottage and was continually
▼ see more




Frank Lloyd Wright's Home ©Library of Congress
---
Lincoln Park




Lincoln Park, beginning at North Avenue and following the shore of Lake Michigan northwards for several miles, is Chicago's largest park. It contains several attractions, including bathing beaches, a botanical conservatory, a golf course, grassy meadows, formal gardens and sports fields.
▼ see more




Lion at the Lincoln Park Zoo ©Hot Dog Wolf
---
Six Flags Great America




Top of the list of attractions for families on holiday in Chicago, the Six Flags Great America is a must for children of all ages. Featuring some of the country's most exciting theme park rides, such as the Dark Knight Coaster, Bedrock Boulder Roller and the Condor, the Six Flags Great A
▼ see more




Six Flags Great America ©Daniel M. Hendricks
---
Shedd Aquarium




One of Chicago's best known attractions, the Shedd, which opened in 1930, remains one of the world's largest indoor aquariums. The octagonal marble building houses more than 8,000 river, lake and sea creatures. The main attraction is the Caribbean Coral Reef exhibit and other marine habi
▼ see more




Shedd Aquarium ©Sebastian Rueckoldt
---
Rockford




Illinois' second city, Rockford, is just a hop and skip to the northwest of Chicago, set in rolling hills. It is worth a visit for culture vultures and golfers in particular. The city is known for its 'cultural corridor' of which the highlight is the Rockford Art Museum's stunning perman
▼ see more




Rockford ©Alexbaumgarner
---
Navy Pier




Situated on Chicago's lakefront, Navy Pier has developed into one of the city's main tourist destinations, offering year-round attractions, events and entertainment for the whole family. Navy Pier encompasses acres of parks and gardens, shops, restaurants, and numerous attractions and ri
▼ see more




Navy Pier ©Serge Melki
---
Sears Tower (Willis Tower)




'You haven't seen Chicago until you've seen it from the Skydeck' is what many visitors will hear from locals and other tourists in the city. The iconic Sears Tower was renamed on 16 July 2009 to the 'Willis Tower', but the old name is still commonly used. Located on its 103rd floor, the
▼ see more




Sears Tower ©Chad Kainz
---
Millennium Park




Millennium Park is one of Chicago's most popular destinations and is seen by Chicagoans as the crowning glory of their city. The award-winning park is famous for its innovative architecture and landscape design, featuring the work of several prominent artists, architects and designers. T
▼ see more




Millennium Park ©Torsodog
---
Adler Planetarium and Astronomy Museum




Located on Lake Michigan, the Adler is America's oldest planetarium, and boasts two full-size planetarium theatres. The night sky has been visible from the historic Sky Theatre since 1930, while the all-digital StarRider Theatre is the first of its kind in the world and affords a virtual
▼ see more




Adler Planetarium and Astronomy Museum ©Fritz Geller-Grimm
---
Hancock Observatory




The John Hancock building is Chicago's third highest skyscraper, with a distinctive x-bracing exterior skin, and its Observatory competes with the facilities of the Sear's Tower Skydeck across town in the Financial District. Located on the 94th floor, 1,000 feet (305m) above street level
▼ see more




Hancock Observatory ©Ken Lund
---
Chicago Childrens Museum




The Chicago Children's Museum is a must for kids of all ages. Located on Navy Pier, the museum offers three storeys of interactive exhibits offering plenty of hands-on fun. The main attraction at the museum is without a doubt the three-storey tall replica of an 1850s Schooner, which is a
▼ see more




Chicago Children's Museum ©Octavio Ruiz Cervera
---
Chicago Botanic Gardens




A great place for families to unwind and relax with a picnic is the Chicago Botanic Gardens. With plenty of wide-open space for kids to run around, the Botanic Gardens is one of Chicago's most tranquil and beautiful attractions. During the summertime, the Rose Garden, where over 7,750 pl
▼ see more




Linden Allee, Botanic Garden ©Cbgde08
---
Chicago Loop




Some stunning public art adorns downtown Chicago, created by world-renowned artists such as Pablo Picasso, Joan Miro, Alexander Calder, Marc Chagall, Henry Moore, and David Smith. Numerous walking tours of the Loop are available, with the Chicago Loop Alliance offering some free tours. E
▼ see more




Cloud Gate ©Vincent Desjardins
---
Buckingham Fountain




Located alongside Millennium Park and the Art Institute of Chicago in Grant Park, often referred to as the city's front yard, Buckingham Fountain is one of the Chicago's most popular attractions. The fountain used to be the official starting point of the celebrated US Route 66. Donated t
▼ see more




Buckingham Fountain ©Marit & Toomas Hinnosaar
---
Magnificent Mile




The stretch of Michigan Avenue in Chicago that runs from Chicago River to Oak Street is known as the Magnificent Mile. Famed for its nightlife, it also serves as the main thoroughfare between Chicago's Loop business district and the Gold Coast. Visitors will love discovering everything t
▼ see more




Magnificent Mile ©Bert Kaufmann
---
Route 66 Sign




The world-famous Route 66 is colloquially known as the 'Main Street of America' or the 'Mother Road' as it originally ran from Chicago, Illinois, through Missouri, Kansas, Oklahoma, Texas, New Mexico, Arizona, and California, before ending in Los Angeles. The stretch of highway has been
▼ see more




Route 66 ©Anna Harris
---
Chicago History Museum




Chicago has a colourful and fascinating history, ranging from devastating fires to gangster assassinations and more. The Chicago History Museum has intriguing collections of artefacts from the city's past, including the first passenger car to operate on the Chicago L system, Michael Jord
▼ see more




Chicago History Museum ©Jeremy Atherton
---
Chicago Beaches




While Chicago is not well-known as a beach holiday destination, its position on the shore of Lake Michigan gives the city access to an extensive network of waterfront recreational areas operated by the Chicago Park District. There are over 26 miles (42km) of open and free lakefront to en
▼ see more




North Avenue Beach ©TonyTheTiger
---
Nightlife
Chicago's unassuming nightlife scene comes as a refreshing change to some other big US cities. Most locals prefer to stay close to what they know and hang out at their local watering hole, but Chicago still has its fair share of hip and happening places to see and be seen in.
Popular areas for nightclubs, bars and music venues include Lincoln Park, Wicker Park and Lakeview, where revellers can find music clubs devoted to just about every genre from rhythm and blues and jazz to alternative rock and Indie. The city's waterfront nightlife is popular with residents and tourists alike, while the piano bars at The Drake Hotel and the Ambassador East Hotel's Pump Room are favourites with locals.
Wells Street in the Old Town offers some great restaurants and bars as well as the popular Zanies Comedy Club. Chicago's gay scene is concentrated on a stretch of North Halsted Street in Lakeview, where men's bars dominate the strip.
The birthplace of house music in the 1980s, Chicago has plenty of loud and pumping clubs full of 20-somethings dancing the night away to the latest offerings of the resident DJ. Many of these types of clubs pop up and disappear at a dizzying rate while others have been around for decades.
The culture scene in Chicago is bustling with shows and plays running throughout the year at renowned Chicago theatre companies, such as the Steppenwolf Theatre Company, the Goodman Theatre, and the Victory Gardens Theater. Broadway-style entertainment can be found at the LaSalle Bank Theater and the Cadillac Palace Theater. For lovers of classical music, a visit to Symphony Center to hear the Chicago Symphony Orchestra perform is an absolute must.
Club Lucky
Located in the Wicker Park area, this authentic and very retro Italian eatery conjures up images of wholesome Italian fare being cooked up in the kitchen by real Italian mammas. With homemade ravioli, Veal Parmigiana and their flagship dish, Chicken Vesuvio with roasted potatoes, peas, white wine and garlic, this cosy Chicago favourite is one of the best when it comes to tasty Italian cuisine. Open Monday to Friday for lunch and dinner. Saturday and Sunday dinner only. Reservations accepted.
Food Type:
Italian
Style:
Price:
2
Address:
1824 W. Wabansia Ave
Website
www.clubluckychicago.com
---
Pennys Noodle Shop
Established by Thai native Penny Chiamopoulous, this simple and spacious Chicago eatery serves some delicious authentic Thai cuisine and other Asian fusion dishes to perfection. Sample everything from Crab Rangoon - a crispy dumpling stuffed with cream cheese and seafood - and Tom Yum soup, to Hot Pepper Noodles and Thai ravioli dumplings stuffed with shrimp and pork and served with BBQ pork, lettuce, green onions, cilantro and peanuts. Open daily for lunch and dinner. Reservations not accepted.
Food Type:
Asian
Style:
Trendy
Price:
2
Address:
950 W. Diversey Ave
Website
www.pennysnoodleshop.com
---
Aruns
Arun's has been called the finest Thai restaurant in the city and possibly the country too. Dinner is an ever-changing fixed-price menu comprising of a gourmet banquet of 12 exquisitely presented courses that puts the efforts of other Thai kitchens to shame. A special menu can be designed to suit individual tastes on calling ahead. The culinary experience is complemented by traditional Thai décor and displayed artwork. Reservations are required with a credit card. Closed Monday. Dinner only.
Food Type:
Oriental
Style:
Price:
5
Address:
4156 North Kedzie Avenue, Irving Park (North Side)
Website
www.arunsthai.com
---
Everest
Towering above the city with commanding views from the 40th floor, Everest is one of the city's premiere French dining rooms offering the world-renowned cuisine created by Alsatian chef Jean Joho. His distinctive style is a blend of 'noble' and 'simple' ingredients for unusual flavour combinations, such as caviar or foie gras with potatoes or cabbage, drawing inspiration from the cookery of his native Alsace. Everest includes classics like lobster and lamb, as well as a vegetarian menu, and some creative desserts. Closed Sunday and Monday. Dinner only. Reservations required.
Food Type:
French
Style:
Price:
5
Address:
440 South LaSalle Street, 40th Floor, One Financial Plaza building (The Loop)
Website
www.everestrestaurant.com
---
Tru
The black and white interior, splashed by the colour of carefully chosen artwork, provides a minimalist yet elegant setting for the prestigious patrons of Tru, and its superb progressive French cuisine. The menu is divided into several fixed-price options ranging from three courses to a variety of multi-course 'collections' that showcase the creativity of the chefs. Excellent service, exquisite presentation and award-winning desserts complement the dining experience. Closed Sunday. Dinner only. Reservations essential and jackets required.
Food Type:
French
Style:
Price:
5
Address:
676 North St Clair Street (Near North)
Website
www.trurestaurant.com
---
Mortons of Chicago
King of the Chicago-style steakhouses, Morton's on North State is the original restaurant and upholds its reputation against stiff competition with huge succulent steaks cooked to perfection. It is famous for its signature tableside menu presentation, where a trolley is rolled out containing main course selections that are described in appetising detail by the server. The menu features a variety of cuts, including the house speciality, the 24-ounce (680g) porterhouse steak, as well as fresh fish, lobster, veal and chicken. Open daily for dinner. Reservations recommended.
Food Type:
American
Style:
Price:
4
Address:
1050 North State Street (River North)
Website
www.mortons.com
---
Vermillion
The high ceilings, clean lines, crisp white tablecloths and black and white photos clinging to the walls create an ambient yet stylish and sophisticated dining experience, where the Indian-Latin food is as contemporary as the restaurant. Indian tapas such as cilantro tamarind shrimp, coconut chilli mussels, and duck vindaloo arepa tantalise the taste-buds, while signature dishes include chilli-glazed blackened tamarind ribs served with amchur tortilla crisps and a sweet corn salsa, or fiery culinary delights such as the Desi goat curry in a rich Indian gravy served with naan. This restaurant lives up to its reputation as one of Chicago's finest eateries and does not disappoint. Reservations recommended on weekends. Open Monday to Friday for lunch and dinner. Saturday and Sunday dinner only.
Food Type:
Indian
Style:
Trendy
Price:
4
Address:
10 W. Hubbard St
Website
www.thevermilionrestaurant.com
---
Blackbird
Chicago's chicest diners and celebrity clientele flock to this sought-after addition to the West's 'Restaurant Row', where the smart minimalist interior is the perfect backing to the ornate food presentation and creative renditions of French-influenced contemporary American food. The exterior of the restaurant is as stylish as the food, and the seasonal menu is creative yet simple and features dishes such as wood-grilled California sturgeon with English peas, braised peanuts, crispy bacon and bourbon carmel. Closed Sunday. No lunch Saturday. Reservations recommended.
Food Type:
American
Style:
Price:
4
Address:
619 West Randolph Street (West Loop)
Website
www.blackbirdrestaurant.com
---
Mirai Sushi
Top-quality sushi and sashimi dishes are to be found in this funky-hip eatery that exudes a youthful ambience. Fresh fish is flown in daily for the sushi bar where several inventive chefs whip up a list of delicious offerings to order. Upstairs the futuristic saké lounge is the city's hippest place to sip saké or vodka with passion fruit. Dinner daily. Reservations recommended.
Food Type:
Japanese
Style:
Price:
4
Address:
2020 West Division Street, Wicker Park
Website
www.miraisushi.com
---
North Pond
Claiming one of the prettiest settings in the city, North Pond is situated within the famous Lincoln Park, in a building that was originally an ice skaters warming house, overlooking Chicago's skyline. In keeping with the natural setting, chef Bruce Sherman emphasises organic produce and simple but delicious seasonal cuisine. The wine list focuses on boutique vintners. Dinner Tuesday to Sunday, lunch Tuesday to Friday (June to September), brunch on Sundays. Reservations recommended. Jacket and tie recommended for dinner.
Food Type:
Modern Eclectic
Style:
Price:
4
Address:
2610 North Cannon Drive, Lincoln Park
Website
www.northpondrestaurant.com
---
Pizzeria Uno Chicago
Pizzeria Uno is famous for its original Deep Dish Pizza, a pie-like crust stuffed with meat and fresh vegetables and cheese. This Chicago-style pizza originated at Pizzeria Uno in 1943 and both locals and out-of-towners pack into the panelled rooms for a filling meal. Other delicious dishes on the menu include Angus Beef steaks, ribs, and inventive new creations such as Chicken Milanese or Spicy Chicken Flatbread. There is often a wait, but regulars maintain it is more than worth it. Open from 11am daily.
Food Type:
Italian
Style:
Price:
2
Address:
29 East Ohio Street
Website
www.unos.com
---
Smoque BBQ
Voted the best barbecue in Chicago, Smoque serves traditional Midwest barbecue like applewood-smoked baby back and St. Louis-style ribs, brisket (smoked for 15 hours), pulled pork (smoked for 12 hours) and sides like cornbread and mac and cheese. The restaurant is casual, and diners stand in line to order at the counter. Smoque's location outside of downtown Chicago makes it inconvenient for some tourists, but it is located near an El station and most diners say it's worth the trip! Open Tuesday to Sunday 11am-9pm, closes 10pm on Friday and Saturday.
Food Type:
Barbecue
Style:
Price:
3
Address:
3800 North Pulaski Road, Irving Park
Website
www.smoquebbq.com
---
Chicago Blues Festival
The Chicago Blues Fest is one of the biggest outdoor, free blues events in the world and is a must for all blues lovers. The festival features more than 70 international, national and local Chicago artists, spread over five stages, and at night the festivities continue in blues clubs around the city. The Blues Fest is the city's biggest music festival, and attracts about 500,000 people every year. Past performers have included huge stars like Ray Charles, B.B. King and Bonnie Raitt. For more information check out the official website listed below.


Date 2017-06-09 to 2017-06-11 Website www.chicagobluesfestival.us


Chicago Blues Festival ©Beaches Jazz
---
Magnificent Mile Lights Festival
The official start of the winter holiday season in Chicago is signalled by the lighting of more than a million white lights along the Magnificent Mile during a procession of Mickey Mouse and his Disney friends, concluding with a spectacular fireworks show over the Chicago River. The whole winter wonderland weekend is geared for the holiday season, with special offers and family entertainment along the Magnificent Mile. Live music is played on numerous stages and the grand tree-lighting ceremony is one of the highlights. Those in Chicago in November will love this beautiful, exuberant display and kids will be in heaven.


Date 2017-11-18 to 2017-11-18 Website www.themagnificentmile.com


Magnificent Mile Lights Festival ©Natasha Jelezkina
---
Venetian Night
Venetian Night is the city of Chicago's longest running annual event, having started in 1958 as part of the Lakefront Festival. Today, Venetian Night attracts hundreds of thousands of people to the lakefront. The waterside parade on Lake Michigan includes about 35 boats decorated with extravagant lights and skippered by costumed crews. There is also live music and an impressive fireworks display. The event is named after the beautiful boat parades that take place in Venice, which are typically Christmas celebrations. Although the parade was sadly cancelled for a year or two due to the economic downturn, it has now been re-established with gusto.


Date 2017-08-05 to 2017-08-05 Website


Decorated boat ©Bradley Johnson
---
Travel Guide powered by www.wordtravels.com, copyright © Globe Media Ltd. All rights reserved. By its very nature much of the information in this guide is subject to change at short notice and travellers are urged to verify information on which they're relying with the relevant authorities. Globe Media and UNIGLOBE Travel does not accept any responsibility for any loss or inconvenience to any person as a result of information contained above.