Denver
General
Weather
Airports
Attractions
Kids Attractions
Events
Restaurants
Shopping
Nightlife
---
Introduction Region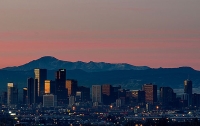 Denver Skyline ©Robert Kash
Although it is literally a 'Mile High City', situated one mile (1.6km) above sea level, Denver is flat and sprawling, overwhelmed by the backdrop of the majestic peaks of the Rocky Mountains. It was founded as a gold mining camp in 1859, and situated at the centre of the Old West it was filled with cowboys, gamblers, saloons, gunslingers, Native Americans, and crooked characters such as the infamous Jefferson 'Soapy' Smith. Although very little gold was actually discovered in the area, the city still grew from the gold rush.
Having since shed its cow-town image and most evidence of its cowboy past, Denver has developed into a modern city with wonderful museums, historic architecture, cultural attractions, shopping venues and a world-class airport. It has more than 200 parks, tree-lined boulevards and a completely refurbished lower downtown area (LoDo to the locals), where blocks of old Victorian buildings and warehouses have been carefully restored to house restaurants, galleries, antique shops and jazz clubs. Historic Larimer Square is the heart of the dining and nightlife scene. Denver brews more beer than any other city in America and most of it can be sampled in LoDo, where the city's brewpubs proliferate.
Most residents are active nature lovers who take advantage of the city's beautiful setting, the pleasant climate and unlimited outdoor adventures just minutes from the centre, including skiing, hiking, mountain biking and fishing. Tourism focuses on its natural setting and the outdoors, and as such it is a major destination for travellers heading into the mountains. Visitors to Denver will be pleasantly surprised by its welcoming and friendly nature and by how good-looking the city is.
Climate Info
Denver experiences a semi-arid climate with dry, cold winters, warm summers, rainy springs and pleasant, mild autumns. Winter temperatures average between 17°F (-8°C) and 46°F (8°C). The weather in Denver is influenced by the nearby Rocky Mountains, which block the winter storms somewhat. In summer, the humidity from the Gulf of Mexico causes afternoon thunderstorms. Summer temperatures average between 50°F (10°C) and 89°F (32°C). Denver's weather can also be unpredictable, with unseasonable snowstorms occurring. The average annual rainfall is low, and sunny skies are the norm.
The weather in Denver is notoriously unpredictable, but the best time to travel to Denver, especially for lovers of the outdoors, is during late spring or early autumn, when there are plenty of sunny days and, consequently, a number of outdoor events. Winter sports enthusiasts travel to Denver for the ski resorts during winter.
Convert to Imperial
Convert to Metric
| | | | | | | | | | | | | |
| --- | --- | --- | --- | --- | --- | --- | --- | --- | --- | --- | --- | --- |
| Month | Jan | Feb | Mar | Apr | May | Jun | Jul | Aug | Sep | Oct | Nov | Dec |
| rain (cm) | 14 | 16 | 34 | 44 | 63 | 43 | 48 | 38 | 28 | 26 | 23 | 15 |
| max temp (c) | 6. | 8 | 11 | 16 | 21 | 27 | 31 | 30 | 25 | 19 | 11 | 7 |
| min temp (c) | -9 | -6 | -3 | 1 | 6 | 11 | 15 | 14 | 9 | 2 | -4 | -8 |
| good weather | no | no | no | no | yes | yes | yes | yes | yes | no | no | no |
Getting Around
The public transport system in Denver is excellent, with an outstanding, comprehensive bus network that is supplemented by a light rail line operating throughout the metropolitan area and outlying towns. Along the 16th Street Mall, hybrid vehicles provide a free service called MallRide. Taxis can be hailed on the streets, but it is better to find them at taxi ranks or to order them by phone. Cars are not necessary for downtown, and parking is expensive.
Denver International Airport (DEN)
| | |
| --- | --- |
| Location | The airport is situated 19 miles (30km) east of Denver and is the gateway to the Rocky Mountains. |
| Time Difference | GMT -7 (GMT -6 from mid-March to the first Sunday in November). |
| Contacts | Tel: +1 303 342 2000. |
| Transfer terminals | The underground rail links the Jeppesen Terminal with concourses A, B and C. |
| Getting to city | The RTD bus services connect the airport to the city centre. Tickets cost $9 for a one day pass. The bus stop is located at the DEN Transit centre which may be accessed from the south end of the Jeppeson Terminal. Limousines and taxis are also available for hire. Airport shuttles provide door-to-door services to central locations. Travellers may also obtain ground transportation information at the Ground Transportation Information Counter located on Level 5 of Jeppesen Terminal. Car rental companies are also available. |
| Car Rental | Car rental companies include Advantage, Alamo, Avis, Budget, Dollar, Hertz, National and Thrifty. |
| Airpor Taxis | Taxis are available from outside the baggage claim area of the airport. The rate to the city centre starts from $55. Taxi operators include Denver Yellow Cab and Freedom Cabs Inc. |
| Airport Facilities | Foreign exchange bureaux and ATMs are available throughout the airport. Other facilities include bars, restaurants, duty-free shops, a post office, a massage centre and tourist information. Facilities for the disabled are good; those with special needs should contact their airline or travel agent in advance. |
| Car Parking | There is plenty of parking attached to the terminal. Fees start at $3 per hour for economy parking. Reduced rates are available in the off-site Pike Peak Lot, where the rates are $2 per hour and $8 per day. Shuttles run 24 hours a day, every 10 minutes. There is also parking next to the terminal for picking up and dropping off. |
| Website | www.flydenver.com |
History Colorado Center




Documenting the colourful history of Colorado and the stories of those who have lived here over the centuries, the History Colorado Center brings to life the world of cowboys and gunfighters, Native Americans, miners and gold panners, explorers, buffalo hunters, wagon trains and railroad
▼ see more




Colorado History Museum ©Wirawan Purwanto
---
Denver Art Museum




Housing one of the largest Native American art collections in the country, the Denver Art Museum is a huge, seven-storey structure that also features the works of American Western artists, and art from Africa, Europe, Asia and the Pacific. The growing Native American collection displays
▼ see more




The Denver Art Museum ©KM Newnham
---
Rocky Mountain National Park




The most popular attraction in Colorado is the spectacular Rocky Mountain National Park, with its snow-covered peaks, flower-flecked meadows, alpine lakes, thundering waterfalls and wildlife. These images of beauty have graced countless calendars and coffee-table books and are instantly
▼ see more




Sprague Lake ©F Delventhal
---
Denver Mint




More US money is made in Denver than anywhere else in the country, and visitors can take a tour of the Denver Mint to see exactly what's behind that tiny 'D' on most US coins. The Denver Mint opened in 1863, and originally melted gold dust and nuggets into bars for the Federal Reserve. T
▼ see more




The Denver Mint ©Larry D. Moore
---
Ski resorts




Boasting some of the world's top ski resorts, such as Vail and Aspen, to name two of the best, the main attraction of the Rocky Mountains has to be its plethora of ski resorts. Travellers looking for the ultimate winter ski holiday are spoilt for choice when they visit Colorado's Rockies
▼ see more




Skiing in Vail ©Connor Walberg
---
Mount Evans




Mount Evans, with an altitude of over 14,000 feet, offers visitors truly spectacular views from its summit, as well as the opportunity to see various forms of Rocky Mountain wildlife (American Elk, mountain goats, marmots, big horn sheep) in their natural habitats. Just 65 miles (about 1
▼ see more




Mountain Goats, Mt Evans ©Robertbody
---
Denver Museum of Nature and Science




The Denver Museum of Nature and Science is one of those rare attractions that is as entertaining as it is educational, and as suitable for kids as it is fascinating for grown-ups. The museum draws thousands of teachers and students each year, and countless more tourists, all of whom valu
▼ see more




Denver Museum of Nature and Science ©Paul Hermans
---
Elitch Gardens Theme Park




This popular amusement park is conveniently located in downtown Denver, offering about 50 rides and attractions for families in Denver. Rides range from the thrilling ten-storey Twister II roller coaster, to the pretty hand-carved carousel that dates back to 1925. The connected Island Ki
▼ see more




Elitch Gardens ©Bgtbbum
---
Boulder




A laid-back university town, located roughly 25 minutes northwest of Denver, Boulder is a sophisticated and artistic city. The large population of students from Colorado University gives Boulder a lively nightlife, a sense of fun, and a liberal attitude. Taking full advantage of its clos
▼ see more




Boulder ©Hustvedt
---
Mesa Verde National Park




Mesa Verde National Park provides a glimpse into the Ancestral Pueblo culture (also called the Anasazi), a tribe which inhabited the area for over 700 years from the year 600 to 1300. The park contains thousands of archaeological sites, including hundreds of cliff dwellings. Travellers c
▼ see more




Cliff Palace ©Andreas F. Borchert
---
Dinosaur National Monument




One of the best places to see prehistoric dinosaur fossils in the US, Dinosaur National Monument is home to the Carnegie Dinosaur Quarry, a famous archaeological site that still displays thousands of fossils for the public to see, along with exhibits on life during the late Jurassic peri
▼ see more




Dinosaur National Monument ©InSapphoWeTrust
---
The Great American Beer Festival
The logistics involved in this, the world's biggest gathering of varieties of the brown brew under one roof, are mind-boggling, but all go to prove that it is worth travelling to Denver in September! More than 330 breweries are represented and there are close on 1,500 brands of beer on offer on the festival floor. The accompanying brewers' competition draws around 2,000 entries. The beer swilling is accompanied by some great American blues and food and the event is lots of fun even for those who don't have much of an interest in the beer itself. Tickets are limited and the event tends to sell out so book early if you are planning to attend!


Date 2017-10-05 to 2017-10-07 Website www.greatamericanbeerfestival.com


Great American Beer Festival ©Four Brewers
---
Greeley Stampede
The Greeley Stampede is the 'World's Largest 4th of July Rodeo and Western Celebration!,' or so the organiser's emphatically claim. The festivities include a fantastic fireworks display, live music and art, and of course some crazy rodeo that attracts hundreds of thousands to share in the Independence Day celebrations. The event is wonderful fun for the whole family and attracts huge crowds in a patriotic frenzy. Check out the official website listed below for details on who is performing and what exactly the celebrations will include each year. For foreigners, this is a glorious cultural experience.


Date 2017-06-23 to 2017-07-04 Website www.greeleystampede.org


Riders with the Greeley Stampede ©Colorado Senate GOP
---
Travel Guide powered by www.wordtravels.com, copyright © Globe Media Ltd. All rights reserved. By its very nature much of the information in this guide is subject to change at short notice and travellers are urged to verify information on which they're relying with the relevant authorities. Globe Media and UNIGLOBE Travel does not accept any responsibility for any loss or inconvenience to any person as a result of information contained above.