Detroit
General
Weather
Airports
Attractions
Kids Attractions
Events
Restaurants
Shopping
Nightlife
---
Introduction Region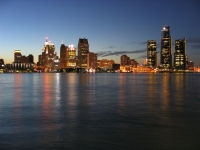 Detroit Skyline ©Shawn Wilson
The sprawling industrial city of Detroit, the oldest city in America's Mid-West, began life as a trading post when French explorer Antoine de la Mothe Cadillac landed on the banks of the Detroit River in 1701 and established a fort. He was later removed because of bad conduct, but unlike its outpost commander, the settlement of Detroit was flourishing. In 1796 Detroit officially became American, and by the early 19th century had already earned a reputation as a centre for the manufacturing industry, particularly kitchen ranges. As most people now know, however, Detroit did not go on to become the stove-making capital of the world. The city is renowned as the automotive centre of the globe, birthplace of the motorcar and home to some of the nation's top brands. Originally automobile empires were established by Detroit families like Ford, Olds, Chevrolet and Dodge, which have become household names, thanks to the invention and perfection of the motor vehicle production assembly line, which began in Detroit.
It is not only hard work and industrial enterprise that drives Detroit, however. The city in southeast Michigan is also famous for the Motown record label, founded by former autoworker Berry Gordy Jr, which has introduced the world to stars such as Stevie Wonder, Michael Jackson, the Temptations and Diana Ross, to name but a few.
Modern 'Motown' Detroit is a little decayed and shabby, having suffered a decline in fortunes, but efforts are being made to increase the city's appeal as a tourist destination, and there are several attractions worth seeing. In the downtown area new hotels and restaurants are appearing to complement the sports stadium, and there is a focus on the arts, particularly in the city's historic theatre district. The Renaissance Center, a group of seven interconnected skyscrapers, provides the best views of downtown Detroit.
Climate Info
Detroit has a humid continental climate with warm, humid summers and very cold winters. Mid-summer average temperatures can rise as high as 83°F (28°C), while in the coldest month, January, the mercury usually stays well below freezing point. Rainfall is spread fairly evenly over the year with a few inches being recorded each month. Snow usually falls between November and April.
Convert to Imperial
Convert to Metric
| | | | | | | | | | | | | |
| --- | --- | --- | --- | --- | --- | --- | --- | --- | --- | --- | --- | --- |
| Month | Jan | Feb | Mar | Apr | May | Jun | Jul | Aug | Sep | Oct | Nov | Dec |
| rain (cm) | 51 | 50 | 58 | 84 | 65 | 74 | 75 | 88 | 63 | 68 | 58 | 53 |
| max temp (c) | -0.7 | 0.6 | 7 | 14 | 21 | 26 | 28 | 27 | 23 | 16 | 9 | 2 |
| min temp (c) | -7 | -6 | -2 | 4 | 10 | 15 | 18 | 17 | 13 | 7 | 2 | -4 |
| good weather | no | no | no | no | yes | yes | yes | yes | yes | no | no | no |
Getting Around
There is not much in the way of public transport in Detroit, and the Motor City is still geared resolutely towards the car. Driving is not too challenging and parking is relatively easy to find, but rush hours should be avoided. To hire a car drivers must be 21 years old and have a valid driver's license; sometimes an International Driving Permit is also required. However, should one choose to rely on public transport, the People Mover is an elevated monorail that provides a quick and easy way to get around most of the downtown area, while DOT buses operate a meagre inner-city service and the SMART buses serve the suburbs, but service is sparse on weekends. Taxis are a convenient form of transport and can easily be found or ordered by phone.
Detroit Metropolitan Wayne County Airport (DTW)
| | |
| --- | --- |
| Location | The airport is located 20 miles (32km) southwest of downtown Detroit. |
| Time Difference | GMT -5 (GMT -4 from March to November). |
| Contacts | Tel: +1 734 147 7678. |
| Transfer terminals | 'Terminal-to-Terminal' vans provide a free shuttle service between the two terminals. |
| Getting to city | SMART public buses connect to central Detroit from the lower level near the Ground Transportation offices at the North Terminal. Taxis and sedan services are also available. There are car hire companies represented at the airport. It takes approximately 20-30 minutes to the city centre by car/taxi and about 45 minutes by bus. |
| Car Rental | Car hire companies represented at the airport include Alamo, Avis, Budget, Dollar, Enterprise, Hertz and National. |
| Airpor Taxis | MetroCars and MetroCabs are available from the airport, and should take approximately 20-30 minutes to the city centre. |
| Airport Facilities | The main concentration of restaurants, bars, cafes, and fast food outlets are in the McNamara Terminal, although the other terminal also has bars and eateries. There are numerous shops located throughout the airport, including duty-free. ATMs, wireless internet and bureaux de change are available in both terminals. The on-site hotel offers conference and business facilities. Disabled facilities are good; those with special needs should inform their airline in advance. |
| Car Parking | There is plenty of parking at Detroit Metropolitan Wayne County Airport, starting at $4 per half hour. Daily rates are available for $11 in the Green Lot, the cheapest long-term option. There is a free shuttle service from the parking lots to the terminal buildings. |
| Website | www.metroairport.com |
The Henry Ford Museum




Henry Ford, the son of a farmer, built his first car in Detroit in 1896. There was nothing too amazing about this feat, because cars had been around for some time. What was unique to Ford's invention was the moving assembly line, which enabled him to literally put the world on wheels. He
▼ see more




Henry Ford Museum ©Dsdugan
---
Automotive Hall of Fame




Car buffs the world over are drawn to Detroit's Automotive Hall of Fame, close to the Henry Ford Museum in Oakwood Boulevard, Dearborn, which is the public programme and exhibition centre for the worldwide motor vehicle industry. The venue features entertaining and enlightening exhibits
▼ see more




Automobile Hall of Fame ©Karrmann
---
Detroit Historical Museum




The Detroit Historical Museum, in downtown Detroit, allows visitors the chance to tour the scope of the city's history, from Antoine de la Mothe Cadillac's landing on the banks of the Detroit River through to the city's emergence as an industrial capital. In the museum it is possible to
▼ see more




Detroit Historical Museum ©Goldnpuppy
---
Detroit Institute of Arts




One of America's largest fine arts museums, the Detroit Institute of Art boasts more than 100 galleries, displaying a collection of about 65,000 works, ranging from mummies to Matisse, and Asian antiquities to American Impressionists. The Institute of Arts is conveniently situated in dow
▼ see more




Institute of Arts ©Frankdegram
---
Motown Historical Museum




Detroit's famous Motown sound (described as part church gospel and part jazz, merging the saintly and the secular) originated in two simple buildings on West Grand Boulevard, downtown, at Hitsville U.S.A. Visitors can see the original control room and recording studio where stars like th
▼ see more




Hitsville USA ©Blob4000
---
Ludington




Michigan boasts some wonderful sandy beaches on its western coastline, winding along Lake Michigan. Some of the best of these, with miles of sand and wild dunes, are near the ferry port town of Ludington. The Ludington State Park offers 14 miles (23km) of hiking and biking trails in beau
▼ see more




Ludington ©Pentachlorphenol
---
Ann Arbor




The city of Ann Arbor in southeast Michigan, 45 miles (72km) west of Detroit and just north of the Ohio border, is home to the University of Michigan, one of the country's top universities. The city and surroundings have a great deal to offer visitors in the form of historic and cultural
▼ see more




Ann Arbor shopping ©Scott Kashkin
---
Saugatuck-Douglas




The small resort towns of Saugatuck and Douglas are close enough together to be considered one holiday destination. Popular for weekend getaways from Detroit and Chicago, the towns are located along the shore of Lake Michigan, in the southwest of the state. The area is known for its ecle
▼ see more




Saugatuck, Michigan ©Ross Graham
---
Travel Guide powered by www.wordtravels.com, copyright © Globe Media Ltd. All rights reserved. By its very nature much of the information in this guide is subject to change at short notice and travellers are urged to verify information on which they're relying with the relevant authorities. Globe Media and UNIGLOBE Travel does not accept any responsibility for any loss or inconvenience to any person as a result of information contained above.