Houston
General
Weather
Airports
Attractions
Kids Attractions
Events
Restaurants
Shopping
Nightlife
---
Introduction Region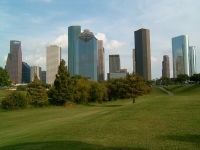 Houston Skyline ©Urban~commonswiki
The massive metropolis of Houston, sprawling across the Gulf Coast plain of East Texas from its busy port, is almost twice the size of the entire state of Rhode Island. Even with this heavy urban concentration, though, Houston is green and lush, sited at the end of a belt of forest coming down from the north, and characterised by marshlands and bayous lined with cypress trees in the southern reaches.
Houston, named after former Republic of Texas president Sam Houston, is hot and humid. To make life more bearable in the close-packed downtown area much activity has gone underground. The city centre sports an air-conditioned seven-mile (11km) pedestrian tunnel system full of restaurants and shops. Unlike most cities, downtown in Houston is the hub of residential development, so it remains busy and bustling long after dark.
Texas' largest city is not generally a sought after tourist destination, being concerned more with business than pleasure and leisure. Computer manufacture, gas and oil, and a huge concentration of medical institutions account for most of the economic activity, but all those hard-working citizens have to play sometimes. There are some great attractions like excellent museums, the amazing Astrodome sports pavilion, some wonderful theatres and, thanks to the cosmopolitan mix of its residents, ethnically diverse cuisine which can be found in its many restaurants. For visitors the absolute 'must-see' in Houston is the famed Space Center mission control for the US space programme.
Climate Info
Houston has a humid subtropical climate, with prevailing winds bringing in the heat from the deserts of Mexico and moisture from the Gulf of Mexico during most of the year. Summers are swelteringly hot and humid, making air conditioning a necessity rather than a luxury. In summer (June to August) temperatures average between 73°F (23°C) and 94°F (35°C), and in winter (December to February) temperatures average between 43°F (6°C) and 66°F (19°C). Summers are characterised by afternoon thunderstorms, which bring rain most days, and sometimes tornadoes. Winters, by contrast, are cool and temperate, with no snow but some rain.
Convert to Imperial
Convert to Metric
| | | | | | | | | | | | | |
| --- | --- | --- | --- | --- | --- | --- | --- | --- | --- | --- | --- | --- |
| Month | Jan | Feb | Mar | Apr | May | Jun | Jul | Aug | Sep | Oct | Nov | Dec |
| rain (cm) | 83 | 94 | 43 | 103 | 108 | 121 | 109 | 85 | 97 | 106 | 90 | 92 |
| max temp (c) | 16 | 18 | 22 | 26 | 29 | 32 | 34 | 34 | 31 | 28 | 22 | 19 |
| min temp (c) | 4 | 6 | 10 | 14 | 18 | 21 | 22 | 22 | 20 | 14 | 10 | 6 |
| good weather | no | no | yes | yes | yes | yes | yes | yes | yes | yes | yes | no |
Getting Around
Visitors to Houston are well advised to hire a car, which is relatively inexpensive and provides the quickest and most convenient way to navigate the spread-out city. There are plenty of car parks and a well-managed road system. To hire a car (for up to 90 days), a full national driver's license is required and drivers must be at least 25 years (some companies hire cars to those aged 21 to 24 with surcharges).
Those opting for public transport will find that the METRO has it well covered with an efficient and extensive bus service, as well as a light rail line which links Downtown, Midtown, the Museum District, Hermann Park, the Texas Medical Center and Reliant Park. Correct change is required for on-board bus fare boxes, or purchase tokens or a day pass in advance from local stores sporting the Metro sign. Taxis are a rather expensive option, though readily available downtown.
George Bush Intercontinental Airport (IAH)
| | |
| --- | --- |
| Location | The airport is situated 22 miles (35km) north of Houston. |
| Time Difference | GMT -6 (GMT -5 from March to November). |
| Contacts | Tel: +1 281 230 3100. |
| Transfer terminals | The free Skyway, an above-ground automated people mover, links the terminals for passengers who are inside security. A free, below-ground Subway train provides inter-terminal transportation to those who are outside of security. |
| Getting to city | Numerous shuttle services, including minibuses and limousines, are available from the airport to downtown Houston and a variety of other destinations, including the Gulf Coast resort city of Galveston. SuperShuttle shared-ride service picks up from any home or business. The Houston Metro offers public bus services from the south side of Terminal C, including an express airport bus. Courtesy vans are operated by various hotels and there are courtesy telephones in the baggage claim area. |
| Car Rental | The airport is served by major car rental companies that operate from a consolidated car rental facility, reached by shuttle bus from the terminals. Companies represented include Advantage, Alamo, Avis, Budget, Dollar, Enterprise, Hertz, National and Thrifty. |
| Airpor Taxis | Metered taxis are available outside each terminal. A $2.75 departure fee will be added to the meter, plus $1 should the journey be between 8pm and 6am. |
| Airport Facilities | Facilities at the airport include dozens of food and beverage establishments from formal dining to fast food. There are also many newsstands and speciality shops throughout the airport. Duty-free shops are available in the international terminal. ATMs and currency exchange are available throughout the airport. Disabled facilities are good. |
| Car Parking | Parking rates start at $3 per hour with a $20 daily maximum, and parking lots are located near all the terminals. |
| Website | www.fly2houston.com |
William P. Hobby Airport (HOU)
| | |
| --- | --- |
| Location | The airport is seven miles (11km) from downtown Houston. |
| Time Difference | GMT - 6 |
| Contacts | Tel: +1 (713) 640 3000. |
| Getting to city | The Houston Metropolitan Transit Authority operates bus services between downtown Houston and William P. Hobby Airport. Route 88 serves the airport, buses leave from zone 13 outside the baggage claims area. Buses operate every 30-40 minutes between around 5am and 12.30am during the week and around 6am and 1am on Saturdays. Fares start at $1.25. |
| Car Rental | Car rental companies including Thrifty, Alamo, Dollar, National, Hertz, Enterprise, Budget and Avis all operate at Hobby Airport. Rental booths are in the baggage claim area on the lower level of the terminal. |
| Airpor Taxis | Taxis are available on curbside zone 3 outside the arrivals part of the terminal. Cabs operate on a flat rate based on various zones within Houston. Fares range from $26.50 for downtown Houston in Zone 2 to $72.30 for a taxi to Bush Intercontinental Airport in Zone 8. |
| Airport Facilities | Facilities at the airport include ATMs, currency exchange facilities, public call boxes, mailboxes, luggage carts, phone charging facilities as well as shops and restaurants. |
| Car Parking | The parking garage is connected to the terminal and costs $5 for up to two hours and $9 for up to five hours, or $20 per day. Another option is the Ecopark lots, which cost roughly $12 or less per day. |
| Website | www.fly2houston.com |
Lyndon B. Johnson Space Center




The visitor's Space Center is attached to the headquarters of America's manned space programme, Nasa's 'Mission Control' that directs the space shuttle project and guided the pioneering astronauts. The Space Center, Houston's most popular tourist attraction, is located at Clear Lake, 20
▼ see more




Lyndon B. Johnson Space Center ©John Cummings
---
Museum District




Set within a scenic part of central Houston is the city's Museum District, featuring 19 varied and interesting institutions and numerous restaurants set among some lovely green spaces like Hermann Park, all within a 1.5 mile radius of the Mecom Fountain. One of the highlights in the area
▼ see more




Byzantine Fresco Chapel Museum ©Argos'Dad
---
The Orange Show




For a touch of the bizarre call at the Orange Show to see how obsession can become art. A former postman spent 26 years of his life assembling a collection of weird and wonderful objects and meshing them together into a labyrinth of passages and staircases, almost all of it orange. The r
▼ see more




The Orange Show ©Ed Uthman
---
Sam Houston Historical Park




The Sam Houston Historical Park near the city's visitor centre in Bagby Street provides visitors with a large as life look at Houston history. The 19-acre park features seven of the city's oldest buildings that have been restored and relocated here.

The oldest building is a s
▼ see more




Sam Houston Historical Park ©i_am_jim
---
Bayou Bend




The magnificent muted pink mansion in the marshy elbow of Buffalo Bayou in Houston's River Oaks area was the home of Miss Ima Hogg, a woman much loved in the community until her death in 1975, at the age of 93. Miss Hogg and her two brothers bought the woodlands estate in 1925 and for tw
▼ see more




Bayou Bend Estate ©Postoak
---
National Museum of Funeral History




At Barren Springs near Houston's International Airport is the unusual private museum run by a major funeral company in the United States, dedicated to funeral memorabilia. It is the largest musuem dedicated to funerary practices in the Unites States, and probably the world.




Funeral history to be explored at the National Museum of Funeral History ©Rklawton
---
Nightlife
Houston's nightlife is focused on the Midtown area, downtown near Montrose, and in the Uptown area around the Galleria.
Houston is one of the very few American cities to have resident performance companies in symphony, ballet, opera, and theatre. The main downtown venues are Jones Hall, the Alley Theatre, and the Wortham Theater Center. In terms of modern music, Houston does have venues for live gigs but doesn't attract the cachet of musicians that, for example, nearby Austin does. The best venues are The Big Easy, which has a great blues lineup, and McGonigel's Mucky Duck for acoustic performers.
Houston has plenty of mega-clubs in the city centre, one such being Liquid; a great place to enjoy some Latin and hip hop music. Clubs and bars generally have a smarter dress code than many are used to so it's worth dressing up before a big night on the town. For details of nightlife options check out The Houston Press, published every Thursday with full listings of who's playing and what's hot in the city.
El Tiempo Cantina
This temple to Tex-Mex is hugely popular with locals, as much for its excellent food as its fun and lively vibe. And the service is tops too. Prepare yourself for Tex -Mex legends like crabmeat quesadillas and superb fajitas. The margaritas are an irresistible accompaniment.
Food Type:
Tex-Mex
Style:
Price:
2
Address:
3130 Richmond Ave
Website
www.eltiempocantina.com
---
Marks American Cuisine
A converted 1920s church now houses this temple to elegant and fine food. Mark's is famous for dishes such as five pepper-crusted Scottish salmon and bourbon-glazed pork tenderloin. Great wine list and a lively bar add to the appeal of a night out here. Reservations are essential.
Food Type:
American
Style:
Price:
4
Address:
1658 Westheimer Rd
Website
www.marks1658.com
---
Vic & Anthonys Steakhouse
If you're looking for barbequed meat done just the way you like it, accompanied by a choice of award-winning wines, head to fun and friendly Vic & Anthony's which has a comfortable, tasteful dining room to host its clientele of carnivores, most of which are regulars.
Food Type:
Steakhouse
Style:
Price:
3
Address:
1510 Texas Ave
Website
www.vicandanthonys.com
---
Indika
By some margin Houston's best Indian eatery, Indika earns rave reviews for its unique combinations of Texas ingredients and Indian spices. Great desserts too. Don't miss the duck tandoori and order some naan bread to accompany just about every dish you order.
Food Type:
Indian
Style:
Price:
3
Address:
516 Westheimer
Website
www.indikausa.com
---
Chez Nous
Serving authentic French country cuisine like escargot and shrimp Provencal, and tournedos Rossini, Chez Nous is the place to go for a memorable meal or a celebration. The airy, tasteful décor complements this venue, a former Pentecostal church. Book well ahead and dress in your best.
Food Type:
French
Style:
Price:
3
Address:
217 S Ave G, Humble
Website
www.cheznousfrenchrestaurant.com
---
Rodeo and Livestock Show
Houston's raunchy rodeo is the largest in the world, and its accompanying livestock fair second in size only to the State Fair of Texas in Dallas. This three-week spectacular not only includes the world-beater rodeo competition and about 35,000 livestock entered in different categories, but it also offers hundreds of other agricultural-related activities from pig races to pony rides, and premier concert entertainment. The livestock show includes auctioning off the animals, and the public is invited to watch the fast-paced and exciting auctioning process. There is also a horse show, similar to the livestock show.




A wide variety of food is available to visitors, including, of course, lots of barbecue. Prizes are handed out to food vendors in several categories: best breakfast food, best value food, best food-on-a-stick, classic fair food, most creative food, best fried food, best new flavour, and best dessert. It is the world's largest livestock exhibition, the world's richest regular-season rodeao, and is described as the Southwest's premier entertainment event. Justin Bieber, Mary J. Blige, the Black Eyed Peas, Faith Hill, Enrique Iglesias and John Mayer are only a few of the big names that have performed here over the years.


Date 2017-03-07 to 2017-03-26 Website www.hlsr.com


Texas Longhorn ©David
---
Houston Childrens Festival
This major family fun event has become one of the biggest children's events in America, designed to bring out the child in everyone, that has been rated by Frommer's as one of the world's top 300 unmissable events. Over 50,000 people attend the festival over the week that it runs, and the festival continues to grow in popularity. The weekend-long festival includes 14 family 'adventure zones', all offering themed rides, games, activities, crafts, exhibits and sports. There are also several music stages pumping out ongoing entertainment, from health and fitness demonstrations to techno and karaoke.




A Circustown area features circus acts like trapeze artists and juggling, a superior Science Stage features fascinating science demonstrations, the Barnyard lets children see and interact with farm animals, and still more awaits children and their parents to keep everyone entertained for hours. Coupons are sold at the entrance gates and can be used for food, beverages and games, but marketplace vendors selling crafts, toys and the like do not accept coupons. The Festival is organised by Child Advocates Incorporated and is in aid of abused children.


Date 2018-04-07 to 2018-04-08 Website www.houstonchildrensfestival.com


Children play and have fun at the Festival ©Steve Ford Elliott
---
Travel Guide powered by www.wordtravels.com, copyright © Globe Media Ltd. All rights reserved. By its very nature much of the information in this guide is subject to change at short notice and travellers are urged to verify information on which they're relying with the relevant authorities. Globe Media and UNIGLOBE Travel does not accept any responsibility for any loss or inconvenience to any person as a result of information contained above.