Las Vegas
General
Weather
Airports
Attractions
Kids Attractions
Events
Restaurants
Shopping
Nightlife
---
Introduction Region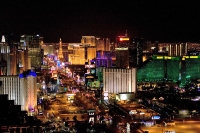 Las Vegas Strip ©Lasvegaslover
Set in the middle of the vast Mojave Desert, Las Vegas was created entirely to entertain and has been described as the world's largest theme park. This psychedelic city of sin welcomes about 40 million visitors each year to its lavish hotels and casinos. Visitors today are amazed that only 80 years ago this thriving metropolis was a backwater whose only guests were railway passengers stopping off to stretch their legs on the long journey between Los Angeles and Salt Lake City.
Things started to change in March 1931 when the State of Nevada legalised gambling; one month later the city issued six licenses. Then in 1946, Mafia don Ben 'Bugsy' Siegel opened the sensationally lavish Flamingo Hilton on Highway 91. Las Vegas Boulevard was born and the city would never be the same again.
Soon stars like Elvis, Liberace and Sinatra were making the pilgrimage to what was fast becoming America's premier entertainment centre. In the early days the Mafia dominated the gambling industry but in the 1960s their influence waned and soon all the large hotels and casinos were controlled by big business.
Las Vegas boasts an impressive proportion of the largest hotels in the world and walking down 'The Strip' visitors can see the skylines of New York and Paris, discover the canals of Venice and the Pyramids of Egypt and see many a spectacular, extravagant show. Despite these excesses, room rates and restaurant bills are said to be some of the lowest in the Western world - all subsidised by gamblers intent on a free holiday.
Although the principal draw card is still gambling, Las Vegas is now marketed as a family destination and there is no shortage of theme parks, shopping malls and golf courses. However, the vast majority of visitors come to gamble or party and the incredible displays are mostly designed to lure passers-by into the casinos, and once there it's hard to leave; the exits are discreetly hidden.
Climate Info
Located in the middle of the Mojave Desert, Las Vegas is hot and dry during summer with mild winters, and plenty of sunshine all year round. In the height of summer, during July and August, the mercury often soars above 100ºF (38ºC). Winters (December to February) are cooler and bring winds and cold nights, with daytime highs of around 60ºF (16ºC) and chilly nights averaging 40ºF (4ºC). What little rain there is usually falls in winter, between January and March. In summer there are sometimes late afternoon thunderstorms that move in from Mexico.
Convert to Imperial
Convert to Metric
| | | | | | | | | | | | | |
| --- | --- | --- | --- | --- | --- | --- | --- | --- | --- | --- | --- | --- |
| Month | Jan | Feb | Mar | Apr | May | Jun | Jul | Aug | Sep | Oct | Nov | Dec |
| rain (cm) | 14 | 12 | 13 | 4.8 | 5 | 2 | 9 | 13 | 7 | 6 | 11 | 10 |
| max temp (c) | 14 | 17 | 20 | 25 | 31 | 38 | 41 | 39 | 35 | 30 | 20 | 14 |
| min temp (c) | 1 | 4 | 6 | 10 | 16 | 21 | 24 | 23 | 19 | 12 | 5.8 | 1 |
| good weather | no | no | yes | yes | yes | yes | yes | yes | yes | yes | yes | no |
Getting Around
Most visits to Las Vegas are confined to the Strip and downtown, so it is not necessary to hire a car as both are easily navigable by foot and there are several forms of transport that can be used. Local buses run the length of the Strip and into downtown and operate 24 hours a day with a flat fare including transfers. The old-fashioned Las Vegas Strip Trolley also runs the length of the Strip from 8.30am to midnight, and the Downtown Trolley circles between the Stratosphere and downtown at the same time. A state-of-the-art monorail runs above the streets, operating (depending on the day) from 7am to 3am between the Sahara Hotel and the MGM Grand. Taxis are plentiful and can be found lined up outside every hotel and casino and at taxi stands. Cars are the most practical way to explore outside Las Vegas, although there are bus tours offered to Hoover Dam.
Las Vegas McCarran International Airport (LAS)
| | |
| --- | --- |
| Location | McCarran airport is located five miles (8km) south of the Las Vegas Strip. |
| Time Difference | GMT -8 (GMT -7 from March to November). |
| Contacts | Tel: +1 702 261 5211. |
| Transfer terminals | Terminals 1 and 3 are connected by free shuttle buses. |
| Getting to city | There are regular buses going to and from the airport, downtown Las Vegas and The Strip, dropping off at most hotels; buses 108 and 109 connect to the Downtown Transportation Center and the South Strip Transfer Terminal. Shuttle services are available on the west side of the baggage claim area of Terminal 1, outside exits 7-13. |
| Car Rental | Car hire companies represented at the airport include Avis, Budget, Dollar and Hertz. Rental agencies provide free transportation between their parking lots and the terminal buildings. |
| Airpor Taxis | There are taxis available outside Arrivals at Las Vegas McCarran Airport, on the east side of baggage claim outside door exits 1-4. The meter starts at $2 when departing the airport. Taxis do not generally accept credit cards. |
| Airport Facilities | Las Vegas airport has a number of shops, bars and restaurants, and of course lots of slot machines. There are ATMs, a full-service bank, and currency exchange facilities in Arrivals and Departures. There is also a children's play area, shoe-shiners and information booths. |
| Car Parking | Short-term parking at Las Vegas McCarran International Airport starts at $2 per hour for the first three hours, then increases to $3 per hour up to a daily limit of $36. Long-term parking is $3 for the first hour and $1 per hour thereafter up to $16 per day. A free shuttle bus links the remote car park with the terminals. |
| Website | www.mccarran.com |
Venetian Hotel and Casino




No expense was spared building the Venetian Hotel, which aimed to recreate the city of Venice in the Nevada Desert, and the result is fairly spectacular. Guests can travel around the hotel in a gondola - real canals run through the grounds - and a replica of St Mark's Square and the Basi
▼ see more




A mural at The Venetian ©Paulgokin
---
Bellagio Hotel and Casino




The Bellagio is one of Las Vegas's most opulent hotels and most popular casinos. With an Italian theme, the great bulk of the Bellagio sits in its own vast garden. It has more than 3,000 rooms and hundreds of slot machines and gaming tables; however, its best-known attraction is its amaz
▼ see more




Bellagio Fountains ©Photographersnature
---
The Mirage




Another MGM mega-casino, the showpiece at the Mirage is a volcano that shoots flames 100 feet (30m) into the night sky every 15 minutes (6pm to midnight), spewing smoke and transforming a tranquil waterfall into spectacular streams of molten lava. As you'd expect of Las Vegas, it's all q
▼ see more




Mirage Hotel ©Jim G
---
Valley of Fire State Park




The Valley of Fire State Park is Nevada's oldest park, and is so named because of its red sandstone formations which appear to be on fire when the sun reflects off them. The rocks were shaped over 150-milllion years ago, when dinosaurs roamed the area. Apart from the rugged beauty of the
▼ see more




Petroglyphs in the Valley of Fire State Park ©MrSilva
---
The Luxor




The Luxor Hotel is themed on ancient Egypt and is one of the most prominent sights on the Las Vegas Strip. It is a massive black-glass pyramid containing 36 floors of hotel rooms, and shining through it up into the night sky is one of the world's most powerful light beams, which they cla
▼ see more




The Luxor ©Miguel Hermoso Cuesta
---
MGM Grand




One of the most famous casinos in Las Vegas, the MGM Grand was the largest hotel in the world when it opened in 1993 with more than 5,000 rooms; the complex also houses about 19 restaurants, many shops and nightclubs, a convention centre, and a spa. The MGM Grand's most famous attraction
▼ see more




MGM Grand ©Nadavspi
---
Mandalay Bay




The 44-storey Mandalay Bay Resort and Casino is among the largest on the Las Vegas Strip with more than 3,000 hotel rooms and a 135,000 square foot (12,500 sq m) casino. The tropical-themed resort has a number of popular family attractions, including the Shark Reef saltwater aquarium and
▼ see more




Mandalay Bay ©Erin Khoo
---
Imperial Palace Auto Collection




With more than 250 classic antique cars on display (all available for purchase), the Imperial Palace Auto Collection is an absolute must for car enthusiasts. It is actually part of a larger collection and cars are rotated in and out of the showroom on a regular basis; once a car is sold
▼ see more




Imperial Palace Auto Collection ©Tom Ipri
---
Fremont Street Experience




The downtown area of Las Vegas is where it all began and the Fremont Street Experience aims to celebrate this heritage. The street is also known as 'Glitter Gulch' for the bright neon signs and thousands of flashing lights that line the streets - this is where you'll find Vegas Vic and S
▼ see more




Fremont Street ©Michael Pead
---
The Grand Canyon




A mile deep, 277 miles (446km) long and up to 18 miles (29km) wide, the breath-taking grandeur of the Grand Canyon is so impressive that pictures or words simply cannot do it justice. One of the great natural wonders of the world, it was formed by the cutting action of the Colorado River
▼ see more




Grand Canyon ©Judith Duk
---
Hoover Dam




Stretching 1,247 feet (380m) across the Colorado River, the Hoover Dam holds back the waters of Lake Mead and is a fine example of the engineering of its time. One of the world's most famous dams, the Hoover Dam was built during the Great Depression in the 1930s - one of many vast public
▼ see more




Hoover Dam ©Raquel Baranow
---
Red Rock Canyon




Red Rock Canyon is a dramatic valley 10 miles (16km) west of Las Vegas, and is a good excursion to escape the neon lights and jangle of the slot machines. Its defining feature is the steep Red Rock escarpment, which rises 3,000 feet (914m) on its western edge. Today the dramatic landscap
▼ see more




Calico Basin, Red Rock ©Fred Morledge
---
Adventuredome




The glass-encased theme park of Adventuredome is the perfect attraction for thrill-seeking kids on holiday in Las Vegas - its loop roller-coaster and other gut-wrenching rides are not to be missed! If this adrenalin rush is a bit too extreme, there are also shows by magicians and juggler
▼ see more




Canyon Blaster, Adventuredome ©Nast89
---
Buffalo Bills




The Buffalo Bill's amusement park is an excellent holiday attraction for children, offering everything from earth-plunging rides that defy gravity or end with a huge splash, to log rides on a fantasy lake. Kids also love the Frog Hopper experience, bouncing around the park on the back of
▼ see more




Buffalo Bill's Resort ©Shawn Jipp
---
Grand Canyon Helicopter and Ranch Adventure




Kids will revel in the exciting experience of flying through the Grand Canyon in a helicopter and landing at the Grand Canyon Western Ranch. Once at the ranch, children are thoroughly enthralled by horse-drawn wagon rides and the cowboys putting on a show. The western-style meal served a
▼ see more




Modern Cowboys ©Pschemp
---
Treasure Island




No longer the family-friendly pirate hangout it once was, Treasure Island has revamped itself as an adult-oriented contemporary resort. The free Sirens of TI show is a special effects-laden production that is a must-see on the Las Vegas Strip, with music, explosions and beautiful women.
▼ see more




Treasure Island ©Kris Ziel
---
Dig This




A dream come true for many, Dig This is a wildly popular attraction in Las Vegas that allows you to operate enormous vehicles like bulldozers and excavators under the supervision of trained instructors. While the price tag is high, the experience is unforgettable as you team up with othe
▼ see more




Digger! ©Terinea IT Support
---
Shopping
Las Vegas just might be the mall shopping capital of the world: there are more than 20 mega malls competing for your dollar, each uniquely themed, and each offering prices that retailers in other cities struggle to compete with. So if you are burdened with your gambling winnings here are some shopping venue highlights to help lighten your load:
Town Square Las Vegas is a mega mall with a difference: most of the stores are outside so you can enjoy a pedestrian friendly village atmosphere while exploring a comprehensive range of stores. Town Square also offers an eclectic range of restaurants, a newly built day-spa, and a wonderful interactive children's park.
Caesars Palace is home to the hugely popular Forum Shops, with more than 700,000 square feet (220,000 sq/m) of retail space, while the Fashion Show Mall at 3200 Las Vegas Boulevard is still worth a visit for its incredible bargains more than 30 years after its founding. The recently revamped Boulevard Mall, offering more than 170 stores, is also a good option.
If you like your mall shopping with a healthy dose of kitsch then don't miss The Grand Canal Shoppes at the Venetian. This indoor shopping area is built as an authentic reproduction of Venice's Grand Canal (and yes, there are gondolas) with a replica of Piazza San Marco as the extravagant centre piece.
The Strip is known for designer boutiques and haute couture, and all the big names are represented here. Away from The Strip and the opulent malls you can find more individual stores selling Las Vegas collectibles (old gambling chips are highly prized), esoteric books and kooky clothing. Two markets are really worth a look: Broadacres Swap Meet offers a huge variety of retailers and the Fantastic Indoor Swapmeet is equally well-equipped.
Sales tax is built into the price of goods. Because states set their own sales tax the US government has no system for refunding you as a non-US visitor.
Nightlife
There's a reason they say 'what happens in Vegas, stays in Vegas'. With bars, clubs, strip clubs, casinos and world-class international shows running for years at a time, it's little wonder that Las Vegas has earned itself fame, and often infamy, as one of the world's party capitals.
The world-famous Strip is bland and dingy-looking during the day, but the minute the sun sets this desert oasis springs to life with neon illuminating just about every inch of the sidewalk. The real problem when heading out for a night on The Strip is choosing where to begin.
The current trend regarding shows is towards headline comedy or music acts and large-scale Broadway productions, all of which can be seen at the main hotels throughout town. World-famous magicians like David Copperfield and Criss Angel, singers like Celine Dion, Bette Midler and Cher, and renowned acts like the Cirque du Soleil and Blue Man Group all call Las Vegas home.
Hotels in Las Vegas offering great entertainment include the Bellagio, the Venetian, Caesar's Palace, Mandalay Bay, Treasure Island and the MGM Grand. Las Vegas casinos are also the best place to go for nightclubs and bars, with famous clubs throwing celebrity-hosted parties nearly every weekend.
Andres at Monte Carlo
Most of the glitzy Las Vegas hotel resorts feature French restaurants, but Andre Rochat's latest contribution is exceptional. Extreme fine dining here includes fresh seafood, poultry and vegetarian dishes - don't miss the signature dish, Scampi André, or perhaps try the Rack of Colorado Lamb. Andre's is known for its excellent stocks and sauces, as well as its fine pastry. Open daily, reservations essential.
Food Type:
French
Style:
Price:
5
Address:
3770 Las Vegas Blvd.
Website
andrelv.com
---
Pamplemousse
Just 500 yards from 'The Strip', Pamplemousse provides a quiet dining oasis reminiscent of a cosy French country inn, with soft orchestral music in the background to accompany the gourmet fare. There is no menu. Waiters knowledgably recite the specialities of the day, which usually include the renowned Hobo Steak, Norwegian salmon, roast duckling, veal medallions, filet mignon and spring lamb. The appetisers and desserts are just as mouth-watering including the famous trademark Basket of Crudités. Reservations are essential. Open daily for dinner. Dress smart casual (no jackets required, but appreciated).
Food Type:
French
Style:
Romance
Price:
4
Address:
400 East Sahara Avenue
Website
www.pamplemousserestaurant.com
---
Golden Steer Steakhouse
The Steer, about a mile from 'The Strip', is the oldest steak house in Las Vegas having been in business in the same spot since 1958, and still a favourite with thousands of loyal diners. Celebrities like Frank Sinatra, Dean Martin and Elvis Presley frequented the Steer to enjoy the large and perfectly grilled traditional steaks, especially the Diamond Jim cut of prime rib. Fish, chicken and some Italian dishes are on offer too, and a selection of interesting appetisers - try the seafood stuffed mushrooms. Lunch and dinner Monday to Friday, dinner Saturdays and Sundays.
Food Type:
American
Style:
Price:
4
Address:
308 W. Sahara Avenue
Website
goldensteersteakhouselasvegas.com
---
Marrakech
Exotic and exciting dining is offered in a cosy Middle-Eastern tent where diners lounge on cushions on the floor, or on comfy low couches, to enjoy a traditional Moroccan meal. Robed waiters explain the six-course fixed-price menus, while belly dancers gyrate provocatively. The meals are accompanied by homemade Moroccan bread and, if offered, be sure to try the filet mignon (marinated and grilled in Moroccan spices). Algerian wines are available. Open for dinner nightly. Reservations required.
Food Type:
Moroccan
Style:
Price:
3
Address:
3900 Paradise Road
Website
www.marrakechvegas.com/
---
Mon Ami Gabi
Few restaurants can claim sidewalk space on the famous Las Vegas Strip, where diners can watch the passing parade. Mon Ami Gabi, emulating a Paris brasserie, does just that with not only an outdoor section, but a glass conservatory and several indoor dining rooms as well. The cuisine on offer is mainly classic French steak frites and fruits de mêr with flavoursome sauces. Their braised pork shank, and the steak with blue cheese sauce, are sublime. Open daily for breakfast, lunch and dinner.
Food Type:
French
Style:
Price:
3
Address:
3655 S. Las Vegas Boulevard
Website
www.monamigabi.com
---
Chicago Joes
Italian restaurants abound in Las Vegas, both on and off The Strip, but for really good home-cooked food and excellent value, the unimposing brick building housing Chicago Joe's, in the residential downtown area, is a sure bet. The pasta sauces are renowned among locals, all reputedly recipes handed down by the owner's family through generations. Try the pasta with eggplant (aubergine/brinjal) or white clam sauce, or perhaps the Lobster Joe. Open for lunch and dinner from Tuesday to Friday; Saturday dinner only.
Food Type:
Italian
Style:
Price:
2
Address:
820 South 4th Street
Website
chicagojoesrestaurant.com
---
Gonzalez y Gonzalez
With just about as much Mexican flair and spice that can be conjured up, Gonzalez y Gonzalez is the perfect place to knock back a few margaritas, dive into a plate of tacos, tamales or quesadillas and enjoy the Mexican energy in the outdoor dining courtyard decked with lanterns and piñatas. Open daily for lunch and dinner. Bookings recommended.
Food Type:
Tex-Mex
Style:
Trendy
Price:
2
Address:
New York-New York Hotel and Casino, 3790 Las Vegas Boulevard South
Website
www.newyorknewyork.com
---
Wicked Spoon Buffet
Amid the sea of $5 lobster that is buffet dining in Las Vegas, Wicked Spoon Buffet comes out tops. The restaurant serves a huge selection of dishes ranging from pizza and tacos to sushi and pad thai, all portioned out in attractive single-serving dishes rather than scooped from serving bowls. Make sure to save some room for dessert, which is highlighted by a fully-staffed gelato bar.
Food Type:
Buffet
Style:
Price:
2
Address:
3708 Las Vegas Boulevard South
Website
www.cosmopolitanlasvegas.com
---
Roy's
It's well worth leaving the Strip for dinner at Roy's, considered the best seafood restaurant in Las Vegas. The menu is Hawaiian fusion, with mouth-watering options like Crunchy Golden Lobster Potstickers and Boursin Cheese-Stuffed Chicken. There are a few sushi choices, and Roy's even has special vegetarian and gluten-free menus.
Food Type:
Seafood
Style:
Price:
3
Address:
620 East Flamingo Road
Website
www.roysrestaurant.com
---
Le Cirque
Le Cirque, which is located in the luxurious Bellagio Hotel and winner of the prestigious AAA Five Diamond rating, is decked in vivid orange, reds and pinks with elaborate and colourful artworks, conjuring a unique and accurate feel of what it must be like to dine under a big top. Boasting a world-class wine list of more than 900 international selections highlighting wines from France's best wine regions, you can be sure the food is just as mouth-watering. Try the Coeur de Filet de Boeuf served with sautéed foie-gras, smoked serrano potato Croquette and sweet onion compote, while those with a sweet tooth will love the classic Tahitian vanilla bean crème brulée. Open Tuesday to Sunday for dinner only. Bookings essential.
Food Type:
French
Style:
Romance
Price:
4
Address:
Bellagio, 3600 Las Vegas Boulevard South
Website
www.bellagio.com
---
Mr Luckys
If there's one place in Vegas you're going to find a Rock 'n Roll themed restaurant, it'll be in the Hard Rock Hotel. Diners can enjoy a good, old-fashioned American hamburger while gazing at the restaurant's 50s and 60s rock memorabilia. A good place to grab a greasy bite to eat, like the Sirloin Burger, after a long night at the slots or tables. Open 24 hours a day, seven days a week.
Food Type:
American
Style:
Trendy
Price:
1
Address:
Hard Rock Hotel and Casino, 4455 Paradise Road
Website
www.hardrockhotel.com
---
City of Lights Jazz and R&B Festival
The annual Las Vegas City of Lights Jazz and R&B Festival takes place at the Clark County Government Amphitheater where those who enjoy a toe-tapping good time should pack a camping chair, their sun hat and some snacks and refreshments and head on down to see live acts such as Will Downing, Euge Groove, Karen Briggs' Soulchestra and Fattburger. Craft and food stalls are also available and festival-goers can enjoy getting out into the Nevada heat to listen to some good old Rhythm and Blues. For a full programme and more details check out the official website listed below.


Date 2018-04-28 to 2018-04-29 Website www.yourjazz.com


Bauhaus Walstein Saxaphone ©Tom Oates
---
Rock n Roll Las Vegas Marathon
The Rock 'n' Roll Las Vegas Marathon takes place at the Mandalay Bay Resort and Casino where runners can enjoy the sights and sounds of Sin City, and spectators get into the swing of things with live entertainment, including music, cheerleaders, and Vegas-inspired fanfare. Runners and spectators alike can expect a high-energy, rockin' run and a post-race party like no other - it's in Vegas after all. The half marathon has a wave start, allowing runners plenty of elbow room to enjoy the run and the sideline entertainment along the way. For more details check out the official website listed below.


Date 2017-11-11 to 2017-11-12 Website stripatnight.com


Rock n Roll Marathon ©Travis Wise
---
National Finals Rodeo
Referred to as the 'Superbowl of Rodeos', cowboys and cowgirls from across America and Canada work hard all year in the hope of being one of the top 15 to qualify for the NFR and to compete for the prize money. Events include bull riding, calf roping, team roping, saddle bronco riding, bareback riding, steer wrestling and barrel racing. There is no better place to experience the still resilient cowboy culture of the US! Of course, the competition includes food stalls and funfair attractions and should be fun for the whole family. Check out the official website listed below for more details.


Date 2017-12-07 to 2017-12-16 Website www.nfrexperience.com


National Finals Rodeo ©Cpl. Matt Millham
---
Burning Man
The Festival of the Burning Man is one of the most unique festivals in the world. Drawing crowds of more than 20,000 each year from all over the world, the celebration is of art, creativity and humanity. Unlike most other festivals in the world, this one has no commerce, no shops, no rock stars, no rollercoasters. It is simply a gathering, albeit a very large one. The Black Rock Desert, two or three hours north of Reno is the setting. The serenity of the place allows festival goers the environment to feel uninhibited and expressive. The emphasis is on community and people helping one another and all who attend do so in friendship. And on the last day, the bonfire of the Burning Man takes place setting the skies alight in fire while the community dances around. Due to the non-commercial nature of the festival, those attending are advised to bring everything they might need with them. Check the official website for details.


Date 2017-08-27 to 2017-09-04 Website www.burningman.com


The Burning Man ©Aaron Logan
---
Travel Guide powered by www.wordtravels.com, copyright © Globe Media Ltd. All rights reserved. By its very nature much of the information in this guide is subject to change at short notice and travellers are urged to verify information on which they're relying with the relevant authorities. Globe Media and UNIGLOBE Travel does not accept any responsibility for any loss or inconvenience to any person as a result of information contained above.