Los Angeles
General
Weather
Airports
Attractions
Kids Attractions
Events
Restaurants
Shopping
Nightlife
---
Introduction Region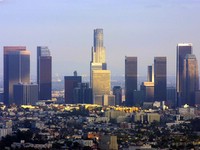 Los Angeles ©Thomas Pintarik
Millions of visitors arrive each year in Los Angeles eager to experience for themselves the epitome of the American Dream: to find the self-indulgent living soap-opera lifestyles, experience firsthand the images that are strangely-familiar thanks to the 'big screen', and walk in the footsteps of the stars. The fantasy worlds of Disneyland and Hollywood, the famed extravagance of Beverley Hills and Malibu, and the sun-soaked beach culture are just some of the attractions within this 'City of Angels'.
Los Angeles is not really a city but rather a sprawling metropolis constituting more than 80 smaller city areas woven together by a daunting network of traffic-congested freeways without a clearly defined centre. LA is just one of these cities with Downtown at its heart, and lying outside the city limits is the surrounding conglomeration of cities that comprises LA County.
Los Angeles offers a dazzling variety of attractions and world-famous amusements. Downtown is a mixture of cultures and local communities: the traditional herbalists of Chinatown's Bamboo Lane; Little Tokyo with its sushi bars and Japanese gardens; and the narrow Latino-influenced Olvera Street. Los Angeles County is endowed with a rich diversity of backgrounds and is a mix-and-match of people from 140 countries speaking 96 different languages, of those who have left home to seek acceptance for ideas or unconventional lifestyles not tolerated in the more conservative parts of the country, and would-be stars with dreams of fame and fortune. West Hollywood is the focal point of gay and lesbian culture, and the posh beachside resort of Santa Monica and body-builders at Muscle Beach, as well as the childhood fantasy of Disneyland are all a part of the diversity, although not always a harmonious one. There are exciting museums, cinemas featuring every conceivable production, swanky boutiques with the latest fashions, comedy clubs, poetry readings and coffee house recitals, and music of every kind played in various venues throughout the city.
Underneath the huge 'Hollywood' sign on the crest of the Hollywood Hills, the high energy and pleasure-seeking atmosphere, bold billboards, sexy sun-bronzed people, bright lights and fancy cars are images of a city that everyone loves to hate; but whether one likes what one finds or not, Los Angeles must be experienced at least once in a lifetime.
Climate Info
Los Angeles's Mediterranean climate is generally warm and pleasant all year round. Protected from extremes of temperature and humidity by the Santa Monica and San Gabriel mountains, and influenced by the warm, moist air from the Pacific, its summers are dry and sunny and winters cool and wet with winter temperatures avergaging between 48°F (9°C) and 68°F (20°C). Offshore breezes cool the beach communities during the hot summer months when coastal highs reach 74°F (23°C), but inland temperatures can rise to well over 90°F (32°C), especially in the numerous canyons and valleys of the area. Smog often gathers in low-lying areas and sometimes the hot, dusty Santa Ana winds blow in strongly from the surrounding mountains.
Convert to Imperial
Convert to Metric
| | | | | | | | | | | | | |
| --- | --- | --- | --- | --- | --- | --- | --- | --- | --- | --- | --- | --- |
| Month | Jan | Feb | Mar | Apr | May | Jun | Jul | Aug | Sep | Oct | Nov | Dec |
| rain (cm) | 61 | 64 | 50 | 18 | 3 | 1 | 0 | 4 | 8 | 9 | 45 | 42 |
| max temp (c) | 18 | 19 | 18 | 20 | 21 | 22 | 24 | 25 | 24 | 23 | 21 | 19 |
| min temp (c) | 8 | 9 | 10 | 12 | 13 | 15 | 17 | 18 | 17 | 15 | 11 | 9 |
| good weather | no | no | no | yes | yes | yes | yes | yes | yes | yes | yes | no |
Getting Around
The city of LA sprawls over such a large area that getting around without a car can be frustrating and time consuming. The complex network of freeways connecting the sprawl can be intimidating, especially for those not used to driving in big cities, but with a map or good directions, hiring a car is the best and most popular way to see LA. If possible, visitors should avoid rush hour traffic, which is heaviest from 7am to 10am and 3pm to 7pm, when freeways often come to a standstill. It is also possible to get around by bus, but frequent transfers and long distances can make this slow and impractical, and it is not recommended for late-night travel. The Metro rail system has three lines, which cover only a small area of LA, but it is frequent and efficient. Taxis are also available, but they can be expensive due to the long distances.
Los Angeles International Airport (LAX)
| | |
| --- | --- |
| Location | The airport is situated 16 miles (26km) southwest of Los Angeles. |
| Time Difference | GMT –8 (GMT -7 from the second Sunday in March to the first Sunday in November). |
| Contacts | Tel: +1 310 646 5252. |
| Transfer terminals | A free shuttle bus carries passengers between terminals. |
| Getting to city | A free shuttle bus service runs to the Metro Rail Green Line Aviation Station from the lower level of each terminal. Another shuttle connects to the Bus Center, from where city buses serve the Los Angeles area. Prime Time Shuttle and Super Shuttle are both shared-ride van services; reservations are recommended. Some hotels also offer transport. |
| Car Rental | Car rental companies include Advantage, Alamo, Avis, Budget, Hertz and Thrifty. Vehicle rental sites are located off the airport property, but travellers can request a free shuttle pick-up to reach the rental car sites. |
| Airpor Taxis | There are taxis available outside the lower level of the airport. Passengers receive a ticket stating the typical fare to major destinations. Airport authorized taxis display an official seal and passengers who use an unauthorized taxi service do so at their own risk. |
| Airport Facilities | Passenger services at the airport include ATMs and currency exchange, a business centre, baggage storage, shops, restaurants and bars. Cell phones can be rented in Arrivals. |
| Car Parking | There are eight central car parks offering long and short-term parking that are connected to the terminals by the LAX shuttle bus. There is also a Cell Phone Waiting Lot. Parking is charged at $3 for the first hour and $2 per half hour thereafter, up to $30 per day. The Economy Lot is $4 for the first hour and $4 per hour after that up to $12 per day. |
| Website | www.lawa.org |
Long Beach Airport (LGB)
| | |
| --- | --- |
| Location | The airport is situated three miles (4.8km) northeast of Long Beach City, in Los Angeles County. |
| Time Difference | GMT –8 (GMT –7 from the second Sunday in March to the first Sunday in November). |
| Getting to city | Long Beach Transit bus routes 102, 104 and 111 service the airport. Regular bus fare is $1.25. Taxis, shuttles and rental cars are also available at the airport. |
| Car Rental | Car hire companies represented at the airport include Avis, Hertz, Enterprise, Budget and National/Alamo. |
| Airpor Taxis | Long Beach Yellow Cab taxis are available at the taxi stand outside the terminal. A taxi to downtown Los Angeles costs roughly $72 and a taxi to Disneyland costs about $45. |
| Airport Facilities | The terminal has recently been renovated at Long Beach Airport and passengers should be able to find everything they need. Airport facilities include ATMs, gift shops, cafes, fast food outlets and a restaurant. |
| Car Parking | An hour of free parking is allowed in the Cell Phone Waiting Lot. The hourly rate in all other parking lots is $2, with the first 15 minutes free, but daily rates do vary slightly, with Parking Lot B slightly cheaper than Parking Lot A. Valet parking is available. |
| Website | www.lgb.org |
Hollywood




Los Angeles is the film and entertainment capital of the world and the name 'Hollywood' is the embodiment of glamour, success and money; the place where films are made, television shows are recorded and stars take up residence. The famous Hollywood sign on the hills above the city has be
▼ see more




Hollywood Sign ©Thomas Wolf
---
Universal Studios Hollywood




One of the most popular attractions in Los Angeles is Universal Studios Hollywood, reputedly the world's biggest film studio and theme park. The main attraction is the Studio Tour, a narrated tram ride that traverses the huge complex, passing stars' dressing rooms and famous back-lot set
▼ see more




Universal Studios ©Anthony Georgio
---
Warner Bros Studios




The tour at Warner Bros offers a comprehensive behind-the-scenes look at an authentic working studio and provides more of a technical slant than the Universal Studios tour, focussing on the authentic filmmaking procedure. The informative two-hour tour takes visitors to view the sets, pro
▼ see more




Warner Bros Studios ©?LiAnG?
---
Disneyland Resort




Claiming to be 'The Happiest Place on Earth', Disneyland is an integral part of an American childhood and was the world's first mega theme park designed for the family by Walt Disney in 1955. It is one of America's most famous attractions and despite competition from other similar parks
▼ see more




Paradise Pier ©Hubert Yu
---
West LA




West LA is famous for its trend-setting style; the place where the 'stars' live, shop and go out on the town. The area includes some of the most prestigious neighbourhoods in Los Angeles, particularly Beverly Hills and Bel Air. Home of the rich and famous, and one of the world's most exp
▼ see more




Beverly Hills ©Morn the Gorn
---
Beach Communities




The miles of sandy beaches along the Pacific Ocean are a celebration of the Californian lifestyle with distinct neighbourhoods and oceanfront walks linking the communities. Malibu is popular with the privacy-seeking rich and famous and their mansions line strips of privately-owned shorel
▼ see more




Venice Beach ©SameerKhan
---
Death Valley National Park




The name itself suggests images of all that is harsh, inhospitable and hellish, and it is not by chance that many of the park's features have names like Coffin Peak, the Funeral Mountains, Dante's View, the Devil's Golf Course and Furnace Creek. These are the topographical features of a
▼ see more




Death Valley National Park ©specchio.nero
---
Los Angeles Zoo




Located within the Griffith Park area, the Los Angeles Zoo is a large facility boasting 1,100 animals from around the world. The Zoo is currently adding naturalistic habitats for the animals, making the facility more attractive to both visitors and occupants. It is also a botanical garde
▼ see more




Los Angeles Zoo ©Gareth Simpson
---
La Brea Tar Pits




One of the world's most significant fossil sites, the tar pits in central Los Angeles have revealed fossils of plant and animal life preserved in the pits for tens of thousands of years. The fossils themselves are on display in the Page Museum on the site, while replicas of some of the a
▼ see more




La Brea Tar Pits ©MoToMo
---
Griffith Park and Observatory




The Griffith Park extends for 4,210 acres (17 km²) of well-kept public grounds and is often referred to as the 'Central Park' of Los Angeles. Rent a bicycle, take a hike or have a picnic under the iconic Hollywood sign. Within the park is the Griffith observatory, which apart from being
▼ see more




Griffith Park and Observatory ©Marcy Reiford
---
Walt Disney Concert Hall




It's worth heading into downtown Los Angeles to see this strange Frank Gehry-designed concert hall. The silver-plated building can be described as art deco meets surrealism, and while it derives mixed admiration from visitors, its uniqueness is never argued. A walking tour with an explan
▼ see more




Walt Disney Concert Hall ©Jon Sullivan
---
Magicopolis




Fantasy and illusion come alive at Magicopolis, where magic, music and special effects inspire awe and wonder. The shows at Magicopolis run between 90 minutes and two hours and feature comedy, magic, music, illusions, special effects and audience participation. Magic trick kits can be pu
▼ see more




Magicopolis ©Gentleman of Sophistication and Refinement
---
Castle Park




A great attraction for kids in Los Angeles, Castle Park has a number of enticing entertainment options to offer adventure-seeking children. The arcade boasts hundreds of games including Ghost Blasters, Time Crisis 3 and Dance Dance Revolution, with fun prizes to be won and a snack bar. T
▼ see more




Merlin's Revenge at Castle Park ©Martin Lewison
---
Peach Tree Pottery




For kids who really want to get their hands dirty, Peach Tree Pottery offers children's pottery lessons in a friendly, relaxed environment. Aside from learning to use a potter's wheel, children will also be shown how to make pinch pots, coil pots and tile trivets - a world of ceramic fun
▼ see more




Pottery kids ©Aine D
---
Anaheim




Located approximately 25 miles (40km) southeast of Los Angeles and founded in 1857 by grape farmers and wine makers, Anaheim (meaning 'home by the Santa Anna River' in German) is known as the home of California's Disneyland. This Orange Country town farms walnuts, lemons, and, of course,
▼ see more




Sleeping Beauty's Castle ©Tuxyso
---
Knotts Berry Farm




When Walter Knott began selling berries, berry plants and pies from a roadside stand beside State Route 39 in the 1920s he could never have known what his stand would eventually become. As the highway developed over time, so did his stand, becoming a roadside eatery with entertainment an
▼ see more




The Silver Bullet ©The Phoenix Enforcer
---
Six Flags Magic Mountain




Even with the stiff competition among Southern California theme parks, Six Flags Magic Mountain has a solid reputation for the biggest, baddest rides in the area. This world-class theme park was recently named Roller Coaster Capital of the World with 18 coasters, including Superman, the
▼ see more




Six Flags Magic Mountain ©Jeff Turner
---
Getty Villa




Originally completed in 1974, then rebuilt in 1997, the Getty Villa is a faithful replica of a Roman villa that was buried by the eruption of Mount Vesuvius in the year 79. Perched on a hill overlooking the Pacific Ocean, the Villa was built to house the expanding art collection of oil t
▼ see more




Getty Villa ©Bobak Ha'Eri
---
Getty Center




It is said that the Getty Center in Brentwood, Los Angeles is less a museum with artworks inside, than an artwork with a museum inside. Certainly the building, designed by Richard Meier and costing $1.2 billion to build in 1997, is celebrated for its architecture and gardens, while the w
▼ see more




Getty Center ©Bobak
---
Celebrity Gravesites




Hollywood's celebrities are a major tourist attraction in Los Angeles long after they're dead. Several cemeteries in LA are known for their famous residents, and visitors flock to pay homage to their idols at their final resting places.

One of the most famous cemeteries in Lo
▼ see more




Westwood Memorial ©Alan Light
---
Medieval Times




A wildly popular family attraction in Los Angeles, Medieval Times is a dinner event that combines food and entertainment. Guests are treated to a four-course 11th-century feast while being entertained by six knights competing in the joust and other contests. The castle features a tower,
▼ see more




Medieval |Times ©Phil Guest
---
Shopping
For sheer variety and scale, LA shopping is hard to beat. This is a fashion-conscious, trend-setting consumer paradise with the shopping options to match.
Your best buys are the aforementioned fashion items, sporting goods and gear, locally produced wine from the Napa Valley, movie paraphernalia and collectables, and - of course - videos and DVDs of the movies and stars that make tinsel town famous the world over.
If you're looking for both designer wear and celebrity sightings, head for Beverly Hills and Rodeo Drive where big name jewellery and haute couture stores line up like A-list stars at an exclusive beach. For more unusual, arty and eccentric items, head for the potpourri of Venice Boardwalk or Melrose Avenue. Nearby Main Street is good for trendy but affordable attire, as well as antiques and collectables.
Certainly the best-value LA shopping can be found at the discount outlet complexes on the edge of town. Here you can find all the big name brands at substantial discounts - up to 70 percent off the list price. Check out Ontario Mills and Desert Hills Premium Outlets for some great bargains.
Of course LA, like every big American city, has its share of mega-malls. The best of these are the Beverly Center, with nine floors of stores and restaurants, and Westside Pavilion, which includes a wonderful three-floor Barnes and Noble bookstore. On the other end of the scale are the vibrant flea markets, the best of which are the Rose Bowl Flea Market & Swap Meet, and the sparkling Jewellery Mart.
A Sales Tax of 8.25 percent is built into the purchase price. However, as such sales taxes are set at state level, there is no way to obtain a refund from the federal government for non-US visitors.
Nightlife
Home of all things cool and the birthplace of pop culture, the nightlife in Los Angeles is second to none with some of the edgiest bars and clubs in the world. Whether watching world-class shows, dining alongside some of Tinsel Town's hottest stars, or drinking at the hippest clubs in the world, anyone who parties in Los Angeles is generally the envy of everyone.
On any given night there will be band performing somewhere, whether a local and upcoming band or the hottest international act, the choices are endless. The only problem is getting tickets so it is wise to plan ahead if planning to catch a concert. The club scene is absolutely overflowing with variety and those looking for anything from a trendy night sipping on mojitos to dancing the night away will have no problem finding something to suit their tastes.
Los Angeles' chaotic layout means there is no central nightlife district, but there is definitely something for everyone to be found somewhere. Head to the streets of Hollywood for a dizzying choice of clubs and bars, swing down to Westwood if a martini bar is your thing, or if rooftop lounges floats your boat the Valley is the place for you. Los Angeles' nightlife scene is always changing so you are always bound to find something new, hip and happening.
Head down to Largo and catch one of America's hottest new acts performing. The world famous Orpheum Theatre hosts an multitude of theatrical productions, concerts and film festivals, while across town the Geffen Playhouse is the place to see dramatic and comedic shows while the Kodak Theatre hosts not only the Academy Awards, but also big name headliners, including all the hottest acts.
Spago Beverly Hills
Celebrity chef Wolfgang Puck wows the rich and famous at his flagship restaurant that boasts a reputation as one of the finest in LA. Centred in an outdoor courtyard, the olive tree shaded tables are the most desirable and the place for celebrity sightings. Chefs recreate Puck's classic dishes, including his famous designer pizzas, and Spago classics such as Wolfgang's Original Veal Weinerschnitzel. Creative desserts add a special finish to any meal. Jacket and tie suggested, though not required. Advanced reservations essential. Open for lunch from Monday to Saturday, and dinner every day.
Food Type:
Modern Eclectic
Style:
Price:
4
Address:
176 North Canon Drive, Beverly Hills
Website
www.wolfgangpuck.com
---
Valentino Santa Monica
According to the magazine, this is one of the top Italian restaurants in the country, boasting a wine cellar that ranks as number one, complementing the exquisite modern Italian cuisine. Piero Selvaggio has raked in numerous awards for his flagship restaurant, attracting an elegant clientele. The menu tempts guests with delicious options such as grilled veal chops with garlic and wild mushroom sauce, or honey-spiced pork fillets. Closed on Sundays, open for dinner the rest of the week and lunch on Fridays, reservations essential.
Food Type:
Italian
Style:
Price:
4
Address:
3115 Pico Boulevard, Santa Monica
Website
www.valentinosantamonica.com
---
Patina
Patina is the flagship restaurant of chef Joaquim Splichal, whose nouvelle cuisine has long been a favourite with Hollywood stars. The style is understated elegance, with beautifully presented food and superior service. There are three five-course, exquisite seasonal tasting menus including wild game and seafood, as well as garden dishes for vegetarians. Patina is justifiably famous for its mashed potatoes and potato-truffle chips, and there is an outstanding wine list. Reservations essential, closed on Mondays.
Food Type:
French
Style:
Price:
4
Address:
141 S. Grand Avenue, Downtown LA
Website
www.patinagroup.com
---
Nobu Matsuhisa
Japanese chef/owner Nobuyuki Matsuhisa creates fantastic dishes by blending South American spices and salsas with Japanese cuisine, presenting diners with one of the most creative menus in the city. Tuna filled with black truffles and capped with caviar, or sautéed squid in a garlic and soy sauce are examples of the delicacies available in addition to delicate sushi rolls with garlic, fresh chilli and special sauces. Matsuhisa is popular with celebrities and gourmets, reservations are essential. Open all week for dinner and for lunch Monday to Friday.
Food Type:
Japanese
Style:
Price:
4
Address:
129 North La Cienega Boulevard, Beverly Hills
Website
www.nobumatsuhisa.com
---
Water Grill
Considered by many to be the best seafood house in LA, Water Grill is always packed with downtown business folk who are joined in the evening by concert and theatre patrons. It is known particularly for its fish and shellfish, and boasts a great oyster bar, as well as a superb wine cellar. Irresistible desserts include blueberry mascarpone cakes and a mandarin orange creamsicle. Reservations recommended. Open for dinner daily and for lunch on Monday to Friday.
Food Type:
Seafood
Style:
Price:
4
Address:
544 South Grand Avenue, Downtown
Website
www.watergrill.com
---
Chinois on Main
This is one of LA's most crowded restaurants and also one of the noisiest, packed with locals, celebrities and visitors who come in awe of Wolfgang Puck's reputation and leave enchanted by the food. The style of cuisine is a mixture of different ethnicities, particularly a fusion of Chinese and French ingredients and technique. The menu includes signature dishes such as the Whole Sizzling Catfish, dramatically presented, as well as seasonal creations that include Shanghai lobster with a spicy ginger-curry sauce or roasted Cantonese duck. Reservations essential. Dinner daily and lunch Wednesday to Friday. Jacket and tie suggested.
Food Type:
Chinese
Style:
Price:
4
Address:
2709 Main Street, Santa Monica
Website
www.wolfgangpuck.com
---
Border Grill
Border Grill is a trendy, pleasantly raucous and brightly painted eatery whose atmosphere perfectly complements the vibrant flavours and bold, colourful foods of Mexico as presented by celebrity chefs Mary Sue Milliken and Susan Feniger. The menu features authentic dishes learnt in the homes and markets of Mexico with an added touch of gourmet ingenuity, and ranges from tamales, empanadas and tacos to daily ceviche specials and stuffed tortillas, accompanied by excellent margaritas and fine tequilas. Lunch and dinner daily, and brunch on Saturdays and Sundays.
Food Type:
Tex-Mex
Style:
Price:
3
Address:
1445 Fourth Street, Santa Monica
Website
www.bordergrill.com
---
Café Pinot
Overlooking the Maguire Gardens, Café Pinot is ideally located for a business lunch or pre-theatre dinner (offering a free shuttle to the Music Centre), with an outdoor terrace shaded by old olive trees. One of the city's most popular restaurants, it is modelled after the top-ranked flagship restaurant, Patina but is designed to be less formal, with lighter bistro-style meals. The tender mustard-crusted rotisserie chicken is superb, and there is also fresh fish, pastas and lamb shank to enjoy. Reservations essential. Lunch Monday to Friday, and dinner daily.
Food Type:
French
Style:
Price:
3
Address:
700 West Fifth Street, Downtown LA
Website
www.patinagroup.com/cafe-pinot
---
Cicada
This luxurious restaurant is set in an Italian Romanesque-styled building, constructed in 1928, which still retains its Art Deco elegance and charm. Its tempting menu offers delicious Italian fare such as asparagus pizza with bresaola (air-dried, salted beef), or smoked chicken ravioli with asparagus. The ahi (yellow fin) tuna with avocado, piquillo peppers and wasabi caviare is also good. Reservations are essential, closed Tuesdays.
Food Type:
Italian
Style:
Price:
3
Address:
617 S. Olive Street, Los Angeles
Website
www.cicadarestaurant.com
---
The Ivy
The Ivy is a world-famous Los Angeles restaurant, but not for its food. Known as the best place to spot Hollywood celebrities and insiders, the restaurant has fed everyone from Brad Pitt and Tom Cruise to Paris Hilton and Beyonce. The New York-style food and cocktails are good, but be prepared for movie star prices. Reservations are essential, and try to book a table on the sought-after terrace for the best people-watching.
Food Type:
American
Style:
Price:
5
Address:
113 N Roberston Blvd
Website
www.theivyla.com
---
Beachcomber Cafe
With great views of the sea and pier in summer, and cosy, warm booths in winter, the Beachcomber Café is a local favourite on the rapidly regenerating Malibu Pier. The service is friendly and attentive, and the eclectic fusion menu is strong on seafood (try the Ahi Tuna burger). Good value wine list, too.
Food Type:
American
Style:
Price:
3
Address:
15 Crystal Cove, Newport Coast, CA
Website
www.thebeachcombercafe.com
---
Bouchon Bistro
Famed chef Thomas Keller has brought his Bouchon French bistro concept to LA. The food is inventive, decadent and delicious, and the extensive wine list is tempered by a recent offering of in-house artisanal beers. Reservations recommended.
Food Type:
French
Style:
Price:
5
Address:
235 North Canon Drive, Beverly Hills, CA 90210
Website
www.bouchonbistro.com
---
Tournament of Roses Parade
This festival has been a Pasadena tradition for over a century and is one of the most colourful events in the world. The New Year's Day celebrations feature the Rose Parade, which is a breathtaking spectacle of marching bands, equestrian units and magnificent floats, completely covered in flowers and petals. Float construction takes about a year to complete and the Post Parade is an opportunity for the public to admire the fantastic workmanship and the floral creativity from close up. After the parade the Rose Bowl Game takes place between two college champions and is renowned as the 'Superbowl' of college football.


Date 2016-01-02 to 2016-01-02 Website www.tournamentofroses.com


Tournament of Roses ©Noe Gold
---
Doo Dah Parade
Known as the 'other' parade, the Doo Dah Parade began as a parody of the Rose Parade - where the one had a list of rules and regulations and invited performers, the other decided to exult in the opposite with no theme, no judges and no commercials. Every year thousands of marching groups or acts are led through the streets in a colourful procession of humour, eccentricity and mayhem, doing almost anything they please and attracting enormous crowds of spectators along the route. Entries are unusual and entertaining, and have included Dead Rose Queens, The Spawn of Captain James T. Kirk, the Royal Doo Dah Orchestra, the Invisible Man Marching Band, Caesar's Circus, BBQ and Hibachi Marching Grill Team and Bungee Barbies, among others.


Date 2017-11-19 to 2017-11-19 Website www.pasadenadoodahparade.info


Doo Dah Parade Float ©Al Pavangkanan
---
Whale Watching
During the annual migration of the Californian Gray Whale from Alaska to Mexico, whales can be seen passing along the California Coast and numerous whale watching excursions are available from Los Angeles city harbours or further south from the city of Dana Point. In January, the annual Whale Fiesta celebrates the start of the season at the Cabrillo Marine Aquarium, with a family day filled with activities, exhibitions, contests, arts and crafts, food, music and talks. In March the Dana Point Festival of Whales features fairs, street processions and non-stop entertainment for the whole family.


Date 2014-01-01 to 2014-03-31 Website www.dpfestivalofwhales.com


Orca at Morro Bay ©Mike Baird
---
Chinese New Year Festival
The greatest annual spectacle in Chinatown is the colourful Chinese New Year celebrations, which is famous for its Golden Dragon Parade involving a magnificent procession of painted, undulating dragons. Contests, fairs, firecrackers and lots of authentic food highlight the festivities.


Date 2017-02-04 to 2017-02-04 Website www.lagoldendragonparade.com


Chinatown, Los Angeles ©Antoine Taveneaux
---
Academy Awards
The annual presentation of the Oscars is the biggest movie-related event in the world that recognises excellence in the film industry among producers, actors, directors, technicians and writers. Every year the world's attention is on the entertainment community to see who will receive the celebrated gold statuettes representative of the highest honour in filmmaking.


Date 2018-03-04 to 2018-03-04 Website www.oscar.com


Academy Awards ©Greg Hernandez
---
Knotts Scary Farm
Although Knott's Berry Farm is a year-round family attraction in Los Angeles, locals and tourists flock to the park each October when it puts on its annual Halloween Haunt to become Knott's Scary Farm. Rides and attractions are converted to fit the macabre Halloween theme, and more than a dozen mazes and 'scare zones' are constructed. Park employees dress as werewolves, vampires, zombies and other ghoulish creatures, and there are seven special live shows. Visitors are encouraged to dress in costume as well. Knott's Scary Farm is not appropriate for small children.


Date 2017-10-31 to 2017-10-31 Website www.knotts.com


Knotts ©Robert Bejil
---
Cinco de Mayo
Although it is actually a Mexican national holiday, Cinco de Mayo (5 May) is equally big in the United States, especially in those states near to the border or with a large Mexican population. The day commemorates Mexican victory over the French in the battle of Puebla in 1862. Throughout various cities across the United States there are many celebrations in bars, pubs, cantinas and restaurants, much like St. Patrick's Day in March however with more tequila and less green beer. In cities with stronger Mexican populations there may be numerous festivals and traditional dancing.


Date 2014-05-05 to 2014-05-05 Website


Cinco de Mayo Dancers ©dbking
---
Travel Guide powered by www.wordtravels.com, copyright © Globe Media Ltd. All rights reserved. By its very nature much of the information in this guide is subject to change at short notice and travellers are urged to verify information on which they're relying with the relevant authorities. Globe Media and UNIGLOBE Travel does not accept any responsibility for any loss or inconvenience to any person as a result of information contained above.