Miami
General
Weather
Airports
Attractions
Kids Attractions
Events
Restaurants
Shopping
Nightlife
---
Introduction Region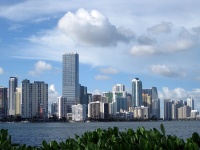 A Miami cityscape ©k1ng
Miami may be the retirement capital of the United States, but there is nothing old fashioned about this bright, brash playground city that shines under the sunny Florida skies. This coastal city was a sleepy holiday town until the 1920s, when the 'in crowd' decided to make it their own. The town bloomed into a fun seaside capital and was blessed with a legacy of Art Deco architecture, particularly along South Beach, which has been carefully preserved. During World War II the forces came to town when Miami was an important military base. Today, apart from being a favourite holiday Mecca and sunny spot for retirees, it is also the gateway to the Caribbean and Latin America.
Miami's large Cuban community adds to the atmosphere in the sultry neighbourhood of Little Havana. Trendsetters hang out in Coconut Grove, while sun lovers strew the miles of white sandy beaches. For families there are entertaining attractions like the Seaquarium and Metrozoo. The nightlife is sophisticated and varied. The city also gives easy access to Florida's popular Gold Coast resorts and attractions, as well as the natural wonder of the Florida Everglades.
No wonder Miami is America's favourite holiday destination and the hub of a vibrant cruise ship industry, its port jammed constantly with sleek passenger liners. North of the city, the miles of beautiful sandy beaches on the Gold Coast are hemmed in by southeast Florida's major tourist resorts: Fort Lauderdale, Hollywood, Pompano Beach and Palm Beach.
Climate Info
Greater Miami enjoys a subtropical climate that ensures plenty of sunshine all year round. Sun protection is advised, even when temperatures are moderated by cool ocean breezes. In summer (June to August), average high temperatures rise to around 90°F (32°C). Winters (December to February) are typical of the 'Sunshine State' with temperatures ranging between 60°F (16°C) and 75°F (24°C). Rainfall occurs mainly during summer and early autumn. Summer humidity levels are usually between 85 and 90 percent, making Miami one of the most humid cities in the US. Miami is genuinely a year-round destination; however, many travellers prefer to avoid the crowds over December and January, and the oppressive heat of July and August.
Convert to Imperial
Convert to Metric
| | | | | | | | | | | | | |
| --- | --- | --- | --- | --- | --- | --- | --- | --- | --- | --- | --- | --- |
| Month | Jan | Feb | Mar | Apr | May | Jun | Jul | Aug | Sep | Oct | Nov | Dec |
| rain (cm) | 55 | 55 | 51 | 64 | 130 | 172 | 106 | 126 | 169 | 142 | 73 | 48 |
| max temp (c) | 23 | 23 | 25 | 26 | 28 | 30 | 30 | 31 | 30 | 28 | 26 | 24 |
| min temp (c) | 17 | 17 | 19 | 21 | 23 | 25 | 26 | 26 | 25 | 23 | 21 | 18 |
| good weather | yes | yes | yes | yes | yes | no | no | no | no | yes | yes | yes |
Getting Around
The mainstay of the Miami public transport system is the Metrobus; however, the network is large, and it takes some time to get used to. The fare is standard to any destination. If you need to change buses, ask for a transfer when buying your ticket, as it costs extra. There is also an elevated train service called the Metrorail, which connects North and South Miami with stations at one mile intervals, and an elevated monorail, the Metromover, which offers great views of downtown Miami and Biscayne Bay and connects with buses and trains. Most visitors, however, take taxis or hire a car. This can be more convenient, as the city is sprawled out over a large area. To rent a car, the driver must be over 21, have a valid credit card and, if from abroad, hold a passport and English language driving license. Local drivers can be aggressive.
Miami International Airport (MIA)
| | |
| --- | --- |
| Location | The airport is located nine miles (15km) west of central Miami. |
| Time Difference | GMT -5 (GMT -4 from March to November). |
| Transfer terminals | The three terminals are connected by walkways and trains. |
| Getting to city | The airport is well connected to the new Miami Intermodal Centre by the free MIA Mover electric train, from here numerous services offered by the Miami-Dade Transit Department connect to greater Miami. These include the scheduled, local Metrobus; a mass-transit Metrorail system; a fixed rail system designated specifically for downtown Miami and Brickell; and the TriRail commuter train, reaching Broward and Palm Beach Counties. |
| Car Rental | Car rental agents operate at the new Miami Intermodal Centre (Central Station) which is connected to the airport by the the free MIA Mover electric train. Companies represented include Alamo, Avis, Budget, Dollar, Enterprise, Hertz, National and Thrifty. |
| Airpor Taxis | Taxis and shuttles are available from the arrivals level, outside the baggage claim areas. There are wheelchair-accessible taxis and shuttles available upon request. Fares to the city centre are about $27 in a taxi and $15 in a shuttle (shuttle estimate is per person, fares vary with additional passengers). |
| Airport Facilities | There are numerous restaurants, bars, cafes and fast food chains available 24 hours. Dozens of shops, including duty-free, are available. The airport also has ATMs, bureaux de change, a chapel, an art gallery, and a rooftop swimming pool at the airport hotel. Facilities for the disabled are good. |
| Car Parking | Miami International Airport's long-term parking facilities consist of two multi-level parking garages. Short-term parking is available in the same area, near the terminals. Garage parking rates are $6 for the first hour, and $17 for around three hours up to a full day. |
| Website | www.miami-airport.com |
Fort Lauderdale Hollywood International Airport (FLL)
| | |
| --- | --- |
| Location | The airport is located 21 miles (34km) north of Miami and three miles (5km) from downtown Fort Lauderdale. |
| Time Difference | GMT -5 (GMT -4 from mid-March to the first Sunday in November). |
| Contacts | Tel: +1 954 359 1200, +1 866 435 9355 |
| Transfer terminals | Free shuttles ferry passengers between the terminals from 6am to 9pm. |
| Getting to city | Shared shuttle vans with GO Airport Shuttle can be booked at the transportation desks located in each terminal. They offer a door-to-door service from the airport to most local destinations. Broward County Transit (BCT) bus services and TriRail feeder buses operate from bus stops outside the terminal buildings. The TriRail train service connects the airport with Miami-Dade County. Taxis are available outside each terminal. Major rental car companies are located at the Rental Car Centre. |
| Car Rental | Car rental companies, such as Avis, Budget, Dollar, National and Hertz are located at the Rental Car Centre. Passengers arriving at Terminal 1 should follow the signs to the Concourse B Pedestrian Bridge. All other terminals have a shuttle bus service located on the baggage claim level that ferries passengers to the Rental Car Centre. |
| Airpor Taxis | Taxis are available from the lower level outside each terminal. Rate comparison charts are posted at the Transportation Booths located outside the baggage claim area of each terminal. |
| Airport Facilities | There are ATMs, shops, bars and restaurants throughout the airport. Each terminal has a business centre, with fax and photocopy facilities available in the Terminal 2 business centre. Disabled facilities are good; those with special needs should contact their airline in advance. There are also pet relief areas and medical services. |
| Car Parking | There is ample short and long-term parking available adjacent to the terminal. Hourly parking is charged at $3 every hour up to $36 per day, and daily rates are similar with a daily limit of $15. Economy parking goes up to $7.50 per day. The Palm and Hibiscus parking garages are also convenient and connected to all four terminals. |
| Website | www.broward.org/airport |
Miami Science Museum




Nothing is staid or boring in Miami, least of all its museums. The Miami Science Museum, officially called The Patricia and Phillip Frost Museum of Science, contains more than 140 exhibits, all designed to be hands-on and interactive, coupled with live demonstrations and collections of r
▼ see more




Miami Science Museum ©FarleyKatz
---
Miami Seaquarium




At least half a day is required to fully enjoy south Florida's premier attraction. The Seaquarium is world-renowned for its marine life shows and attractions, including performing killer whales and television aquatic star and dolphin, Flipper. Another favourite star is the sea lion Salty
▼ see more




Miami Seaquarium ©Marc Averette
---
Vizcaya Villa




Lovers of antiques revel in visiting the magnificent 34-room Vizcaya bayfront villa, built in the Italian Renaissance style in 1916 as a winter retreat for wealthy industrialist James Deering. The grand mansion took hundreds of artisans five years to complete, and the formal gardens, whi
▼ see more




Vizcaya Museum, Miami ©Tom Schaefer
---
Spanish Monastery




Miami boasts the oldest building in the Western Hemisphere - but there is a catch. Dating from 1141 the Monastery of St. Bernard de Clairvaux in North Miami Beach is a hugely popular tourist attraction, although not quite indigenous to the area. The monastery stood originally in Segovia
▼ see more




Monastery of St. Bernard de Clairvaux ©Daderot
---
Coral Castle




Legend has it that unrequited love led a Latvian immigrant to spend 25 years single-handedly carving a castle out of rock between the Florida Keys and Miami, on the South Dixie Highway. The amazing monument to the man's determination has been called America's Stonehenge and has been feat
▼ see more




Coral Castle ©paparutzi
---
Everglades National Park




The vast Everglades National Park that spans the tip of the Florida peninsula, 35 miles (56km) southwest of Miami, has been described as a 40-mile-wide (64km) slow-moving river of grass, interspersed with shallow wetlands. It is the only subtropical preserve in North America, containing
▼ see more




Alligator, Everglades National Park ©Rodney Cammauf
---
Lincoln Road Mall




A pedestrian promenade lined with palm trees and colourful art deco buildings, Lincoln Road Mall is a great haunt for locals and foreigners. Once called the 'Fifth Avenue of the South', this lively seven-block shopping district serves up big name labels like G.A.P. and Banana Republic bu
▼ see more




Lincoln Road Mall, Miami ©Ed Webster
---
Wolfsonian Museum




A vivacious collection of art and design pieces depicting popular culture from 1885 to 1945, the Wolfsonian is the amalgamation of a long-term pursuit by eccentric heir and collector, Mitchell Wolfson Jr. Housed in the original warehouse used as a storage facility for the 70,000 pieces,
▼ see more




Wolfsonian Museum ©Acroterion
---
Jungle Island




An offshoot of Parrot Jungle, which was established in 1936, Jungle Island is a new complex offering an exciting array of wildlife from parrots and macaws to crocodiles and penguins. You can witness over 200 parrots at the Manu Encounter, the world's only aviary replicating the clay clif
▼ see more




Macaw at Jungle Island ©Dick Daniels
---
Biscayne National Park




The Biscayne National Park can be seen from downtown Miami, but the city and the park offer vastly different treasures for tourists. The coral reefs and tiny islands of this water sanctuary are home to an abundance of wildlife, and even a couple of awe-inspiring pirate shipwrecks. Biscay
▼ see more




Biscayne National Park ©Catholic 85
---
Crandon Park Beach




A family holiday in Miami wouldn't be complete without spending some time on the beach. Aside from providing a beautiful sample of Florida's famed sand and sea, Crandon Park Beach also has an Amusement Center with a carousel, a roller rink, a splash fountain and a playground for kids to
▼ see more




Crandon Park ©Paulkondratuk3194
---
Gold Coast Railroad Museum




Kids will be delighted by the Gold Coast Railroad Museum, which offers train rides, toy trains to play with, and interesting model train exhibits. The museum's railroad car collection includes President Roosevelt's historic Ferdinand Magellan carriage. In March each year there are Thomas
▼ see more




Gold Coast Railroad Museum ©Micha L. Rieser
---
Miami Childrens Museum




The child-sized exhibits at the Miami Children's Museum are both colourful and interactive. Kids can explore the museum's simulated hospital, supermarket or fire station, playing with and moving anything they like. The Mt. Michimu rock-climbing wall offers a fun, physical challenge for o
▼ see more




Miami Children's Museum ©Marc Averette
---
Miami Beaches




The beaches in Miami are world-famous; some for their stunning settings and some for their stunning sunbathers. Crandon Park Beach is good for children, with the playground and carousel as well as picnic areas and restrooms. Haulover Beach Park also has good facilities like volleyball an
▼ see more




South Beach ©Marc Averette
---
Nightlife
Miami's nightlife is ! The South Beach streets pump with clubs and bars, and there's plenty of partying and live music in the Design District area. Downtown Miami hosts a few trendy venues and Coconut Grove is also a popular party zone. With everything from cocktails and comedy shows to lounges and nightclubs, one night in Miami would never be long enough.
Visitors to Miami might like to start their evening at one of the many cocktail bars, or perhaps the Dan Marino sports bar and restaurant. Visit Greater Miami for flamenco or cabaret shows, or even a drag show! There are also various comedy performances out there, including stand-up, sketch and improvisational comedies.
Miami dance clubs and lounges tend to offer a sultry Latin beat, while nightclub music ranges from Afro-Cuban or rumba rap to indie rock and electro-pop. These clubs are prevalent in downtown Miami and Little Havana, as well as west of the Bay area. Mansions and SET in Miami beach are two of the trendiest clubs, and Ocean Drive is also a great venue for club-hopping.
Many nightclubs and bars in Miami seem never to close and even the most energetic of party animals will find the city's nightlife opportunities inexhaustible.
Azul
On entering Azul, guests will be impressed by the sophisticated atmosphere created by copper-burnished walls, silk-covered chairs and a white marble open kitchen - floor to ceiling bay views won't go unnoticed either! The menu offers a unique fusion of Mediterranean and Asian cuisine, with still more international influences. The raw tuna with caviare, crab, avocado and Asian sauces is excellent, as is the Moroccan lamb. Open for dinner Monday to Saturday, reservations recommended.
Food Type:
Fusion
Style:
Price:
4
Address:
500 Brickell Key Dr, Mandarin Oriental Hotel
Website
www.mandarinoriental.com/miami/dining/azul
---
Palme dOr
Voted as the best restaurant in south Florida, Palme d'Or offers glamorous dining at the prestigious Biltmore Hotel. Specialising in Nouvelle French cuisine, the menu offers tasting portions; patrons can sample the array of flavours, textures and taste sensations which Palme d'Or is renowned for. Try the slow-braised beef effilochée with polenta and parmesan, or the wild mushroom cassolette. This excellent dining experience is complemented by attentive service and live music. Open Tuesday to Saturday for dinner. Reservations recommended.
Food Type:
French
Style:
Romance
Price:
5
Address:
1200 Anastasia Avenue, Coral Gables
Website
www.biltmorehotel.com/dining/palme.php
---
Joes Stone Crab
A Miami institution, Joe's Stone Crab has burgeoned since its humble beginnings as a sidewalk vendor in 1913. Renowned for its stone crab claws, a plethora of scrumptious side orders include Joe's famous hash browns and cole slaw, creamed spinach, grilled tomatoes and fresh salads. Don't forget to try Joe's famous mustard sauce and the appetizing seafood bisque (there is also a selection of other seafood, steaks, ribs and chicken to choose from). Note: Joe's is only open during Stone Crab season, from October to May. Open for lunch from Tuesday to Saturday, and dinner all week.
Food Type:
Seafood
Style:
Price:
3
Address:
11 Washington Avenue
Website
www.joesstonecrab.com
---
News Café
The South Beach breakfast establishment, News Café, offers a superb oceanfront setting, outside seating and an international newsstand - ideal for that first coffee of the morning. With a plethora of breakfast options, patrons can tuck into Eggs Florentine, buttermilk pancakes, or try the Middle Eastern combo (a hummus, tabouli salad and grape leaf platter). Their burger and fries or smoked salmon bagel are also great. The ultimate lure of News Café is that they're open 24 hours a day, and breakfast can be ordered around the clock.
Food Type:
Cafe
Style:
Price:
3
Address:
800 Ocean Drive
Website
www.newscafe.com
---
Señor Frogs
Señor Frog's appeals to college students and young people because of its trendy atmosphere and affordable menu. It's known for a rip-roaring good time, potent margaritas and a mariachi band. The food at this cantina is cheesy and tasty, if not exactly authentic. A specialty, the mole enchilada with 14 different kinds of mild chillies mixed with chocolate, is flavourful and unique - a definite must! Portions are huge and served with rice and beans. Open daily for lunch and dinner, reservations not accepted.
Food Type:
Mexican
Style:
Trendy
Price:
2
Address:
3480 Main Hwy, Coconut Grove
Website
www.senorfrogs.com
---
Timo
Timo is a hip and happening restaurant in Sunny Isles, owned by executive chef Tim Andriola. The restaurant is a trendy Italian Mediterranean establishment popular with North Miami Beach locals. Specialties worth trying are the wood-fired rock shrimp pizza, or the herb-roasted chicken. Timo's atmosphere is laid-back and casual, making it the ideal place to enjoy any kind of occasion, from a business lunch to a romantic candle-lit dinner. Open for lunch Monday to Friday and dinner all week. Reservations required.
Food Type:
Mediterranean
Style:
Trendy
Price:
3
Address:
17624 Collins Ave, Sunny Isles
Website
www.timorestaurant.com
---
Red Fish Grill
Located at the edge of the saltwater lagoon lies the Red Fish Grill, surrounded by the magnificent setting of the tropical Matheson Hammock Park. The ambience of the restaurant, reminiscent of Old Miami, makes it an ideal place for a romantic dinner. Red Fish Grill offers delicious seafood dishes that won't disappoint - try the Chilean sea bass, or the mahi-mahi with spinach, sweet potato and blue cheese. Open daily for dinner and closed on Mondays.
Food Type:
Seafood
Style:
Romance
Price:
3
Address:
9610 Old Cutler Rd
Website
www.redfishgrill.net
---
Calle Ocho
Claiming to be the biggest street party in the world, and undoubtedly the biggest Hispanic bash in the United States, Carnaval Miami offers two weeks of concerts, parades, family entertainment, sport, art exhibits and ethnic food, culminating in the massive 'Calle Ocho' street party and parade. Organised by Little Havana's Kiwanis Club in aid of needy children, Carnaval in Miami attracts a million fun-lovers who swarm through 23 city blocks. More than 40 stages are placed on intersecting avenues, from which emanate merengue, salsa, pop and Caribbean music. Food kiosks line the streets, and four blocks are devoted entirely to children's entertainment. For more information check out the website listed below.


Date 2018-03-11 to 2018-03-11 Website carnavalmiami.com


Calle Ocho ©Bob B. Brown
---
Coconut Grove Arts Festival
The charming village of Coconut Grove, south of downtown Miami on Biscayne Bay, becomes the setting for a premier outdoor fine arts festival during February each year, attracting more than 150,000 people to view the works of more than 300 contemporary artists, ranging from photography and sculpture to jewellery, painting and woodwork. Visitors can meet and chat with the artists, sample delicious cuisine, and enjoy live entertainment and music. The impressive variety of art on show is complemented by a fun, festival atmosphere and even if you don't buy anything the Coconut Grove Arts Festival is a great day out. Check the website below for more details.


Date 2018-02-17 to 2018-02-19 Website www.coconutgroveartsfest.com


Coconut Grove Arts Fest ©Bob B. Brown
---
Ultra Music Festival
The Ultra Music Festival is an outdoor electronic music festival, held annually during the Winter Music Conference in Miami, Florida. The festival has grown so much in recent years, that it has become one of the highest-grossing music festivals anywhere in the world - and a veritable Mecca for electro heads everywhere. Consisting of 16 stages, involving over 300 DJs, and with an expected attendance in excess of 150,000, tickets are bound to be scarce on the ground. Book tickets as soon as possible (sometimes they sell out in minutes), be sure to book accommodation early as the festival attracts many international visitors, and stock up on plenty of sleep!


Date 2017-03-24 to 2017-03-26 Website www.ultramusicfestival.com


Ultra Music Festival, Miami ©Vinch
---
Spring Break
The notion of students misbehaving a little during their time away from their books is, of course, not unique to the United States of America. However, the ritualistic fervour with which American students celebrate their Spring Break - a once-yearly, socially-sanctioned Bacchanal of binge drinking and wild partying - is something that foreign visitors to Florida, and especially those travelling with children, might need to prepare themselves for. Ever since the 'Fort Liquordale' days of the 1980s, Florida has been a notoriously popular destination for Spring Break revellers; and these days, the presence of MTV film crews and internationally-renowned DJs and musicians on many of the Sunshine State's beaches, only adds to the generally debauched atmosphere. Although Fort Lauderdale, Daytona Beach, St Petersburg and Miami's South Beach still draw thousands of students, Panama City Beach has become the new epicentre, with about 400,000 carousers expected every year. You'll either love being in Florida during Spring Break or hate it; but either way, visitors should prepare themselves for an uncommonly festive holiday period.


Date 2014-02-15 to 2014-04-30 Website


Spring Break at Fort Myers Beach ©Beachfront Solutions
---
Travel Guide powered by www.wordtravels.com, copyright © Globe Media Ltd. All rights reserved. By its very nature much of the information in this guide is subject to change at short notice and travellers are urged to verify information on which they're relying with the relevant authorities. Globe Media and UNIGLOBE Travel does not accept any responsibility for any loss or inconvenience to any person as a result of information contained above.