Nashville
General
Weather
Airports
Attractions
Kids Attractions
Events
Restaurants
Shopping
Nightlife
---
Introduction Region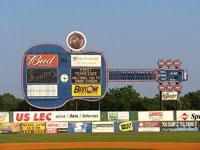 Greer Stadium ©Brent Moore
Country music is synonymous with Tennessee's state capital, the rapidly growing city of Nashville, where the strains of the guitar and accordion are big business, drawing millions of fans to the city every year. Dozens of famous names in the music world have been nourished in Nashville since 1925 when the legendary 'Grand Ole Opry' went on the air, broadcasting weekly shows touting the talents of up and coming singers. It all began in the downtown Ryman Auditorium, originally a church, which became the music hall where the likes of Dolly Parton and Roy Acuff first strutted their stuff.
Visitors still come today to visit Opryland, the resort that incorporates the new Grand Ole Opry, northeast of the city. Daily shows are presented here, and just around the corner is the Country Music Hall of Fame and Museum. Fans also flock to the area known as The District, crammed with nightclubs, bars and restaurants where country music reigns supreme.
Beyond country music, Nashville offers historical interest in the form of the old Belle Meade Plantation, a centre of thoroughbred breeding and training in the past, as well as the Tennessee Sate Museum, filled with exhibits detailing the entire state's history from millions of years ago to the present day. The Parthenon, a full-scale replica of the original in Athens, houses a fine collection of art, and for those who want to experience a bit of Tennessee's beautiful country scenery and rich wildlife, the Great Smoky Mountains National Park isn't far from Nashville.
Everyone, country music fan or not, cannot fail to leave Nashville with their toes tapping!
Climate Info
Nashville has a humid subtropical climate with hot summers and cold winters. Ample annual rainfall keeps things green and clean, but there are enough sunny days in between to keep everyone happy. Summers (June to August) can be very humid, which pushes up the discomfort index even if temperatures do not hit major highs; temperatures average between 65°F (18°C) and 90°F (32°C) in summer. Winters (December to February) are mild to cold, with light snowfall. Average temperatures range from 28°F (-2°C) to 52°F (11°C).
Convert to Imperial
Convert to Metric
| | | | | | | | | | | | | |
| --- | --- | --- | --- | --- | --- | --- | --- | --- | --- | --- | --- | --- |
| Month | Jan | Feb | Mar | Apr | May | Jun | Jul | Aug | Sep | Oct | Nov | Dec |
| rain (cm) | 108 | 100 | 127 | 104 | 118 | 98 | 98 | 85 | 89 | 67 | 101 | 112 |
| max temp (c) | 8 | 10 | 16 | 21 | 26 | 30 | 32 | 31 | 28 | 22 | 15 | 10 |
| min temp (c) | -3 | -1 | 4 | 9 | 14 | 18 | 20 | 20 | 16 | 9 | 4 | -1 |
| good weather | no | no | no | yes | yes | no | no | no | yes | yes | no | no |
Getting Around
Buses and trolleys operate in the streets of Nashville, with the Metropolitan Transit Authority running several dozen bus routes seven days a week. Bus 34 is the Opry Mills Route that links the downtown district with Opryland. This service operates every 40 minutes daily between around 6.40am and 10.30pm. For sightseers, the free Music City Circuit bus leaves the Riverfront Station every 15 to 30 minutes between 6.30am and 11pm on weekdays, and from 11am to 11pm on Saturdays, stopping at many popular downtown attractions. There are several taxi companies operating in Nashville, and the major car rental companies offer services. Driving in Nashville's small downtown area can be frustrating, but a hire car is useful for excursions out of town. Visitors staying downtown will find that most attractions are within easy walking distance.
Nashville International Airport (BNA)
| | |
| --- | --- |
| Location | The airport is situated six miles (10km) southeast of downtown Nashville. |
| Time Difference | GMT -6 (GMT -5 from mid-March to the first Sunday in November). |
| Contacts | Tel: +1 615 275 1675. |
| Getting to city | The Nashville Transit Authority has bus service from the airport to the downtown transit station via Route 18; it operates roughly once an hour from around 7am to 10.40pm on weekdays, and from 6am to just before 10pm on weekends and holidays. |
| Car Rental | Car rental companies represented at Nashville International Airport include Advantage, Alamo, Enterprise, Avis, Budget, Dollar, Hertz and Thrifty. |
| Airpor Taxis | Taxis are available from the airport, however it is advisable to book a taxi in advance. There is a flat rate of $25 to downtown Nashville and the Opryland Hotel area. |
| Airport Facilities | There are extensive facilities at the airport including a bank, ATMs and postal services. There are numerous restaurants, from fast food outlets to fine dining eateries, as well as several shops. The airport also has art exhibitions and live music performances on the ticketing level, children's play areas, meditation rooms and a massage bar, where professional massage therapists offer seated chair massages. Smoking is permitted in designated lounges. A business centre offers fax, photocopy and internet services. There are good facilities for the disabled; those with special requirements should contact their airline in advance. |
| Car Parking | Short-term parking is free for the first 20 minutes, and $3 per hour up to a daily rate of $21. Long-term Lot A is $3 per hour with a daily rate of $16, and Lot B charges $9 per day. The short-term lot is within walking distance of the terminal, while the other lots offer free shuttle services, beginning at 3.30am daily and ending 45 minutes after the last flight of the day. |
| Website | www.flynashville.com |
Country Music Hall of Fame and Museum




If you are a visitor to Nashville, chances are you are there because you are a country music fan. That being the case the best place to begin your visit is the not-to-be-missed Country Music Hall of Fame and Museum in the Downtown entertainment district.

The main permanent ex
▼ see more




The Country Music Hall of Fame ©Sean Russell
---
Ryman Auditorium




This National Historic Landmark in downtown Nashville, nicknamed the Mother Church of Country Music, is regarded as the founding home of country music, having been the performance venue for the Grand Ole Opry from 1943 to 1974.

The theatre was originally built in 1892 by Thom
▼ see more




Ryman Auditorium ©Daniel Schwen
---
Grand Ole Opry




The home of the world-famous country music show, the Grand Ole Opry, is now in Opryland Drive in a vast 4,400 seat auditorium which is part of the Opryland resort complex north of Nashville's city centre. From here the world's longest running radio show is still broadcast on the Nashvill
▼ see more




Grand Ole Opry House ©Adam Mcmaster
---
Belle Meade Plantation




One popular Nashville attraction that is not music-related is the Belle Meade Plantation, known as 'the queen of Tennessee plantations', boasting an 1853 Greek Revival mansion that has been carefully restored to show its original elegance.

The plantation was founded in 1807 b
▼ see more




Belle Meade Plantation ©Colin1769
---
Parthenon




The centrepiece of Nashville's Centennial Park is the world's only full-scale replica of the Parthenon temple in Athens, Greece, complete with a re-creation of the 42ft (13m) high statue of Athena that stood outside the temple in ancient Greece. Like the original, the Partenon in Nashvil
▼ see more




The Parthenon ©Mayur Phadtare
---
Tennessee State Museum




The interesting Tennessee State Museum is one of the largest of its kind in the nation with a huge array of permanent exhibits telling the story of Tennessee, starting out 15,000 years ago in prehistoric times and culminating in the early 20th century. The museum was originally founded i
▼ see more




American Civil War cannon ©Charles Edward
---
Great Smoky Mountains National Park




East of Nashville on the border between Tennessee and North Carolina lies the Great Smoky Mountains National Park, covering more than one and a half million acres; the largest national park in the eastern United States, and the country's most visited park. The park is a designated Intern
▼ see more



---
Chattanooga




The fourth largest city in Tennessee, Chattanooga is near the south-east border with Georgia, lies at the junction of four interstate highways, is easily accessible and well worth a visit. The city has brought about a renaissance in recent years, redeveloping its riverfront and downtown
▼ see more




Chattanooga Choo-Choo sign
---
Knoxville




The third-largest city in Tennessee, Knoxville - although not as illustrious as Memphis or Nashville - is well worth a visit. Serving as Tennessee's capital from its admission into the Union in 1796 until 1817, early reports of Knoxville described it as an "alternately quiet and rowdy ri
▼ see more



---
Nightlife
The home of country music, Nashville is big on entertainment and is anything but dull. With a music industry that keeps on churning out headlining acts, visitors are sure to have a toe-tapping good time when they hit the streets for a night out on the town.
Don't be fooled by the charming southern drawl, Nashville is not just about country music and visitors will find enough rock, jazz, bluegrass, country, and gospel to meet their musical needs. First stop has to be the District. A historic area of Nashville, the District boasts beautiful architecture and interesting old houses to look at, with trolley rides or a horse-drawn buggy both good options for taking in the area's sights and sounds. Crammed with nightclubs, bars and restaurants where country music reigns supreme, the District is the heart of Nashville's nightlife scene with Second Avenue's clubs and restaurants the focus. Printer's Avenue is one of the oldest areas in the District, also a good spot for a night on the town, as is Lower Broadway, home of the legendary Tootsie's Orchid Lounge, where many an unknown country singer has been discovered.
For a more relaxed, suburban night out, look no further than Music Valley where you'll find the long-running country music radio broadcast known as the Grand Ole Opry as well as Nashville Palace and the Opryland Hotel, which has bars featuring live music while Five Points neighbourhood boasts some great bars and cafés for a mellow night out.
Rock n Roll Marathon
Music City takes to the streets in aid of charity each year when thousands of runners descend on the city to run the Rock n Roll Marathon (or a half marathon), vying for trophies and prizes. All proceeds of the race, aside from the costs of putting on the event, go to charity. The race is part of the Rock 'n Roll Marathon series, and as such is well-organized and smoothly run. The runners are encouraged by the strains of more than 50 bands belting out their best from about two dozen stages set up along the marathon route. The courses for both the marathon and half marathon are not too difficult, and the weather in april in Tennessee is generally perfect for running - neither too hot nor too cold. The day also includes the spectacle of a cheerleading contest and the final of a Kid's Marathon. It all ends up with a massive evening concert featuring a top country music star, with free entry for runners.


Date 2018-03-24 to 2018-03-25 Website www.cmmarathon.com


Marathon runners ©Mike Spille
---
Fan Fair
June is the month for country music lovers to ensure they are in Nashville, particularly during the four-day Fan Fair, when the Country Music Association lines up a feast of four big concerts and numerous other events to add up to Country Music's biggest party. Created in 1972, the CMA week is something special because the big names of country music go all out to meet the fans, happily posing for photographs and signing autographs as they wander through the event and activity venues.




The Fair is all about pleasing the fans - some artists have been known to sign autographs for 23 hours non-stop - who flock to Nashville in their tens of thousands for the nightly concerts and all-day non-stop music at Riverfront Park. In addition, new up-and-coming artists are showcased and festival-goers are given the chance to be the first to see tomorrow's stars in concert. Festival-goers are encouraged to extend a visit to the festival for a few days and take some time taking in the city once the festival wraps up. Four day passes are available, though sell out quickly.


Date 2017-06-08 to 2017-06-11 Website www.cmafest.com


Pig Race ©Lorax
---
Music and Molasses Festival
The country comes to the city with a celebration of the harvest season at Nashville's Agricultural Museum each year. There is music, of course, with two stages offering a homely selection of Bluegrass. Visitors can learn to make molasses like the old-timers, with demonstrations and tastings at the sorghum mill. Other ingredients for the fun day include storytellers, country cloggers, a sale of traditional crafts, taffy pulls, apple butter cooking demonstrations, stick horse races, delicious homemade cakes and pies, square-dancing, buggy rides and a touch-farm. There is also a molasses maze, sheep herding demonstrations and competitions, and a grist mill and traditional log cabins to look at.




In 2016 the Tennessee Agricultural Museum will be undergoing a number of renovations. The Music & Molasses Festival will be cancelled for the year 2016, but will resume in the third weekend in October 2017 for the 24th Music & Molasses Festival.


Date 2017-10-20 to 2017-10-22 Website


Harvesting season ©Bill Whittaker
---
Bonnaroo Music Festival
Bonnaroo is an American music festival that attracts premier artists, and which has rapidly grown into one of the country's coolest and most popular outdoor festivals. Each year, Bonnaroo draws up to 80,000 young hipsters looking to recreate the 'Woodstock Experience' on a 700-acre farm just outside Manchester, Tennessee. Not only is the setting of the festival idyllic, but year after year, mouth-watering line-ups grace the festival's many stages, showcasing the very best in a huge array of musical genres. Notable past performers include Pearl Jam, Radiohead, Bruce Springsteen and Elton John.




The festival also features craftsmen and artisans selling unique products, organic food and drink vendors, a comedy tent, a silent disco, a cinema tent and a Ferris wheel. The campsites and general amenities are very well-organised, as are entry procedures, although with thousands of people arriving from all over the country things are bound to take some time. All in all, a great time is pretty much guaranteed. Book well in advance, as the festival is routinely sold-out.


Date 2017-06-08 to 2017-06-11 Website www.bonnaroo.com


Bonnaroo Music Festival ©Jon Elbaz
---
Travel Guide powered by www.wordtravels.com, copyright © Globe Media Ltd. All rights reserved. By its very nature much of the information in this guide is subject to change at short notice and travellers are urged to verify information on which they're relying with the relevant authorities. Globe Media and UNIGLOBE Travel does not accept any responsibility for any loss or inconvenience to any person as a result of information contained above.