New Orleans
General
Weather
Airports
Attractions
Kids Attractions
Events
Restaurants
Shopping
Nightlife
---
Introduction Region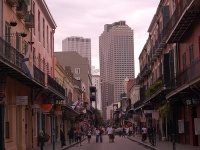 Royal Street ©~MVI~
New Orleans is a quirky city with a unique character not quite comparable to any other city in the US or the world. Situated on a swamp, and surrounded by the sea, Lake Pontchartrain and the Mississippi River, the city of New Orleans chose to swim rather than sink with the construction of a system of levees, pumps and canals to protect the city from flooding, but this is in many ways an ongoing battle.
Despite being hit by Hurricane Katrina in August 2005 - a tragedy which left 75 percent of the city flooded - the proud residents of New Orleans have rebuilt their one-of-a-kind city with determination, and for tourists it is once again the vibrant destination it was before the hurricane. The jazz, the extravagant celebrations and the 'Big Easy' lifestyle once again make New Orleans one of the party capitals of America. Local musicians have returned home, after-dark options are burgeoning and the strains of jazz and blues rhythms are once again echoing through the streets of the atmospheric French Quarter. Legendary Bourbon Street continues to host carnivals and parades, including the annual Mardi Gras, which has a reputation for being the most scandalous and sensational event on the world's festival calendar.
Besides all the partying, New Orleans has plenty of serious sightseeing to offer. The city is full of picturesque historic buildings, lush parks, interesting museums displaying everything from voodoo culture to modern technology, riverboats and historic streetcars, and of course jazz cafes. Surviving evidence of the Katrina calamity, and of the population's will to survive and rebuild, have now become sightseeing fodder of a different kind in this resilient city.
Climate Info
New Orleans has a humid subtropical climate with very hot and humid summers and mild, short-lived winters. Summers in New Orleans are relatively long with high temperatures hovering around 90°F (32°C) from May to September. In winter, from December To February, temperatures average between 44°F (7°C) and a comfortable 62°F (17°C). New Orleans experiences high annual rainfall, most of it falling in mid-late summer, often as a spin-off from tropical storms. Heavy rain during the June to September Gulf Coast hurricane season has occasionally caused flooding in the city. Snow and ice are rarities in New Orleans, but there have been incidences of a 'white Christmas', with light snow.
Convert to Imperial
Convert to Metric
| | | | | | | | | | | | | |
| --- | --- | --- | --- | --- | --- | --- | --- | --- | --- | --- | --- | --- |
| Month | Jan | Feb | Mar | Apr | May | Jun | Jul | Aug | Sep | Oct | Nov | Dec |
| rain (cm) | 89 | 110 | 167 | 124 | 75 | 123 | 192 | 99 | 119 | 43 | 107 | 125 |
| max temp (c) | 18 | 19 | 22 | 25 | 29 | 32 | 32 | 32 | 30 | 26 | 20 | 17 |
| min temp (c) | 9 | 10 | 13 | 16 | 20 | 23 | 24 | 24 | 22 | 17 | 11 | 9 |
| good weather | no | no | yes | yes | yes | yes | yes | yes | yes | yes | yes | no |
Getting Around
When in New Orleans, the vintage electric rail vehicles or 'streetcars' are the way to go. With various lines crossing the city, most destinations are accessible by this means of transport, which costs only $1.25 per ticket. The Jazzy Pass allows unlimited rides on buses and streetcars, for $3 for one day, or $9 for three days. The Canal Street Ferry takes passengers across to the suburb of Algiers and costs $2, offering fine views of the city skyline. Walking, cycling, taxis and rental cars are some of the other options, with many tourist areas, like the French Quarter, being most enjoyable on foot.
Louis Armstrong New Orleans International Airport (MSY)
| | |
| --- | --- |
| Location | The airport is situated 11 miles (19km) west of downtown New Orleans. |
| Time Difference | GMT -6 (GMT -5 from mid-March to the first Sunday in November). |
| Contacts | Switchboard: +1 504 464 0831. Information desk: 504 464 2752. |
| Getting to city | The Airport-Downtown Express (E-2) stop is on the second level of the airport. Express tickets to the city cost $2. The Airport Shuttle offers a service to and from the hotels throughout the Metropolitan area for $24 per person, one way ($44 return). The Airport Shuttle ticket booths are located in the baggage claim area on the lower level. |
| Car Rental | Numerous car rental companies are represented at the airport, including Alamo, Avis, Budget, Enterprise, Hertz, National, Dollar, Payless and Thrifty. |
| Airpor Taxis | There are taxis available on the lower level outside the baggage claim zone. For one to two persons it costs approximately $36 from the airport to the CBD, for three or more passengers it costs $15 per passenger. |
| Airport Facilities | Banks and business centres offer foreign money exchange, ATMs and a host of other banking and business services. Internet access is available, as well as duty-free shopping, gift shops, a post office, advance baggage check-in and a visitor information service. Facilities for the disabled are good. There are a number of restaurants in the terminal and concourses. Smoking is prohibited in the main terminal building; however, there are designated smoking locations on the upper and lower ramps outside the terminal. |
| Car Parking | Short-term parking at Louis Armstrong International Airport starts at $2 for the first hour and $2 for every half hour thereafter up to a daily limit of $18.50. Long-term parking charges are similar, but with a daily maximum of $15. A third, ticketless 'credit card' lot charges $11 per 24 hours. All vehicles are subject to a search before parking. |
| Website | www.flymsy.com |
Mardi Gras World




If you're not able to visit New Orleans during its famous annual festival, don't worry, Mardi Gras World offers the Mardi Gras experience year-round. The museum is actually the working studio of foremost carnival float designer, Blaine Kern, for whom producing floats and props for the ci
▼ see more




Mardi Gras World ©Paul Mannix
---
Louisiana State Museum




The Cabildo, as the Louisiana State Museum is affectionately called, is an entertaining and informative attraction in the city's vibrant French Quarter. The exhibitions explore the history of Louisiana from the first European explorations to the post-Civil War Reconstruction era from a m
▼ see more




The Cabildo ©Infrogmation
---
The National WWII Museum




The unique D-Day National World War II Museum was founded in 2000 by historian and author Dr Stephen Ambrose and is now regarded as a highlight of any New Orleans sightseeing tour. Situated in New Orleans' Warehouse District, the museum depicts the June 6, 1944 invasion of Normandy, the
▼ see more




National World War II Museum ©Nolabob
---
Audubon Aquarium of the Americas




New Orleans' state-of-the-art Audubon Aquarium, situated on the banks of the Mississippi River, is regarded as one of the best in America, boasting highly entertaining exhibits. Underwater tunnels allow visitors to marvel at a Caribbean Reef and a re-creation of the Gulf of Mexico, compl
▼ see more




Audubon Aquarium of the Americas ©Gary J. Wood
---
French Quarter




Regarded as the heart and soul of New Orleans, the French Quarter is the historic part of town covering about 90 square blocks radiating out from Chartres Street and Jackson Square. The Quarter, or Vieux Carre, was established in 1718 as a French military outpost, which was later taken o
▼ see more




French Quarter ©Michael Bentley
---
Hurricane Katrina Tour




Since Hurricane Katrina decimated New Orleans in August 2005, one of the worst hurricanes ever to hit the United States, the city has been rebuilding. The beautiful, vibrant city has largely recovered but remnants of the tragedy remain and in many ways the memory of the hurricane has bec
▼ see more




New Orleans flooding ©Public Domain
---
Preservation Hall




Historic Preservation Hall is New Orleans' most popular jazz venue, where Preservation Hall jazz bands serve up first-rate Dixieland Jazz every night in the French Quarter building (originally built as a residence in 1750). There are three performances a night, each lasting about 45 minu
▼ see more




Preservation Hall ©Infrogmation
---
New Orleans Museum of Art




The New Orleans Museum of Art (NOMA) is a world-class facility. The permanent collection at the museum features over 40,000 objects, from the Italian Renaissance to the modern era, and is celebrated for its collection of both American and European works, including art by masters like Deg
▼ see more




New Orleans Museum of Art ©Infrogmation
---
Louisiana Childrens Museum




The Louisiana Children's Museum offers kids a vast selection of exhibits, art activities and educational programmes to help make learning fun. The kid-sized Winn-Dixie grocery store is a favourite, as are the climbing wall and the giant bubble that kids can play in. Eye to Eye has fun sh
▼ see more




Children's Museum ©Samantha Chapnick
---
Mississippi River Boat Rides




The Mississippi River is really the primary reason New Orleans exists; it is the trade and transport artery which made the situation of the city such an asset over the centuries. New Orleans is therefore a great place to take a boat ride, whether it is simply a fun paddle boat excursion
▼ see more




Steamboat Natchez ©baldeaglebluff
---
Jean Lafitte National Historical Park and Preserve




Jean Lafitte National Historical Park and Preserve is a great place to experience 'bayou life' in Louisiana. The park, which is named after the notorious early-19th century pirate, consists of six physically separate sites and a park headquarters, including the Acadian Cultural Center in
▼ see more




Jean Lafitte National Historical Park and Preserve ©Gary J. Wood
---
Grand Isle




A great weekend getaway from New Orleans, Grand Isle is a popular holiday town located on an island in the Gulf of Mexico. Formerly a busy port of call for notorious pirates like Jean Lafitte, Grand Isle is now a peaceful haven for relaxation, fishing and birdwatching. Grand Isle State P
▼ see more




Grand Isle State Park ©Rebecca Milby
---
Avery Island




Avery Island is located on an eight-mile (13km) deep salt dome located in Iberia Parish, 137 miles (220km) west of New Orleans. A rock salt mine was opened on the island during the American Civil War, producing enormous amounts of salt for the Confederacy. Known as the birthplace of Taba
▼ see more




Avery Island ©Brad Kebodeaux
---
Nightlife
New Orleans is a city of music and rhythm, most famous for jazz, Cajun and zydeco music, and its nightlife reflects this with enthusiasm. Publications like Gambit, Offbeat and WhereY'at, as well as local radio stations, publicise upcoming New Orleans events and venues, which can be useful for travellers.
There are countless bars along Bourbon Street, and the party invariably pours out onto the sidewalks. While most places have a cover-charge, it is not always necessary to actually go inside! Some of the best clubs and bars can be found in the neighbourhoods of the French Quarter and Faubourg Marigny.
Preservation Hall is a must for jazz fans, and Maple Leaf Bar is another popular spot for live music. Molly's is said to be the best bar in the French Quarter and Napoleon House offers a fantastic Pimm's Cup Cocktail. Nightclubs come and go but the best nightlife districts are lively and fun almost every night of the year.
Arnauds
One of the grand old classic New Orleans restaurants, Arnaud's offers a taste of history along with its ambitious menu. Named after its founder, Count Arnaud Cazenave (immortalised in a portrait on the wall), Arnaud's glitters with chandeliers, leaded windows and a mosaic floor. The eatery consists of 13 buildings in the French Quarter, including a brasserie, bistro, grill bar and banqueting halls. The formal main restaurant requires a jacket, and offers raved-about fish dishes, as well as traditional favourites like filet mignon. Open daily for dinner and brunch on Sundays.
Food Type:
American
Style:
Price:
5
Address:
813 Bienville Street, French Quarter
Website
www.arnauds.com
---
Galatoires
An institution on Bourbon Street, Galatoire's has been serving up French-Creole specialities since 1905 and still uses many of the original recipes. Starched white linen and shiny crystal set the tone in this establishment where tradition reigns and locals and visitors return again and again to enjoy the fresh local seafood. Open Tuesday to Saturday for lunch and dinner. Galatoire's requires business casual dress for lunch, and jackets for men starting at 5pm. No shorts or t-shirts.
Food Type:
French
Style:
Price:
5
Address:
209 Bourbon Street, French Quarter
Website
www.galatoires.com
---
Steamboat Natchez
The sounds of jazz music and the beautiful skyline of downtown New Orleans provide a wonderful backdrop for a moonlight dinner cruise on the mighty Mississippi River, aboard the Steamboat Natchez. The cost of the two hour cruise includes a traditional southern buffet dinner. A Sunday brunch option at 11am is also available, with a mouthwatering buffet menu. Cruises depart from the Toulouse Street Wharf, opposite Jackson Square in the heart of the French Quarter.
Food Type:
American
Style:
Price:
4
Address:
600 Decatur Street, Suite 308
Website
www.steamboatnatchez.com
---
Herbsaint
Along the historic Saint Charles Avenue, Herbsaint respects its location's culinary history. The name gives a clue to the seasoning of this French and Louisianian blend of fine dining. An esteemed award-winning chef and classic meals betray the restaurants' casual atmosphere, and an extensive French wine selection puts a classy spin on the delicious gumbo dishes. Reservations are advised.
Food Type:
Cajun
Style:
Price:
4
Address:
701 St. Charles Avenue
Website
www.herbsaint.com
---
Parkway Bakery and Tavern
It's not fine dining, it's better. The po'boy is a New Orleans classic fried sandwhich packed with so many ingredients it's better to try one than read about it. Parkway is the best and oldest place to grab a po'boy mouthful, and the shrimp and beef options have been voted the top po'boys in New Orleans. Parkway also doubles as a fun place to grab a beer. Note that Parkway is closed on Tuesdays.
Food Type:
Cafe
Style:
Price:
2
Address:
538 Hagan Avenue
Website
www.parkwaypoorboys.com
---
Casamentos
The rugged looking restaurant, much like its delicious oysters, betrays just how great this oyster bar is. One of the oldest oyster bars in town, Casamento's serves them every-which-way - although the best way is to line up a big serving of fresh ones on the counter. Cheap prices and reliably incredible oysters make it a favourite for locals.
Food Type:
Seafood
Style:
Price:
2
Address:
4330 Magazine St.
Website
www.casamentosrestaurant.com
---
Mulates
Mulate's is the original Cajun restaurant, featuring authentic Cajun cuisine. Be sure to try the Zydeco Gumbo and don't miss the homemade bread pudding. Live Cajun music and dancing each night attracts many New Orleans visitors; even Bob Dylan stopped by when he was in town. This restaurant/bar is open for lunch and till late at night.
Food Type:
Local
Style:
Price:
3
Address:
201 Julia Street
Website
www.mulates.com
---
Ralphs on the Park
Ralph's on the Park offers food fresh from the farms and waters of Louisiana, with a side helping of splendid City Park views. Their shrimp rémoulade is a favourite, creamy and not a bit spicy, and the filet mignon brings mutterings of 'buttery, so buttery&' to mind. The chocolate Kahlúa mousse or Creole cream cheese ice cream on peach cobbler wraps things up nicely. Ralph's is open for dinners and Sunday brunch.
Food Type:
Local
Style:
Price:
3
Address:
900 City Park Ave
Website
www.ralphsonthepark.com
---
Mardi Gras
Mardi Gras, the world-renowned festival with a reputation for being the most scandalous and sensational annual event on the world's festival calendar, has been celebrated in New Orleans in its present form since 1856. The origins of the carnival can be traced back to Roman times, but the date is based on the Christian calendar. Traditionally Mardi Gras day falls on 'Fat Tuesday', the day before Ash Wednesday, usually occurring during late February or early March each year. The history and traditions of the New Orleans Mardi Gras are confusing and complicated, but what it all means to revelling visitors is a series of ever-more exciting spectacular street parades through the French Quarter starting about 10 days before Fat Tuesday, building up to the big day. The whole affair turns into a major street party, with traditional strings of beads being exchanged in return for favours.


Date 2018-02-13 to 2018-02-13 Website www.mardigrasneworleans.com


Mardi Gras ©Brian Lin
---
New Orleans Jazz and Heritage Festival
In late April, just before the onset of the summer heat and humidity, the New Orleans Jazz and Heritage Festival is held at the New Orleans Fair Grounds Race Course. Numerous stages simultaneously present a vast cross-section of musical performances by top artists, ranging from traditional New Orleans jazz to Gospel, country, rap, hip-hop and Creole zydeco. In addition to the hundreds of performances and thousands of musicians the festival includes numerous food stalls and hundreds of arts and crafts displays making it a true celebration of the city's culture and heritage.


Date 2018-04-27 to 2018-04-29 Website www.nojazzfest.com


Jazz and Heritage Festival ©Infrogmation
---
St Patricks Day
No sooner has New Orleans recovered from the revelry of Mardi Gras than it starts all over again, with the celebration of St Patrick's Day being the perfect reason for another round of parades and parties through the downtown area, centred on Bourbon Street. Traditionally it is a day for the locals to gather on the streets and pavements with picnic baskets and umbrellas. Groups parade dancing down the street in costumes of green, dispensing flowers, beads and kisses to the spectators to the tune of amplified live bands on floats and trucks. Spectators call out to the floats to throw something at them, with the most popular items traditionally being cabbages, carrots, onions and the odd potato.


Date 2014-03-17 to 2014-03-17 Website www.stpatricksdayneworleans.com


St. Patrick's Day Parade ©Omunene
---
Gay Easter Parade
Parades and parties are the order of the day again in New Orleans at Easter, this time when the city's gay community turns out to celebrate under the auspices of the Easter Grand Marshals. Thousands of spectators line the streets of the French Quarter to watch the passing floats, carriages, walking groups, bands and motorcycles. The parade aspires to showcase the fashion and creativity of the local LGBT community, with gents traditionally dressing in summer suits or tuxedos and ladies donning their best Easter suits or dresses complete with Easter hat. Nudity is not permitted, but apart from that anything goes with the costumes and conviviality.


Date 2018-04-01 to 2018-04-01 Website www.gayeasterparade.com


Gay Easter ©Infrogmation
---
French Quarter Festival
Priding itself on being the largest free music festival in the southern states, the annual French Quarter Festival is a showcase for local musicians and a gourmet chance to savour New Orleans' flavour. On the music front, 21 stages and over 800 musicians operate in the historic Vieux Carre district with a diverse programme ranging from brass bands to gospel and traditional jazz. On the food front, over 65 popular local restaurants are invited to contribute to the 'world's largest jazz brunch', which features a smorgasbord of New Orleans specialities, including jambalaya, gumbo and bread pudding. Other special events around the festival include fireworks over the Mississippi, art exhibitions, courtyard tours, music workshops and parades.


Date 2018-04-12 to 2018-04-15 Website www.fqfi.org


French Quarter Festival ©Derek Bridges
---
Satchmo Summerfest
New Orleans turns out in style to celebrate the city's most beloved and famous son, Louis 'Satchmo' Armstrong, in the week of the star's birthday each year. The line up of free events honouring the music man who promoted jazz around the world includes an outdoor festival featuring music performances and local food along with seminars and discussion groups. There are also activities for children, art exhibitions, a jazz mass, parade and a 'club crawl' on the programme, and most events are free.


Date 2017-08-03 to 2017-08-06 Website www.fqfi.org


Satchmo Summerfest ©Derek Bridges
---
Travel Guide powered by www.wordtravels.com, copyright © Globe Media Ltd. All rights reserved. By its very nature much of the information in this guide is subject to change at short notice and travellers are urged to verify information on which they're relying with the relevant authorities. Globe Media and UNIGLOBE Travel does not accept any responsibility for any loss or inconvenience to any person as a result of information contained above.