Orlando
General
Weather
Airports
Attractions
Kids Attractions
Events
Restaurants
Shopping
Nightlife
---
Introduction Region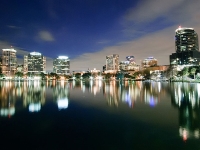 Orlando Skyline ©Bill Dickinson
The most famous resident of this central Florida city is Mickey Mouse, the cartoon creation of animated movie tycoon, Walt Disney, whose vision has turned Orlando, and the adjacent Lake Buena Vista and Kissimee areas, into the world's busiest, biggest and best-known concentrated tourist paradise. Disney bought up land in the area with the aim of establishing his dream theme park back in the 1960s. He died before the first park, the Magic Kingdom, officially opened in 1971, but his legacy has taken root and is still growing. Currently the Disney empire in Orlando includes four theme parks, dozens of smaller attractions, thousands of hotel rooms and holiday apartments, hundreds of restaurants and snack bars and even two cruise ships.
It is not only the Disney dazzle that draws visitors to Orlando, however. There are other attractions here too, like Universal Studios, Discovery Cove, and the beloved SeaWorld, all adding to the maelstrom of thrills and pleasure palaces that this city is now renowned for. Just a trip down attraction-rich International Drive is a mind-boggling experience. The city and surrounds can occupy visitors of all ages for weeks, but those who feel the need to travel farther afield will find that another of Florida's greatest attractions, the Kennedy Space Center, is also nearby, as are the theme parks and attractions of Tampa, including the thrilling Busch Gardens.
Climate Info
Orlando experiences jolly holiday weather all year, with temperatures typically ranging between 52°F (11°C) in mid-winter and 91°F (33°C) at the peak of summer, with a humid, subtropical climate. Summer temperatures can be uncomfortably hot in August, and winter is dry and temperate, with night time temperatures occasionally plunging surprisingly low. Thunderstorms are common between May and September and tend to be short but heavy, offering some respite from the heat. Summer is also hurricane season, between June and November.
Convert to Imperial
Convert to Metric
| | | | | | | | | | | | | |
| --- | --- | --- | --- | --- | --- | --- | --- | --- | --- | --- | --- | --- |
| Month | Jan | Feb | Mar | Apr | May | Jun | Jul | Aug | Sep | Oct | Nov | Dec |
| rain (cm) | 56 | 84 | 93 | 64 | 76 | 166 | 207 | 183 | 174 | 95 | 44 | 54 |
| max temp (c) | 21 | 23 | 25 | 28 | 31 | 32 | 33 | 33 | 32 | 29 | 26 | 23 |
| min temp (c) | 9 | 10 | 13 | 15 | 19 | 22 | 23 | 23 | 22 | 19 | 14 | 11 |
| good weather | yes | yes | yes | yes | no | no | no | no | no | no | no | yes |
Getting Around
Anyone staying at a Disney resort or official Disney hotel need have no qualms about getting around the Orlando magic kingdom. An unlimited free transportation network runs throughout, with buses, monorails, ferries and water taxis connecting all the parks and attractions before, during and for a couple of hours after opening hours. The I-Ride Trolley operates exclusively in the busy International Drive resort area; the fare is $2 per ride, and various passes are available. Those wishing to take a break from the world of Disney and travel elsewhere are advised to hire a car, particularly as during peak holiday seasons buses are likely to be crowded. Mears Transportation runs a bus service covering all Orlando's surrounding attractions, even as far away as Busch Gardens in Tampa. There are also free shuttles linking some of the theme parks, including SeaWorld Orlando and Busch Gardens in Tampa. Taxis queue for passengers in front of most of the resorts in the area; they can also be ordered by telephone. Taxi fares tend to be high, however.
Orlando International Airport (MCO)
| | |
| --- | --- |
| Location | The airport is situated 11 miles (18km) southeast of Orlando. |
| Time Difference | GMT -5 (GMT -4 from March to November). |
| Contacts | Tel: +1 407 825 8463. |
| Transfer terminals | Terminals A and B are within the same builiding. The crossing between the terminals is on level 3. |
| Getting to city | Public transport facilities are to be found on the Ground Transportation Concourse on Level 1 of Terminal 1. Lynx buses numbers 11, 42, 51 and 111 depart around every 30 minutes, between 5.30am and 10.30pm, for downtown Orlando, the trip taking about 40 minutes and costing $2. Many hotels provide free shuttles for guests. Taxis are available on Level 1 on both the A and B sides of the Main Terminal, and may carry up to nine passengers with metered rates. Cruise passengers may also check with their cruise line, as some offer direct transfers to the port. |
| Car Rental | Numerous major car hire companies are represented at the airport, including Alamo, Avis, Budget, Dollar and National. |
| Airpor Taxis | Taxis are available on Level 1 on both the A and B sides of the Main Terminal, and may carry up to nine passengers with metered rates. |
| Airport Facilities | Passenger services at the airport include ATMs, currency exchange, information centres, and postal services. There are a wide variety of bars, restaurants and shops, including duty free. The Kennedy Space Center, Disney, Universal Studios and Sea World all have their own branded shops. Facilities for the disabled are good; those with special needs should contact their airline in advance. |
| Car Parking | Orlando International Airport has a number of parking options ranging from the Express Pick-up/Drop-off lot, which charges $1 per 30 minutes for the first two hours and $5 per hour thereafter. Terminal Top parking lot and the Terminal Garage have rates of $2 for 40 minutes and $1 for each additional 20 minutes. The daily maximum is $17. The two economy lots, serviced by regular airport shuttles, cost just $10 per day. |
| Website | www.orlandoairports.net |
Orlando Sanford International Airport (SFB)
| | |
| --- | --- |
| Location | The airport is located 22 miles (about 35km) northeast of Orlando. |
| Time Difference | Local time is GMT -5 (GMT -4 between March and November). |
| Contacts | Tel: +1 407 585 4500 |
| Transfer terminals | A shuttle bus service connects terminals A and B. |
| Getting to city | Lynx bus #33 serves the airport, stopping right outside the terminal buildings. |
| Car Rental | Car rental companies include Alamo, Avis, Budget and Hertz. |
| Airpor Taxis | Taxis are available outside the arrivals area. Expect to pay around $60 to get to downtown Orlando from the airport. |
| Airport Facilities | Facilities include ATMs, bureaux de change, restaurants and cafes, Internet access, and the Royal Palm Lounge. |
| Car Parking | Short-term parking available, at $2 for every 30 minutes. |
| Depature Tax | None. |
| Website | www.orlandosanfordairport.com |
Walt Disney World




Orlando's most familiar landmark is undoubtedly the turreted Cinderella Castle that stands in the centre of the original Disney Florida theme park, the Magic Kingdom, at Lake Buena Vista. Walt Disney World opened in 1971 and has been making childhood fantasies come true ever since. Today
▼ see more




Cinderella Castle at Walt Disney World ©cd.harrison
---
SeaWorld Orlando




Spread out between the Disney parks at Lake Buena Vista and the downtown Orlando area is the renowned SeaWorld attraction, which has been making a major splash in central Florida for more than a quarter of a century. The park is designed to give an interactive look at the sea and all its
▼ see more




SeaWorld, Orlando ©David R. Tribble
---
Universal Studios Florida




Experienced theme parkers recommend that it takes at least two days to fully appreciate all the delights on offer at the Universal Orlando entertainment complex, which includes two theme parks: the Islands of Adventure and Universal Studios. The movie-themed park with its thrilling, inno
▼ see more




Universal Studios ©Robert Linsdell
---
Wet n Wild Orlando




One of Orlando's numerous water parks, Wet 'n Wild has the distinction of being the most popular water attraction in the area and also the world's first amusement park devoted solely to water flumes, pools and slides. The park was designed by George Millay, creative genius behind the Sea
▼ see more




Wet 'n Wild Orlando ©Yarkob
---
Orlando Odditorium




Housed in an odd-looking building that is tipped to one side and apparently sinking into the ground, the Orlando Odditorium contains a remarkable collection of weird and wonderful exhibits, amassed over a period of 40 years by explorer Robert Ripley. Examples of the exhibits are shrunken
▼ see more




Orlando Odditorium ©filippo_jean
---
Orlando Museum of Art




In true Florida style, Orlando's Museum of Art is not just another gallery but a fascinating world of creative themed exhibitions showcasing its permanent collections of American Art, Art of the Ancient Americas and African Art. The Museum also has an active programme of visiting exhibit
▼ see more




Orlando Museum of Art ©Ebyabe
---
Kennedy Space Centre




The John F. Kennedy Space Centre at Cape Canaveral, 46 miles (74km) southeast of Orlando on Florida's east coast, is one place in this fantasyland state where fact is just as entertaining as fancy. Visitors to the centre follow the story of NASA's exploration of space through interactive
▼ see more




Launch of 'Discovery' Shuttle ©NASA
---
Fantasy of Flight




Midway between Tampa and Orlando, about 20 minutes drive west of Walt Disney World, the Fantasy of Flight resort is billed as the world's greatest aircraft collection. The attraction began as a vision of aviation enthusiast and historian, Kermit Weeks, as a tribute to the pioneers of fli
▼ see more




Fantasy of Flight ©Valder137
---
SeaWorld Aquatica




If you're up for something exciting, intriguing and just downright fun, then SeaWorld's Aquatica is certainly worth the visit. There are loads of thrill rides to enjoy in this water park as well as other varied attractions, ensuring the whole family stays entertained. Visitors can experi
▼ see more




Loggerhead Lane at Aquatica ©SeaWorld Aquatica
---
Discovery Cove Orlando




Discovery Cove is an exquisite tropical island paradise. In recent years, Discovery Cove has supplanted its sister park, SeaWorld, as the premier marine theme park in the state of Florida, but the competition remains steep and many travellers choose to visit both. What makes the experien
▼ see more




Dolphin Swim at Discovery Cove ©Discovery Cove
---
Wizarding World of Harry Potter




The Wizarding World of Harry Potter is located at Islands of Adventure and allows visitors to enter their favourite scenes from the films, including the Hogwarts Express, Hogsmead village, Zonko's joke shop and Diagon Alley, and has fun rides that include the Flight of the Hippogriff and
▼ see more




Hogwarts Castle ©The Conmunity - Pop Culture Geek
---
Gatorland




Florida is famous for its alligator population, and Gatorland in Orlando is a good place to get an up-close-and-personal experience with these interesting animals. The park is home to thousands of alligators and crocodiles, as well as a breeding marsh with boardwalk and observation tower
▼ see more




Gatorland ©Brian Marshall
---
The Holy Land Experience




Vastly different from most theme parks in Orlando, The Holy Land Experience is a religious attraction designed to recreate pivotal scenes from the Bible, including the Great Temple, the Last Supper Communion, and a Jerusalem Street Market. Staff members re-enact stories from the life of
▼ see more




Holy Land Experience ©David Joyce
---
Jacks Place
Serving a variety of steaks, grills and seafood, Jack's Place is the place to go for quality food. Start with the tender grilled crab cake or stuffed shrimp and enjoy the Lobster Ravioli served with fresh English pea and corn sauce. Open for lunch and dinner. Bookings recommended.
Food Type:
Seafood
Style:
Romance
Price:
2
Address:
Rozen Plaza Hotel, 9700 International Dr
Website
www.jacksplacerestaurant.com
---
A Land Remembered
This renowned Orlando steak house is the place for carnivores to meet and features an impressive wine list to boot. Start with the Little Creek Frog Legs, which are Cajun spiced with a mango rum glaze and tuck into a mouth watering Châteaubriand, Filet Mignon or the famous Key Lime Pie. Open for lunch and dinner. Reservations recommended.
Food Type:
Steakhouse
Style:
Business
Price:
3
Address:
Rosen Shingle Creek 9939, Universal Blvd
Website
www.landrememberedrestaurant.com
---
Cala Bella
For mouth-watering Tuscan cuisine where Italian classics marry with American cuisine to create a wonderful taste sensation, Cala Bella is the place to go. Start with the mozzarella stuffed Bella meatballs braised in Borolo wine before diving into marinated herb roasted lamb chops with pickled garlic and shallots in rosemary minted Marsala. Bookings recommended.
Food Type:
Italian
Style:
Romance
Price:
3
Address:
9939 Universal Blvd
Website
www.calabellarestaurant.com
---
Travel Guide powered by www.wordtravels.com, copyright © Globe Media Ltd. All rights reserved. By its very nature much of the information in this guide is subject to change at short notice and travellers are urged to verify information on which they're relying with the relevant authorities. Globe Media and UNIGLOBE Travel does not accept any responsibility for any loss or inconvenience to any person as a result of information contained above.