Paris
General
Weather
Airports
Attractions
Kids Attractions
Events
Restaurants
Shopping
Nightlife
---
Introduction Region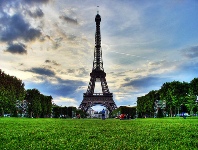 The Eiffel Tower ©ainet
It is impossible not to fall in love with Paris. The city's people are stylish and flirtatious, its architecture interesting, its restaurants and nightlife devoted to the pursuit of pleasure, and its shopping famously fashionable.
There is no best time to visit Paris; in every season the city is alive and captivating. Summer days are spent lazing on the banks of the Seine, sipping coffee at sidewalk cafes, or idling in one of the city's many gardens or forests. On autumn afternoons the brisk walk from the Eiffel Tower through the Parc du Champ de Mars and up the glittering Champs Elysees is accompanied by a carpet of leaves crunching romantically underfoot. Winter nights induce a warm glow ice-skating in the outdoor rink at the Hotel de Ville. And in spring the passions of performers fill the air outside the Pompidou Centre and the nose is tickled with the subtle scents of flowering gardens.
There is an otherworldliness to Paris, where beauty and elegance are favoured over purpose and practicality. Centuries of urban development have the appearance of having being mastered by a single hand with a strong sense of balance, contrast and aesthetics. The views from the Eiffel Tower or Sacre Coeur reveal hundreds of iconic attractions for the snapshot visitor, but the best way to see this city is by tucking map in pocket and getting delightfully lost on its streets and avenues by just wandering around.
Climate Info
Paris has a temperate oceanic climate, but the city is known for its unexpected rain showers which can occur at any time of year. Spring, from March to May, is the driest season in Paris but rainfall is distributed fairly evenly throughout the other seasons. It is best to have an umbrella with you in Paris no matter what the season, but the rain showers are usually as brief as they are sudden. Snow is rare but the city does usually get a smattering in the winter months (December to February). Summer (June to August) temperatures are mild to warm, with average highs of 77°F (25°C) and occasional heat waves, while winters are very chilly with temperatures hovering around freezing point. The average temperatures in Paris generally range between 41°F (5°C) during winter and 68°F (20°C) in summer. July is the hottest month of the year, although August can be almost as hot, and January is the coldest. November through January can be a little windy but generally wind is not a problem in Paris.
Convert to Imperial
Convert to Metric
| | | | | | | | | | | | | |
| --- | --- | --- | --- | --- | --- | --- | --- | --- | --- | --- | --- | --- |
| Month | Jan | Feb | Mar | Apr | May | Jun | Jul | Aug | Sep | Oct | Nov | Dec |
| rain (cm) | 182 | 121 | 158 | 205 | 323 | 300 | 237 | 193 | 66 | 63 | 83 | 155 |
| max temp (c) | 7 | 8 | 12 | 15 | 19 | 22 | 24 | 25 | 21 | 16 | 10 | 8 |
| min temp (c) | 2 | 3 | 5 | 7 | 10 | 13 | 15 | 15 | 12 | 9 | 5 | 4 |
| good weather | no | no | no | no | no | yes | yes | yes | yes | no | no | no |
Getting Around
Paris has an excellent public transport system, divided into five zones radiating out from the centre; ticket prices vary according to the number of zones required. Public transport consists of buses, an underground metro, and express trains (RER). Taxis are also available. The easiest way to get around is on the metro and the subways are generally safe at all times. It is possible to transfer between the metro and the RER trains at no extra cost. The bus system is also extensive, but is slower, less frequent and best used for getting to destinations the metro does not cover. A nightbus service, Noctilien, covers the city between 1am and 5.30am. Taxis are readily available and can be hailed or caught at taxi ranks. Vélib' bicycle rentals are also popular for getting round town: pick up a bike at one of 1,450 stations and return it at any other (from around €2 an hour).
Paris Charles de Gaulle International Airport (CDG)
| | |
| --- | --- |
| Location | The airport is 14 miles (23km) northeast of Paris. |
| Time Difference | GMT +1 (GMT +2 between last Sunday in March and last Sunday in October). |
| Contacts | Tel: +33 (0)1 48 62 1212. |
| Transfer terminals | The three terminals are linked by free shuttle buses. |
| Getting to city | There is a good train service with the RER B line that serves the airport with connections to the city centre and the Metro station. From the airport RER B can be accessed from Terminal 2 railway station on the airport shuttle. The RER B line is serviced every fifteen minutes Monday through Friday and takes 35 minutes to the city centre. The Roissy bus line also connects to the city centre for the 60-minute drive. Buses depart every 15-20 minutes between 6am and 12.30am. Air France also runs buses to certain city destinations. The Noctilien night bus runs between 12.30am and 5am with fares depending on destination. |
| Car Rental | All major car rental companies are represented. |
| Airpor Taxis | There are taxis outside the baggage reclaim area of the arrival terminals. The taxi fare to the city centre is generally around €55. Surcharges of up to 15 percent apply at night and on Sundays and public holidays. |
| Airport Facilities | There are ATMs, banks and bureaux de change in all terminals as well as a wide selection of shops, restaurants and bars. |
| Car Parking | Short-term parking is available in lots P1, P3, and PAB, nearest to Terminal 1 and rates range from €3 for a 15 minute stay up to €39 for a full day's parking. The first 10 minutes parked are free. Lots PCD and PEF are located near Terminal 2 and off similar rates. Lot PR has lower long-term parking rates and the lot is connected to all terminals via a free shuttle. |
| Website | www.aeroportsdeparis.fr |
Paris Orly Airport (ORY)
| | |
| --- | --- |
| Location | The airport is nine miles (14km) south of Paris. |
| Time Difference | GMT +1 (GMT +2 from last Sunday in March to last Sunday in October). |
| Contacts | Tel: +01 49 75 5252. |
| Transfer terminals | The two terminals are linked by a free shuttle bus. |
| Getting to city | Several choices of public transportaiont methods are the cheapest way to the city centre. RER C trains leave regularly from both terminals and connect to the metro and SNCF train stations. A number of bus services also operate from both terminals such as the Roissy bus line and Air France. Taxis are an expensive albeit fast way to the city centre although they should be avoided in rush hour. Fares usually cost US$35 but are more expensive at night (Tel: 01 47 39 00 91). Airport shuttles also offer door to door service or connections to public transportation stations. |
| Car Rental | All the major car rental companies are represented at the airport. |
| Airpor Taxis | There are taxis outside the arrival terminals and the taxi fare to the city centre is generally €35. |
| Airport Facilities | There are a number of shops, bars and restaurants throughout the airport and both terminals have ATMs, banks and currency exchange services. Other facilities include information desks, an art gallery, left luggage, and a medical centre offering vaccinations. Internet access points and wireless Internet access is available, and a business centre offers a venue and equipment for business needs. Disabled passengers are well catered for; passengers with special needs are advised to inform their airline in advance. |
| Car Parking | Parking charges at Paris-Orly Airport range from €6.80 per hour to €36.40 per day in P0 to P3, which are within a short distance of the terminal. Regular shuttle buses connect P 4 and P5 to the terminal and charges start at €4 for an hour and €26 for a full day. Just three minutes from the South Terminal is lot P6 with rates starting at €6.80 for the first hour and going up to €36.40 for the full day. All parking lots, except P5, are closed between 12.30am and 3.30am in summer and 4.30am during winter. |
| Depature Tax | None. |
| Website | www.aeroportsdeparis.fr |
Eiffel Tower




Gustave Eiffel, the architect of the Eiffel Tower (Tour Eiffel) could never have guessed that it would become Paris' signature sightseeing attraction and attract more than six million visitors a year. It was built as a temporary structure to commemorate the centenary of the French Revolu
▼ see more




Eiffel Tower by night ©Jay Buangan
---
Notre-Dame




Notre-Dame looms large over the Place de Paris, on the Isle de la Cité, and as the most enduring symbol of Paris is an alluring tourist attraction. Built between 1163 and 1345 the cathedral is considered one of the world's Gothic masterpieces. The massive interior can seat 6,000 people
▼ see more




Notre-Dame ©Myrabella
---
Louvre




One of the world's great art museums, this vast edifice houses an extraordinary collection of paintings, sculptures and antiquities from all over the world. The permanent collections are divided into Egyptian, Greek, Roman and Asian antiquities, painting, drawings, sculptures and objects
▼ see more




Louvre ©Benh Lieu Song
---
Pompidou Centre




Built in the 1970s and named after former French president Georges Pompidou, the futuristic Pompidou Centre is now considered part of the Parisian landscape. The outrageous design, complete with its glass elevators, was the inspiration for the Lloyds Building in London and attracts visit
▼ see more




Pompidou Centre ©Nina Jean
---
Musée dOrsay




This great museum is fairly new by Paris standards. It is situated in a railway station by the Seine and houses a vast collection of works from the significant 1848 to 1914 period. There are important works from the Art-Nouveau movement but the Orsay is best known for its Impressionist a
▼ see more




Musee d'Orsay ©Joe deSousa
---
Musée Rodin




The Rodin Museum is situated near the Musée d'Orsay and is housed in what was formerly the Hôtel Biron, the beautiful hotel where Auguste Rodin (1840-1917) once lived and worked. Inside are many of Rodin's great marble sculptures including while outside, in the garden, are famous bron
▼ see more




Rodin Museum ©Jean-Pierre Dalbera
---
Musée National Picasso




The Picasso Museum is situated in a 17th century mansion in the heart of Paris. The collection was started in 1973, after the French government accepted Picasso's own collection in lieu of death duties, and was added to after his widow's death in 1990. All the phases of work from the Par
▼ see more




Picasso Museum ©Stefano Brivio
---
Versailles




The Château de Versailles stands 15 miles (24km) southwest of Paris and is one of France's most noted attractions. Most of the palace was built between 1664 and 1715 by Louis XIV (known as the Sun King), who turned his father's hunting lodge into the grandest palace ever built. The 'Old
▼ see more




Aerial view of the Palace of Versailles, France ©ToucanWings
---
Fontainebleau




In the 16th century, Henry II and Catherine de Medici commissioned architects Philibert Delorme and Jean Bullant to build a new palace within the Fontainebleau forest, 40 miles (64km) south of Paris. Italian Mannerist artists Rosso Fiorentino and Primaticcio came to assist in the interio
▼ see more




Fontainebleau interior ©Jean-Pierre Dalbera
---
Arc de Triomphe




The world's largest triumphal arch, the Arc de Triomphe de l'Etoile is set at the centre of a star-shaped configuration of 12 radiating avenues in the heart of the Champs Elysées. It stands 165 feet (51m) tall and the names of major victories won during the Revolutionary and Napoleonic
▼ see more




Arc de Triomphe de l'Etoile ©Kieran Lynam
---
Les Invalides




Les Invalides was built by Louis XIV in 1670 as a military hospital to take care of wounded soldiers and now comprises the largest single collection of monuments and museums in Paris, all relating to the military history of France. It is the burial site of some of France's war heroes, an
▼ see more




Les Invalides ©Photogra Fer
---
Jardin des Plantes




The Jardin des Plantes is France's main botanical garden. Covering 28 hectares (280,000sq m), the garden was originally planted by Louis XIII's doctor in 1626 as a medicinal herb garden. In 1640 it became Paris's first public garden. In 1739, after a long period of decline, the gardens w
▼ see more




Jardin des Plantes ©Celine
---
Disneyland Paris




Comprising two theme parks, Disneyland Paris is a must for all children visiting the city. The resort is a great place to see all their favourite characters, from Mickey and Minnie, to Buzz and Woody, to a veritable chorus line of princesses. Many of the most loved attractions from the A
▼ see more




Disneyland Paris ©Gian94g
---
Musée National dHistoire Naturelle




Located in the Jardin des Plantes, the Musée National d'Histoire Naturelle (Natural History Museum) greets visitors with two gigantic whale skeletons at the entrance. With wonderful exhibitions and fascinating displays on botany, archaeology and palaeontology, the museum will captivate
▼ see more




Natural History Museum ©Jim Linwood
---
Le Jardin dAcclimatation




This children's amusement park attracts thousands of tourists every year. It features a menagerie and the Exploradome Museum, with fantastic optical illusions and amazing structures. The park's attractions include zip-lines, swings, deforming mirrors, paddling pools, radio-controlled boa
▼ see more




Le Jardin d'Acclimatation ©David Monniaux
---
Parc Asterix




Based on the famous comics by Uderzo and Goscinny about cheeky Gauls who annoy the Roman Empire, the Parc Asterix is a theme park located just outside of Paris. Kids will love meeting their favourite characters, including, of course, Asterix himself, and his giant friend Obelix. The park
▼ see more




Parc Asterix ©Vinicius Pinheiro
---
France Miniature




Located in Flancourt, France Miniature features more than 130 models of famous French attractions, such as the Eiffel Tower, Lourdes, St Tropez, Le Mont-Saint-Michel and Versailles, for visitors to enjoy. Everything has been created with a 1:30 scale and some for the models are even anim
▼ see more




Miniature Arc de Triomphe ©Frederic Bisson
---
Aquaboulevard




The largest water park in Europe, located in the heart of the city of Paris, Aquaboulevard is a great treat for kids (and adults!). One of the big advantages of this attraction is the fact that most of it is indoors, making it fun on sunny or rainy days in Paris; if you are travelling wi
▼ see more




Aquaboulevard ©Mariiwakura
---
Shopping
Paris is a shopper's paradise. Jet-setters will feel at home with the famous names of the haute couture boutiques found on Rue du Faubourg Saint-Honoré: Dior, Chanel, Givenchy, Jean-Paul Gaultier, and others; while trend-setting fashions can be found in Rue Etienne Marcel shops. Sadly, the Champs-Elysées is not what it used to be, with banks, fast-food chains and malls strategically placed to trap tourists. However, some good stores remain - perfume from Guerlain Parfumerie is a classic Paris souvenir.
Les Halles is a subterranean shopping mall with more than 180 stores where bargain hunters will be able to find cheap knockoffs and other trendy clothes. Mainstream department stores offer some great finds, such as La Samaritaine, which prides itself as being the one where on trouve tout (one finds everything). Just outside the city, La Vallée Village offers designer goods at steep discounts.
Bargains closer to town can be sniffed out in abundance at the three main flea markets situated around the old gates of the city. They are, however, teeming with pickpockets and shoppers should be on their guard. Les Bouquinistes, which consists of rows of bookstalls perched against the walls of the Seine River, is a great place for bookworms to browse and barter.
Those determined to buy a plastic Eiffel Tower or other kitschy souvenir, will find tourist tat plentiful along rue de Rivoli; and those looking for something a bit different to take home should visit the La Plaque Emaillées in Filles-du-Calvaire for a taste of turn-of-the-century Parisian Art Nouveau.
Parisians buy most of their food from specialty stores such as bakeries and butcheries, which stock pastries, cheeses or pâtés to die for. The open-air markets are a fantastic place to find flowers, produce and clothing and are frequented by most of the locals. Paris also offers a wealth of window-shopping opportunities, making it the ultimate destination for the discerning consumer.
Most shops open between 9 and 10am, and close at 7 or 8pm. France levies a sales tax of between 5.5 percent and 33 percent, depending on the merchandise. There is a VAT refund scheme for non-EU visitors, but conditions apply.
Nightlife
Paris's nightlife has a reputation extending back for hundreds of years, and it shows no sign of slowing down. While many tourists won't venture beyond the crowded and overpriced bars of the Champs Elysées, there are many bustling nightlife districts in Paris worth exploring.
Bastille has a mixture of noisy nightclubs and bars best suited to twenty-somethings. Oberkampf was the place to be in the 1990s, and still buzzes with hipster-filled cafes. The area around the Louvre is home to some of the most upmarket, and expensive, bars in Paris, including the Ritz's Hemingway Bar in Place Vendome, a piano bar frequented by the writer in the 1940s.
Montmartre is the home of the famous (or infamous) Moulin Rouge cabaret, which still presents glittering extravaganzas on a nightly basis, though the price tag is a bit higher than when it started in 1889. Nearby Pigalle is a bit seedy, but offers some good rock music venues. Marais also boasts a good selection of bars and cafes, with a thriving gay and lesbian scene.
There is no end to the live music possibilities in Paris. Nouveau Casino hosts a variety of bands on most nights, and La Flèche d'Or is known as an indie-rock venue. Belleville's La Java hosts an eclectic mix of artists in the venue where Edith Piaf debuted.
For a more sedate music experience, the Cité de la Musique hosts classical, jazz and traditional concerts in a network of concert halls. Paris is of course an opera paradise, and you'll find symphonies and operas at the Opéra Bastille, lighter opera at the Opéra Comique, and you might even spot the phantom of the opera at the grand Opéra Garnier, the home of the Ballet de l'Opera National de Paris.
Cafes and bars are generally open from late afternoon to 1am with some variation, and clubs don't open until 11pm on the weekends, staying open until 5 or 6am. It's not fashionable to arrive at a Paris club until well after midnight. The drinking age in France is 16 for wine and beer, and 18 for spirits.
Pick up a copy of the weekly Pariscope, or go online and find the English-language Boulevard for up-to-date entertainment listings.
LArdoise
This tiny bistro is simply decorated with a plain white facade and a rustic interior, and is always buzzing with locals. A blackboard menu offers classic French dishes such as calf's liver cooked in sherry vinegar, or scallops cooked in basil oil. There is also a selection of venison on offer, and the puddings are equally enticing. The bill is outrageously inexpensive for the quality of the food. Open Tuesday to Saturday for lunch and dinner, dinner only on Sunday. Reservations essential.
Food Type:
French
Style:
Price:
3
Address:
28 Rue du Mont Thabor (Beaubourg/Les Halles)
Website
www.lardoise-paris.com
---
La Tour dArgent
La Tour d'Argent (The Silver Tower) not only serves up mouth-watering dishes, but also has wonderful views over the Seine and Notre-Dame. A restaurant has stood on this site since 1582 and dining here is still an unsurpassed event. A good section of the menu is devoted to duck, and diners who order the house speciality - caneton (pressed duckling) - are issued with a certificate; the practice started in 1890 and they are now at well over a million. Book well in advance, a jacket and tie is required in the evening. Closed Monday, and lunch on Tuesdays.
Food Type:
French
Style:
Romance
Price:
5
Address:
15-17 Quai de la Tournelle (Latin Quarter)
Website
www.tourdargent.com
---
Guy Savoy
Guy Savoy's creations are audacious and inventive; the steam-baked Bresse chicken with lemongras and the roasted rib of veal are testament to this. Half-portions allow patrons to sample various dishes on the menu, and the wine list reveals a treasure trove of exceptional vintages. Although the décor is formal, the atmosphere is relaxed and ambient. Book well in advance. Open Tuesday to Friday for lunch and dinner, and for dinner on Saturday; closed Sundays.
Food Type:
French
Style:
Price:
5
Address:
18 Rue de Troyon (Charles-de-Gaulle-Etoile)
Website
www.guysavoy.com
---
Buddha Bar
The exotic Buddha Bar remains trendy with Parisians and foreigners in the know. A massive gilt Buddha dominates the spacious interior of the restaurant, which offers a variety of Japanese-Californian cuisine; tuna tataki sashimi and pork ribs with hoisin sauce are just two of the menu's many delights. Open for lunch and dinner Monday to Friday, and dinner only on weekends. Book well in advance.
Food Type:
Fusion
Style:
Price:
3
Address:
8 Rue Boissy dAnglais (Champs-Élysées)
Website
www.buddha-bar.com
---
Goumard
Founded in 1872, the restaurant Goumard has all the charm of a century-old establishment with original oak woodwork, an engraved 1930s glass facade and designer chandeliers. One of the finest seafood restaurants in Paris, the food at Goumard is influenced by Mediterranean and Asian cuisines, served with subtle and delicate sauces - the emphasis is on enhancing the natural flavours of the catch. Open for lunch and dinner Monday to Saturday, reservations required.
Food Type:
Seafood
Style:
Price:
3
Address:
9 Rue Duphot (Madeleine)
Website
www.goumard.com
---
Le Grand Véfour
Housed within the arcades of the Palais-Royal, Le Grand Véfour has been entertaining diners since the reign of Louis XV and has welcomed everyone from Napoleon to Danton. The menu is influenced by the cuisine Savoie - a blend of sophisticated and rustic dishes. Favourites include the sole meunière and the wild duck in laurel leaves. Desserts include the signature artichoke crème brûlée. Booking is essential, closed Friday night and weekends.
Food Type:
French
Style:
Price:
5
Address:
17 Rue de Beaujolais (Louvre/Tuileries)
Website
www.grand-vefour.com
---
Au Pied de Cochon
Opened in 1947, this Paris restaurant is a traditional all-day Brasserie serving authentic French fare like stuffed pig's trotters, veal kidney flambéed in Cognac, and Provençal-style pan stuffed mussels. The long benches and brass fittings echo the authenticity of the food for a truly Parisian experience. Open 24 hours a day, the restaurant is popular with tourists just come from browsing the Louvre.
Food Type:
French
Style:
Price:
3
Address:
6 rue Coquillière
Website
www.pieddecochon.com
---
L'Alcazar
L'Alcazar attracts fashionable Parisians looking to dine on seafood or Modern British fare. The huge ground floor restaurant is of course designed more for style than comfort and patrons can see the chefs in action in the open-plan kitchens; the octopus salad and steak tartare are excellent. L'Az bar has regular theme nights with celebrity artists and jazz musicians. Open for lunch and dinner daily, and brunch on Sundays. Reservations recommended.
Food Type:
Modern Eclectic
Style:
Price:
3
Address:
62 Rue Mazarine (Odéon)
Website
www.alcazar.fr
---
Le Jules Verne
The prestigious Jules Verne Restaurant is located on the second floor of the Eiffel Tower and has an atmosphere that is reminiscent of an airship moored high above Paris, with spectacular views of the city. The poached lobster and stuffed chicken are just two of the great dishes on the menu, and the wild strawberry and coconut cake dessert is fantastic. Open for lunch and dinner daily, reservations recommended.
Food Type:
French
Style:
Romance
Price:
4
Address:
Eiffel Tower, second floor (the restaurant has its own private elevator access at the south pillar)
Website
www.lejulesverne-paris.com
---
Le Bouillon Racine
Le Bouillon Racine features a sophisticated Belgian menu and an enormous selection of Belgian beer. The food here is hearty and filling, even without the help of several thirst-quenching ales. The menu changes monthly and includes popular dishes like the casserole of mussels, shrimp and baby clams, suckling pig roasted with bitter Orval beer, and rack of lamb roasted in a pale biere blonde. The décor is festive and the service efficient. Reservations essential, open daily for lunch and dinner.
Food Type:
International
Style:
Price:
2
Address:
3 Rue Racine (St-Germain-des-Prés)
Website
www.bouillon-racine.com
---
Kong Restaurant and Bar
Set in an Art Deco building on the banks of the Seine, Kong has beautiful views of the city and is full of surprises - from its stint to the dining area's interesting Japanese Manga décor. The exotic menu offers cuisine such as the Kong Plate (a mixed fish platter), Chilean bass and Japanese beef carpaccio. Open daily for lunch and dinner, with brunch on Sundays. Reservations essential.
Food Type:
International
Style:
Price:
3
Address:
1 Rue du Pont Neuf
Website
www.kong.fr
---
Café de Flore
The historic Cafe de Flore has been immortalised by more than one French painter. A popular meeting place for post-war intellectuals like Jean-Paul Sartre and Simone de Beauvoir and celebrated artists Camus, Picasso, and Apollinaire, the restaurant has now been overrun with tourists from all over the world. The menu offers salads, sandwiches, pastries and other cafe fare. Cafe de Flore is open daily from 7:30am to 1:30am.
Food Type:
Café
Style:
Price:
4
Address:
6th Arrondissement
Website
www.cafedeflore.fr
---
Fete de la Musique
Every year on the summer solstice, Paris hosts amateur and professional musicians who perform in a variety of venues around the city, from public squares, streets and parks to opera houses and castles. The festival aims to celebrate music in all forms and is open to anyone. A large free concert is traditionally held featuring some big names in the music world, but on every corner, in doorways, in restaurants and hospitals, museums and courtyards, there are the sounds of music, from jazz, salsa and techno, to choirs, orchestras and steel bands, accompanied by people dancing, eating and drinking. All musicians are encouraged to perform for free. This is a vibrant and exciting time to visit France and visitors will be delighted by the festive atmosphere and the variety of talent on display. The festival started in France but has now spread to at least 100 other countries which is a testament to its popularity and success.


Date 2017-06-21 to 2017-06-21 Website www.fetedelamusique.culture.fr


Fete de la Musique ©Jean-Pierre Dalbera
---
Bastille Day Celebrations
France's most important national holiday, Bastille Day commemorates the beginning of the French Revolution with ceremonies, dancing, parties and balls all over the city. In the morning there is a grand military parade along the Champs Elysees - the oldest and largest regular military parade in Europe - accompanied overhead by jet formations, and after the day-long festivities, a fireworks display takes place near the Eiffel Tower. The day commemorates the storming of the Bastille prison on the 16 July 1789. Although the French Revolution was a bloody and tragic period of history the revolutionary ideals of freedom, equality and fraternity are proudly celebrated and for France this is a kind of independence day and a celebration of the development of a modern, democratic nation. It is a special day to be in France, particularly Paris, and visitors will be overwhelmed by the patriotism, ceremony and festive atmosphere.


Date 2017-07-14 to 2016-07-14 Website


Bastille Day Celebrations ©Ed Johnson
---
French Open
Together with Wimbledon, the Australian Open and the US Open, the French Open is one of the four events that together are known as the tennis 'Grand Slam'. The tournament has become the most highly prized clay court title in the world and one of the biggest sporting events in France. Besides the best tennis players in the world, the stadium is also the place to be seen for the fashion conscious. The big matches are packed with celebrities and the vibe in Paris is thrilling. Even those who are not big tennis fans shouldn't miss the chance to attend a match and soak up the atmosphere if in Paris during the tournament.


Date 2017-05-28 to 2017-06-11 Website www.rolandgarros.com/en_FR


Roland-Garros stadium ©Arnaud Clerget
---
Le Salon du Chocolat
An annual festival in celebration of chocolate is a dream come true for chocoholics, and the large convention centre beneath the Louvre hosts just that. There are tastings and chef's demonstrations at a huge variety of international chocolatier stands; opportunities to sample and buy goodies such as truffles, chocolate-dipped fruit kebabs, hot chocolate and cakes; as well as chocolate fashion, sculpture and art. The fashion show featuring chocolate-inspired creations is so popular that it is always held, although many exhibitions and performances change year to year. Past exhibitions have included the history of chocolate, books on chocolate and desserts, and an antique collection of 'teapots' used exclusively for hot chocolate. A Chocoland for children entertains with chocolate makeup and other delicious activities. It is a great day out for the whole family and a unique event to attend. It is a testament to its popularity that it is now held in many cities all over the world.


Date 2017-10-28 to 2017-11-01 Website www.salon-du-chocolat.fr


A chocolate model of the Eiffel Tower ©Tasaka Sama
---
Prix de lArc de Triomphe
The Arc de Triomphe, often referred to as just the 'Arc', is France's premier horse race and attracts thoroughbreds and racing enthusiasts from all over the world. Since its inaugural race in 1920, the Prix de l'Arc de Triomphe has become established as the all-aged middle-distance championship of Europe, and today the main event alone offers prize money of more than €4 million. The race was first run in 1920 and many of the winners have gone on to be champions of the sport. The Arc is more than just a horse race though, it is a society event and a great day out for visitors and locals alike. Even those who are not racing fanatics will enjoy the palpable excitement in the atmosphere and the fun of picking a horse to bet on. Food and drink flows freely at the race and some people take the opportunity to dress up.


Date 2017-10-01 to 2017-10-02 Website www.france-galop.com


Prix de l'Arc de Triomphe ©cgerry77
---
Autumn Festival
Held every autumn and continuing for months, this arts festival is a showcase for contemporary art in all forms from around the world, including theatre, film, music, dance, sculpture and literature. It is said to be the largest festival of its kind in the world, which is saying something as art festivals are becoming very popular the world over. Special attention is given to foreign culture as well as experimental work and the development of new talents. Those who are in Paris between September and December will find it worthwhile to check out the festival programme. The incredible variety of talent and genre ensures that there is something to cater to all tastes.


Date 2017-09-01 to 2017-12-31 Website www.festival-automne.com


Autumn Festival ©Florent Darrault
---
Tour de France
What started off as a far-fetched, unimaginable idea dreamed up by two gentlemen in a Parisian brasserie in 1902, has a century later grown into the world's greatest bicycle race, indeed considered by many to be the greatest annual sporting event on earth. The unique spectacle is ingrained in France's heritage, traditionally ending in Paris, and draws hundreds of local and international cyclists in a battle for dominance over 2,175 gruelling miles (3,500km) every year. The race is split into 21 daily stages and completes a clockwise loop around the country, including treacherous mountain roads in the Pyrenees and the Alps. The famous yellow jersey is worn by the overall General Classification leader who maintains the lowest overall time. Every year the first stage of the race starts somewhere different, either in France or in another country. The race is a joy for spectators and there are many popular parts of the race to watch; spectators gather in numerous villages and cities to cheer on the cyclists and the race is enthusiastically supported.


Date 2017-07-01 to 2017-07-23 Website www.letour.fr


Tour de France ©youkeys
---
Nuit Blanche
For one night a year in Paris the idea is to stay awake and partake in the observance of night. Many public services, entertainment facilities and tourist attractions, cafes, bars and restaurants stay open throughout the night to help keep people awake. The White Night is a celebration of human culture and communication and encourages people to enjoy one another's company; the point is to appreciate all the things one doesn't find time to do during the daytime rat race, like have long conversations, enjoy drawn out dinners, and play games. It is a wonderful tradition, widely celebrated, and a really special night to find oneself in Paris. Visitors can stroll the famous streets, eat out and even visit certain attractions and it is a good night to socialise and perhaps meet some locals. The Nuit Blanche is primarily an arts festival so the galleries and museums often remain open and let people in free of charge; the city becomes a sort of delightful all-night art exhibition.


Date 2015-10-03 to 2015-10-04 Website


Nuit Blanche ©Cyril LG
---
Paris Plages (Beaches)
Two thousand tons of sand and some palm trees is all that is needed to annually transform the right bank of the Seine into a manmade beach worthy of the French capital. The Paris Plages (Paris Beaches) is a highly popular, free 'event' instituted by the City Fathers in 2002, that attracts millions of visitors to its shores. Between July and August, land-locked city dwellers can enjoy sun, fun and themed activities, without the usual Parisian price tag. A recent addition is a large swimming pool - good news for those seeking some relief from the summer sun, especially as the dirty water of the Seine itself is not a welcome thought. Other activities on offer include beach volleyball, kayaking, aerobic classes in the pool and free concerts. There are deck chairs strewn about for public use, ice-cream vendors ply the crowds and one can even borrow a book to read while lounging, free of charge. The Paris beach is usually concentrated around three main areas on the river bank: the Louvre/Pont de Sully, Port de la Gare, and Bassin de la Villette.


Date 2016-07-20 to 2016-08-18 Website


Paris Plages ©Peter Haas
---
Travel Guide powered by www.wordtravels.com, copyright © Globe Media Ltd. All rights reserved. By its very nature much of the information in this guide is subject to change at short notice and travellers are urged to verify information on which they're relying with the relevant authorities. Globe Media and UNIGLOBE Travel does not accept any responsibility for any loss or inconvenience to any person as a result of information contained above.