Raleigh
General
Weather
Airports
Attractions
Kids Attractions
Events
Restaurants
Shopping
Nightlife
---
Introduction Region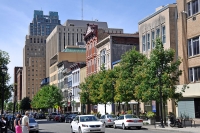 Downtown Raleigh ©Bz3rk
North Carolina's capital, Raleigh, makes up the southeastern corner of the famous Research Triangle, with Durham and Chapel Hill at the other two points. The state's second-largest city is a vital centre of high-tech business and education. Unlike many cities that grow up around ports or stations, Raleigh was planned specifically to be the state capital. At its centre stands the beautiful North Carolina Capitol building, a fine Greek Revival-style landmark, from which wide, oak-lined streets radiate. This careful geometry makes exploring Raleigh quite straightforward. Raleigh is a pleasant city, with a unique mix of Southern heritage and down-home manners; elite academia and boisterous university life and athletics; and the fast-paced, sleek sophistication of Triangle professionals.
Raleigh is often lumped together with nearby cities Durham and Chapel Hill, and though the three are only about a 30-minute drive from one another, they are different communities. Durham was once one of the most thriving African-American centres in the country. Today, its main attraction is Duke University, one of the top schools in the United States and home of the Blue Devils, another sports powerhouse. Its downtown areas, however, have suffered in recent decades, although revitalization efforts are underway. Chapel Hill, meanwhile, is a lovely college town, with beautiful old homes; endless independently-owned coffee shops, pubs and restaurants; and a decidedly liberal leaning. It is home to the University of North Carolina at Chapel Hill, another top American educational institution, and the beloved Tar Heels, a force in college athletics. The three cities, and their massive college sports followings, remain friendly rivals.
Raleigh is a perfect destination for those seeking to experience a bit of Southern history and culture without giving up the attractions and conveniences of a big city. Raleigh's restaurants serve up plenty of sweet tea and mouth-watering barbecue, but it is also known as the 'Smithsonian of the South' for its renowned museums and excellent performing arts scene.
Climate Info
Raleigh has a moderate subtropical climate. Although the city has four fairly distinct seasons, warm weather is common throughout spring, summer and autumn. Summers, between June and August, can be quite hot and humid, with temperatures averaging between 65°F (18°C) and 90°F (32°C), while the spring and autumn seasons are extremely pleasant and sunny. Winters are mild, with somewhat chilly temperatures but very rare snowfalls. In winter, between December and February, temperatures average between 31°F (-1°C) and 55°F (13°C).
Convert to Imperial
Convert to Metric
| | | | | | | | | | | | | |
| --- | --- | --- | --- | --- | --- | --- | --- | --- | --- | --- | --- | --- |
| Month | Jan | Feb | Mar | Apr | May | Jun | Jul | Aug | Sep | Oct | Nov | Dec |
| rain (cm) | 113 | 90 | 113 | 76 | 102 | 103 | 111 | 109 | 109 | 96 | 78 | 82 |
| max temp (c) | 9 | 12 | 16 | 22 | 26 | 29 | 31 | 30 | 27 | 21 | 16 | 11 |
| min temp (c) | -1 | 0 | 4 | 9 | 14 | 18 | 21 | 20 | 17 | 9 | 6 | 1 |
| good weather | no | no | yes | yes | yes | no | no | no | no | yes | yes | no |
Getting Around
While it is possible to walk in Raleigh within certain districts, especially in the central downtown area, a car is highly recommended. Raleigh is a big city, and destinations are spread out, though navigating the area by car is relatively straightforward. The GoRaleigh, Cary Transit (C-Tran), R-LINE and Wolfline bus systems provide riders with an extensive network of local routes. When in need of a taxi, it is best to call ahead for one, as it can be difficult to hail taxis on the street.
Raleigh-Durham International Airport (RDU)
| | |
| --- | --- |
| Location | The airport is situated 10 miles (16km) from Durham and 10 miles (16km) from Raleigh. |
| Time Difference | GMT -5 (GMT -4 from mid-March to the first Sunday in November). |
| Contacts | Tel: +1 919 840 2123. |
| Transfer terminals | Free buses run between the two terminals. |
| Getting to city | Triangle Transit Route 100 provides a public bus service between the airport and its Regional Transit Center, where passengers can connect to bus routes throughout the region, including major areas such as Raleigh, Durham, Chapel Hill, Cary and Research Triangle Park. The buses depart at least once an hour from outside both terminal, and an adult fare costs $2.25. |
| Car Rental | Car rental companies located at the airport include Alamo, Avis, Budget, Dollar, Hertz and National. A shuttle service runs every 15 minutes from outside the baggage claim area of both terminals to the car rental offices. |
| Airpor Taxis | The official taxi company servicing Raleigh-Durham Airport is RDU Airport Taxis. Fares into Raleigh or Durham cost approximately $30, while a trip to Chapel Hill costs about $38. Extra charges are added for excess baggage. |
| Airport Facilities | Facilities include ATMs, a post box, restaurants, bars, shops, vending machines, a spa, shoeshine services, smoking areas and tourist information and hotel reservations. Business centres in both terminals offer currency exchange and travel insurance. Facilities for the disabled are good. |
| Car Parking | There are a number of parking lots available. The Premier lot is $3 and hour, and up to $18 per day. The Economy Lots are also available for $1 an hour, or $6-7 per day, with a shuttle which connects the lots and the terminal building. |
| Website | www.rdu.com |
North Carolina Museum of Natural Sciences




The North Carolina Museum of Natural Sciences has recreated a series of natural environments, complete with living animals and a 20-foot-high (6m) waterfall, through which visitors can walk and discover North Carolina's diverse geography, geology, flora and fauna. The museum is also home
▼ see more




North Carolina Museum of Natural Sciences ©Alexisrael
---
Artspace




Artspace is a pioneering visual arts centre that allows the public to become part of the creative process. As the heart of Raleigh's arts community, Artspace stages countless challenging and award-winning exhibitions, workshops, outreach programs and public events each year. Its unique o
▼ see more




Artspace ©Maggie
---
North Carolina Museum of Art




The collection at the North Carolina Museum of Art spans about 5,000 years, from ancient Egypt up to the present day. Ancient pieces include Greek and Roman sculptures and vases, but it is the European collection that is internationally celebrated. This includes significant works from th
▼ see more




North Carolina Museum of Art ©Alexisrael
---
Travel Guide powered by www.wordtravels.com, copyright © Globe Media Ltd. All rights reserved. By its very nature much of the information in this guide is subject to change at short notice and travellers are urged to verify information on which they're relying with the relevant authorities. Globe Media and UNIGLOBE Travel does not accept any responsibility for any loss or inconvenience to any person as a result of information contained above.