Salt Lake City
General
Weather
Airports
Attractions
Kids Attractions
Events
Restaurants
Shopping
Nightlife
---
Introduction Region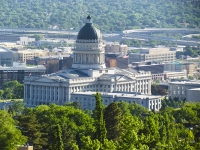 Utah State Capitol ©Jkinsocal
Situated in a basin between the rugged, snow-covered Wasatch mountain range to the east and the Great Salt Lake to the west, Salt Lake City's scenic backdrop frames a pleasantly spacious and hassle-free city that is surprisingly sensible and down-to-earth for a growing state capital.
The vast salty wasteland that ultimately became one of America's prize cities was originally picked out by a band of Mormon pioneers who were searching for a quiet spot where they could follow their faith undisturbed by the world. Led by Brigham Young, leader of the Church of Jesus Christ of Latter-Day Saints, the followers surveyed the desolate-looking valley of the Great Salt Lake basin and declared it to be the peaceful haven they had been seeking for the past five months. 'This Is The Place' Heritage Park commemorates the site where they ended their trek, named after the famous words uttered by Young in 1847. To this day the city is dominated by the Mormon influence, with more than 40 percent of the population belonging to the Latter-Day Saints. Visitors come to listen to the singing of the exceptional Mormon Tabernacle Choir and to see the fascinating Temple Square that is the spiritual headquarters of the Mormon faith and the heart of the city.
Despite being steeped in religious tradition, Salt Lake City is rapidly emerging as one of the foremost business locations in the country, attracting large numbers of high-technology firms and software corporations, and a favoured venue for major corporate and professional conferences and conventions. The city is also growing in reputation as an outdoor recreation centre; throngs of outdoor enthusiasts are drawn to the nearby mountains where world-class skiing is offered at top resorts, as well as miles of stunning mountain trails for hiking, biking and rock climbing. Salt Lake City is also within a day's drive of numerous national and state parks, rivers, forests and canyons, offering endless opportunities for outdoor recreation.
Climate Info
Salt Lake City has an unusual climate, classified as a dry-summer continental climate, and enjoys four distinct seasons, with widely variable weather. Summers, between June and August, are hot, dry and sunny, with average high temperatures between 83°F (28°C) and 93°F (34°C). Autumn is pleasantly mild and cool. Winter, between December and February, is cold, although daytime temperatures are seldom below freezing. Winter temperatures average between 21°F (-6°C) and 43°F (6°C). Due to generous snowfall in the mountains skiing can continue well into spring, although in the valley conditions are milder. Summers are dry but rain is possible the rest of the year, with storms likely anytime between October and May.
Convert to Imperial
Convert to Metric
| | | | | | | | | | | | | |
| --- | --- | --- | --- | --- | --- | --- | --- | --- | --- | --- | --- | --- |
| Month | Jan | Feb | Mar | Apr | May | Jun | Jul | Aug | Sep | Oct | Nov | Dec |
| rain (cm) | 22 | 16 | 18 | 31 | 29 | 16 | 17 | 21 | 18 | 14 | 23 | 17 |
| max temp (c) | 2 | 6 | 11 | 16 | 22 | 28 | 33 | 32 | 26 | 19 | 10 | 3 |
| min temp (c) | -7 | -4 | -1 | 3 | 8 | 12 | 17 | 16 | 10 | 4 | -1 | -5 |
| good weather | no | no | no | no | yes | yes | yes | yes | yes | no | no | no |
Getting Around
The Utah Transit Authority provides extensive public transport coverage in Salt Lake City by means of a light rail system called TRAX, and an excellent bus service. One-day passes are available for use on both TRAX and the city buses, and there is an extensive Free Fare Zone for both forms of transport downtown around Temple Square. A one-way fare is $2.50, and a day pass costs $6.25. During the winter a ski bus connects the city to nearby ski resorts. Metered taxis are freely available throughout the city and can be hailed on the street or ordered by telephone. Self-driving in Salt Lake City is fairly straightforward as the city is designed on a grid system with wide streets and a freeway system connecting the suburbs and surrounding areas.
Salt Lake City International Airport (SLC)
| | |
| --- | --- |
| Location | The airport is situated five miles (8km) northwest of Salt Lake City. |
| Time Difference | GMT -7 (GMT -6 from mid-March to the first Sunday in November). |
| Contacts | Tel: +1 801 575 2400. |
| Transfer terminals | The terminals and concourses are connected by moving walkways. |
| Getting to city | The TRAX Light Rail train stop is located at the south end of Terminal One, and bus stops are located on the curb outside the Welcome Center in the same area, as well as outside Terminal Two. A train departs for the city every 15 minutes on weekdays and every 20 minutes on weekends. Buses operate every day with a more limited weekend service. A one-way fare for the bus or train costs $2.50. There are also taxis, hotel shuttles, rental cars and limousines available. |
| Car Rental | Car hire companies at the airport include Alamo, Avis, Budget, Dollar, Enterprise, Hertz, National and Thrifty, with some companies off-site connected via shuttle. |
| Airpor Taxis | Taxi booths are located outside of Door 7 in Terminal One, and Door 11 in Terminal Two. |
| Airport Facilities | There are currency exchange facilities and ATMs. Facilities for the disabled are excellent. Other facilities include restaurants and bars, shops (including duty-free), shoe shiners, courtesy hotel reservation telephones, and a tourist information desk. |
| Car Parking | Hourly and Daily Parking is provided in a lot within walking distance of the terminals, costing $2 for the first 30 minutes and $1 for each additional 20 minutes, up to a daily maximum of $32. Economy Parking is serviced by a free shuttle and costs $9 per day. |
| Website | www.slcairport.com |
Temple Square




The four-hectare (10-acre) Temple Square complex includes the Mormon Temple, the Tabernacle and the Assembly Hall. It is at the heart of Salt Lake City, in location and spiritual importance, and the symbolic epicentre of the Mormon religion or Church of Jesus Christ of the Latter-Day Sai
▼ see more




Tabernacle on Temple Square ©Leon7
---
Utah State Capitol




Modelled after the national Capitol building in Washington DC and opened officially in 1916, the Utah State Capitol sits on a hill above the city, a prominent sight surrounded by acres of beautifully landscaped gardens. The building was designed by Richard K.A. Kletting, and was ahead of
▼ see more




Utah State Capitol ©Andrew Smith
---
Pioneer Memorial Museum




Devoted to objects connected with historical events, the Pioneer Memorial Museum is crammed with photographs, furniture, textiles, toys and a doll collection from the daily lives of the pioneers that have been painstakingly collected by the Daughters of the Utah Pioneers. All four storey
▼ see more




Pioneer Memorial Museum ©Tracie Hall
---
Great Salt Lake




This huge, shallow lake is thought to be the second saltiest body of water in the world, after the Dead Sea, and is several times saltier than the ocean as well as rich in minerals. Floating weightlessly in the water of the Salt Lake is one of the main attractions of the region; however,
▼ see more




Great Salt Lake ©DR04
---
Dinosaur National Monument




The Dinosaur National Monument straddles the border between Utah and Colorado. The reserve was created to preserve the layers of rock in which Jurassic Era dinosaur skeletons and bones were found embedded at a site in the Utah section of the Monument area. In 1909 an exposed sediment riv
▼ see more




Green River, Dinosaur National Monument ©Michael Overton
---
Tracy Aviary




Situated on eight acres of land in Liberty Park, the Tracy Aviary is the oldest bird sanctuary in the United States, founded in 1938. The space is a wonderful 'urban oasis' among the hustle and bustle of downtown Salt Lake City. Home to more than 400 well cared-for birds, from 135 specie
▼ see more




Peacock at Tracy Aviary ©Emily Allen
---
Park City




The holiday destination of Park City is famous for its three world-class ski resorts: Park City Mountain Resort, Deer Valley and The Canyons. Together they form one of the USA's largest ski areas. The outstanding facilities for winter sports offered at Park City earned the resort town se
▼ see more




Park City, Utah ©Brad.K
---
Solitude




Solitude Mountain Resort, located 30 miles (about 50km) southeast of Salt Lake City, is one of the smaller, quieter ski resorts in Utah, and is chiefly popular with families on weekend getaways. Situated in Big Cottonwood Canyon, in the Wasatch Mountains, the resort's slogan - 'Refined b
▼ see more




Solitude Mountain Resort ©Baileypalblue
---
Travel Guide powered by www.wordtravels.com, copyright © Globe Media Ltd. All rights reserved. By its very nature much of the information in this guide is subject to change at short notice and travellers are urged to verify information on which they're relying with the relevant authorities. Globe Media and UNIGLOBE Travel does not accept any responsibility for any loss or inconvenience to any person as a result of information contained above.