San Diego
General
Weather
Airports
Attractions
Kids Attractions
Events
Restaurants
Shopping
Nightlife
---
Introduction Region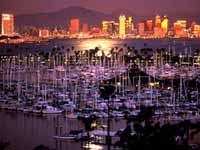 San Diego Bay ©Bob Yarbrough, San Diego Convention and Visitors Bureau
San Diego characterises a typical Southern Californian beach city: with year-round sunshine and surf, a superb coastline with miles of sandy-white beaches, easygoing inhabitants, and a wide variety of world-class family attractions tourists, long-time vacationers and would-be residents can't help but be drawn to 'America's finest city'.
Although California's third biggest city with an ever-increasing population of more than a million, San Diego prides itself on its conservative small-town ambience, with very little of the pollution, highway congestion and raciness of Los Angeles. In 1769 a Spanish missionary by the name of Father Junipero Serra established a Catholic mission and fortified settlement in what was later to become San Diego; it was the first permanent European settlement on the West Coast of the United States. It remained a village backwater until, with the bombing of Pearl Harbour during World War II, the US Naval Fleet Headquarters was relocated to San Diego Bay and the booming of wartime activity transformed it into a thriving city.
The city is a vibrant collection of colourful neighbourhoods and communities. It has award-winning restaurants, trendy shopping districts, attractions such as the world-renowned San Diego Zoo and SeaWorld, and a dynamic downtown district that includes the city's historic Gaslamp Quarter. There are numerous indications of its Mexican and Spanish heritage in the traditional architecture, typical Mexican cuisine, and strong links with the town of Tijuana just across the Mexican border.
San Diego is also rich in art and culture, and the city boasts the largest urban cultural park in the US, with beautiful gardens and Spanish architecture featuring 15 museums, art galleries and theatres to be found in Balboa Park. More than 70 miles (113km) of beaches around the city offer superb surfing and beach activities and provide the perfect introduction to this accessible and laid-back city.
Climate Info
San Diego has a semi-arid climate and enjoys sunny and mild weather all year round, with only slight variation in temperature between the seasons. Occasional heat waves are caused by the hot Santa Ana winds blowing in from the desert, making it significantly hotter, but the temperatures in peak summer, between June and August, average between 62°F (17°C) and 76°F (24°C). Average temperatures in winter, between December and February, range between 48°F (9°C) and 65°F (18°C). May and June are prone to fog. Rainfall is low, with most of it falling between November and April.
Convert to Imperial
Convert to Metric
| | | | | | | | | | | | | |
| --- | --- | --- | --- | --- | --- | --- | --- | --- | --- | --- | --- | --- |
| Month | Jan | Feb | Mar | Apr | May | Jun | Jul | Aug | Sep | Oct | Nov | Dec |
| rain (cm) | 46 | 39 | 45 | 20 | 5 | 2 | 0 | 2 | 6 | 9 | 37 | 40 |
| max temp (c) | 19 | 19 | 19 | 20 | 20 | 22 | 24 | 25 | 25 | 24 | 21 | 19 |
| min temp (c) | 9 | 10 | 11 | 13 | 15 | 17 | 19 | 20 | 19 | 16 | 12 | 9 |
| good weather | no | no | no | yes | yes | yes | yes | yes | yes | yes | yes | no |
Getting Around
Getting around San Diego is relatively easy without a car, with three types of public transport servicing the city. Buses and the trolley light rail cover the city, but service generally stops around midnight. The trolley is the best way to get to the border with Mexico for trips to Tijuana. Passes are available from the Transit Store for both bus and trolley fares; it also provides timetables and route information. The Coronado Ferry, as well as a water taxi service, shuttles passengers between the city and Coronado Island (also connected to the mainland by bridge). Privately-owned Old Town Trolley Tours offers hop-on, hop-off narrated tours of places of interest for tourists, though this option is a bit more expensive than the public trolley. Taxis must be ordered by phone and waiting times can be long. Cycling is a popular way to get around San Diego, and there are numerous bike hire shops and many designated bicycle lanes. Some bus routes, the trolleys, and the Coronado Ferry offer free passage of bicycles, allowing people to get to an area by public transport and then explore from there. Although it is possible to get around using public transport, many people prefer to rent a car in San Diego, especially as there is no public transport late at night, and some areas are easier and quicker to get to by car.
San Diego Lindbergh Field Airport (SAN)
| | |
| --- | --- |
| Location | The airport is situated three miles (5km) northwest of San Diego. |
| Time Difference | GMT -8 (GMT -7 from mid-March to the first Sunday in November). |
| Contacts | Tel: +1 619 400 2404. |
| Transfer terminals | A free Airport Loop shuttle service operates between the terminals at frequent intervals. |
| Getting to city | Amtrak and Coaster community train services connect San Diego International Airport to the city centre as well as neighbouring cities. Public bus Flyer Service number 992 leaves the airport for the city centre every 15 minutes on weekdays and every 30 minutes on weekends between 5am and 11.30pm, and regular fare costs $2.25, with concessions available. It goes directly to the airport, and also connects with train services. A host of shuttle and taxi companies are available for rides into downtown; shared shuttle vans offer door-to-door services and are usually a cheaper alternative to taxis. |
| Car Rental | All car rental pick-ups and drop-offs take place at the Car Rental Center. There is a free shuttle that travels between the Car Rental Center and all of the terminals. Car rental companies include Alamo, Avis, Budget, Enterprise and Hertz. |
| Airpor Taxis | A variety of taxi companies service San Diego Airport, departing from the Transportation Plazas, which are indicated by signs in the airport. |
| Airport Facilities | Lifts, bathrooms and telephones cater for the disabled. Currency exchange and ATMs are available. Other facilities include bars and restaurants, ATMs, shoeshine services, shops, several airport club rooms and lounges, spas, tourist information and bicycle lockers. |
| Car Parking | Parking rates range from $2.50 per half hour to daily rates of between $13 and $40, depending upon which parking option you choose. Shuttles are available from all lots to the airport. |
| Website | www.san.org |
Balboa Park




Balboa Park contains one of the biggest groups of museums in the USA, many of them housed in magnificent Spanish-Mexican buildings, in addition to more than 85 Performing Arts and International Culture Organisations including theatres like the internationally acclaimed Old Globe Theatre,
▼ see more




Balboa Park Botanical Building ©Bernard Gagnon
---
San Diego Zoo and Safari Park




The San Diego Zoo is one of the city's biggest attractions and has a worldwide reputation for its enlightened management program, worldwide conservation efforts, natural animal environments and most notably its success in breeding endangered species in captivity for reintegration into th
▼ see more




San Diego Zoo ©Norvy
---
SeaWorld
* Due to recent concerns regarding animal welfare, the description for this attraction is being withheld for the time being.
---
Downtown San Diego




The bustling downtown area of San Diego makes for a compact hub of activity and is an easy walk. It includes the business district, the historic Gaslamp Quarter, the post-modern Horton Plaza mall famed for its pastel colours, and the waterfront Embarcadero with boardwalk shops, museums a
▼ see more




Gaslamp Quarter ©Judith Duk
---
San Diego Beaches




Epitomising Southern California lifestyle, the beaches and seaside suburbs are the heart and soul of the city, with bikini-clad bodies, sun-tanned surfers, and a plethora of little shops, coffee houses, cafes, and restaurants. The 70 miles (113km) of sandy coastline attracts swimmers, su
▼ see more




Pacific Beach ©Alex Healing
---
Coronado Island




The isthmus of Coronado contains an upmarket resort community with several beaches, including the award-winning Silver Strand State Beach, hotels, outdoor dining, boutiques and the Museum of History and Art dedicated to the history of Coronado. A naval station occupies the western end of
▼ see more




Coronado Hotel ©Dirk Hansen
---
Tijuana, Mexico




A typical border town, Tijuana is not suited to everyone's taste, with plenty of noise and frenetic activity. Its location on the American/Mexican border and proximity to San Diego ensures a steady stream of curious day-trippers and souvenir hunters from up north, as well as students in
▼ see more




Tijuana Skyline ©IFCM
---
Joshua Tree National Park




Located in south-eastern California, Joshua Tree National Park is instantly recognisable for its vast desert expanses, spectacular sunsets, and peculiar Dr Seuss-like trees. The vistas are at times like something from another planet, and visitors can spot bighorn sheep, coyotes, bobcats,
▼ see more




Joshua Tree National Park ©Graham
---
Aquatica by Seaworld




A great way to beat the heat in San Diego is a 32-acre water park located in Chula Vista, just outside San Diego. Water slides and other fun water attractions are on offer, with many new and exciting rides for adults and children alike. There are many fast-food stands throughout the park
▼ see more



---
Legoland California




Legoland California is among the most popular attractions for families in San Diego. The first Legoland built outside of Europe, the park is divided into nine sections: The Beginning, Dino Island, Duplo, Village Green, Fun Town, Castle Hill, Miniland USA, Pirate Shores, Imagination Zone
▼ see more




Legoland ©Coolcaesar
---
San Diego Wine Country




While not as well-known as Napa Valley or Santa Barbara, the wineries in San Diego and neighbouring Riverside are growing in popularity as they produce excellent wines. A few of the most popular wineries to visit include Orfila Vineyards, Bernardo Winery, The Blue Door Winery, and Fallbr
▼ see more




Vineyard ©MPerel
---
San Diego Comic Con International
San Diego Comic Con is the place to be if you're a geek, fanboy, Trekkie, Twihard, or any other comic and science fiction enthusiast. One of the biggest in the world, the convention started in the 1970s promoting comic books, and grew to include movies, television and other pop culture elements. This is where studios reveal info about upcoming movies, authors and artists do question-and-answer sessions, celebrities sign autographs, and rare collectable merchandise can be found. One of the most fun elements of Comic Con is the chance to dress up as your favourite character, and see what wacky and over-the-top costumes others are wearing!


Date 2017-07-20 to 2017-07-23 Website www.comic-con.org


San Diego Comic Con ©Jason Scragz
---
The Flower Fields
Every March and April, San Diego enjoys the Flower Fields at Carlsbad Ranch as they blossom into bright ranunculus flowers, drawing over 100,000 visitors and lovers of flowers from across the globe every year. Located only 30 minutes north of downtown San Diego, the festival offers tours of the fields and also provides nature enthusiasts as well as photographers the opportunity for close encounters with the flowers. There are tractor driven wagon rides to enjoy, and the 1,500 square foot greenhouse to stroll through, which houses the world famous Ecke Poinsettias. There is a sweet pea maze and also various themed gardens to enjoy, making the Flower Fields a great place to bring the family and enjoy a beautiful day of flower-gazing, picnicking and the great sunny weather.


Date 2016-03-01 to 2016-04-30 Website www.theflowerfields.com


The Flower Fields at Carlsbad Ranch. ©RobBertholf
---
Travel Guide powered by www.wordtravels.com, copyright © Globe Media Ltd. All rights reserved. By its very nature much of the information in this guide is subject to change at short notice and travellers are urged to verify information on which they're relying with the relevant authorities. Globe Media and UNIGLOBE Travel does not accept any responsibility for any loss or inconvenience to any person as a result of information contained above.