San Francisco
General
Weather
Airports
Attractions
Kids Attractions
Events
Restaurants
Shopping
Nightlife
---
Introduction Region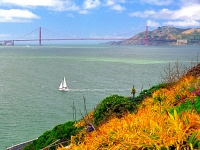 Golden Gate Bridge from Alcatraz ©David Paul Ohmer
The most attractive of American cities and regularly voted the best city in the USA, San Francisco is adored because of its colourful history, dramatic setting and its laissez-faire atmosphere, a quality missing from synthetic Los Angeles. It is a regular trendsetter in everything alternative, from flower-power to 'free love' and gay liberation; it prides itself on being individualistic, down-to-earth and cultured.
Streets rollercoaster up and down the hills, and when not swathed in the city's trademark fog, there are superb vistas of San Francisco Bay, spanned by one of the world's most famous sights, the Golden Gate Bridge. Surrounded by hills and urban development, traversed by bridges, dotted with sails and 14 small islands, including the notorious Alcatraz, the bay is the largest inlet on the Californian Coast. Fisherman's Wharf at the edge of the bay is a popular place to eat, stroll and shop, with its resident seals a favourite photographic subject.
Within the surprisingly compact city are distinct neighbourhoods that reflect the cultural background of diverse communities that were attracted to San Francisco by the discovery of gold in 1848, and the promise of a new life for those desperate to escape their harsh circumstances. Most of San Francisco's residents were born outside the city and this mix of cultures is reflected in the dragon-studded temples of colourful Chinatown and Japantown, the characteristic bohemian flavour of the Italian pasta restaurants and cappuccino cafes in North Beach, the old Spanish-speaking Mission District that blends with the nightlife of SoMa, the modern Financial District, the gay centre of Castro and The Haight, characterised by the memory of the hippie movement of the 1960s.
Climate Info
The weather in San Francisco is cool to mild throughout the year, with foggy summers and wet winters. The climate is influenced by the cold currents of the Pacific Ocean surrounding the city, which in conflict with the Californian mainland's summer heat, creates foggy conditions that blanket the city during summer and early autumn. This ensures summers (June to August) in San Francisco are cooler than inland California and average high temperatures reach 77°F (25°C). Winters (December to February) are mild during the day, with temperatures seldom dropping below 60°F (16°C) lows, but nights are cold and rain is common. Rain in summer is rare.
Convert to Imperial
Convert to Metric
| | | | | | | | | | | | | |
| --- | --- | --- | --- | --- | --- | --- | --- | --- | --- | --- | --- | --- |
| Month | Jan | Feb | Mar | Apr | May | Jun | Jul | Aug | Sep | Oct | Nov | Dec |
| rain (cm) | 111 | 82 | 77 | 34 | 8 | 3 | 0 | 1 | 5 | 25 | 60 | 88 |
| max temp (c) | 13 | 15 | 16 | 18 | 19 | 21 | 22 | 22 | 23 | 21 | 17 | 13 |
| min temp (c) | 5 | 7 | 8 | 8 | 10 | 11 | 12 | 13 | 13 | 11 | 8 | 6 |
| good weather | no | no | no | no | no | yes | yes | yes | yes | yes | no | no |
Getting Around
The public transport system in San Francisco is known as MUNI and operates buses, electric trolley buses and the famous cable cars as well as metro streetcars (underground trains that become street cars when they emerge above ground). MUNI offers access to all parts of the city; exact change is required, and the same fare applies to all services except the cable cars, which are more expensive. Note that the cable cars are very popular and crowded. They can be tough to get onto, and slow in getting to your destination. MUNI trains and buses run 24-hours a day, with a more limited service after midnight; buses late at night are not always safe to use.
The other transport system, known as BART, is a fast and economical subway/rail network that connects the city to the East Bay as well as the airport. Taxis are also available in the city but can be hard to find, especially during peak hours. During the day the best option is often to walk, as many of the locals do. However, be prepared to climb a few hills.
San Francisco International Airport (SFO)
| | |
| --- | --- |
| Location | The airport is situated 14 miles (23km) south of San Francisco. |
| Time Difference | GMT –8 (GMT –7 from the second Sunday in March to the first Sunday in November). |
| Contacts | Tel: +1 800 435 9736. |
| Transfer terminals | The AirTrain light rail service operates on two lines: the Red Line connects all terminals, garages and the BART Station; and the Blue Line connects to the rental car centre. However, the AirTrain does not provide service to the airport's long-term parking lot. |
| Getting to city | The Bay Area Rapid Transit (BART) Rapid Rail service connects the airport to the city centre, and provides a connection to the Caltrain commuter rail service at Milbrae Station, from where trains leave regularly to downtown San Francisco and San Jose. SamTrans Service, bus 292, leaves every 30 minutes for the city centre and suburbs. There are also shared vans, which provide a door-to-door service and are cheaper than taxis. Reservations are sometimes needed for service after 11pm. |
| Car Rental | The AirTrain links the terminals to the rental car centre. Car rental companies include Alamo, Avis, Budget, National, Thrifty and Hertz. |
| Airpor Taxis | Taxis cost from about $47 to $67 for a half hour's ride to the city centre, although these rates are very dependant on traffic. Airport employees are available at the taxi pick up area, outside all terminals, to help passengers. Taxi drivers will expect a tip. |
| Airport Facilities | There are banks, bureaux de change and ATMs available. Facilities for the disabled are very good. Other facilities include baggage storage, a medical clinic, bars and restaurants, duty-free, shops, childcare and baby changing facilities, mailboxes, wifi, tourist information and hotel reservations. There is also a museum, library, art gallery and an aviation history museum within the terminal. |
| Car Parking | Rates for short-term parking start at $2 per15 minutes and increase to $36 per 24 hours. Other daily rates available range from $36 per day in the international parking area to $25 per day in the long-term lot. |
| Website | www.flysfo.com |
Golden Gate Bridge




The rust-coloured towers, graceful suspension and supportive cables of the Golden Gate Bridge make this famous symbol of San Francisco the most photographed bridge in the world, and visible from almost any high point in the city, although it is often shrouded in rolling fog. Spanning the
▼ see more




Golden Gate Bridge ©Rich Niewiroski Jr.
---
Alcatraz




Out in the middle of San Francisco Bay, Alcatraz Island, or 'The Rock', is one of Golden Gate National Recreation Area's most popular destinations. The notorious escape-proof island with its dreaded maximum-security prison once held the likes of Al 'Scarface' Capone, George 'Machine Gun'
▼ see more




Alcatraz Island ©D Ramey Logan
---
Fishermans Wharf




Some people love the bustle of Fisherman's Wharf, while others make a conscious effort to steer well clear of it. But for better or worse it is massively popular, attracting more visitors than any other city sight, with Pier 39 the commercial tourist epicentre. The Wharf was once a fishi
▼ see more




Fishermans Wharf ©EyOne
---
North Beach




Between Russian and Telegraph Hills, North Beach is San Francisco's 'Little Italy', that has long been the central hub for anyone with alternative inclinations. During the 1950s the pleasure-seeking, non-conformist lifestyle of the Beat Generation and their rebellious literature contribu
▼ see more




North Beach ©Maxbatt
---
Golden Gate Park




Of the many open green spaces in San Francisco, Golden Gate Park is the biggest and the loveliest stretching from The Haight to the Pacific Ocean, featuring gardens, lakes, numerous sporting facilities and museums. On Sundays the main drive is closed to traffic and becomes the playground
▼ see more




Golden Gate Park ©Stan Shebs
---
Cable Cars




One of San Francisco's most endearing attractions is its network of 130-year-old cable cars, the only mobile National Historic Landmark in the country, and the world's only surviving system of cable cars. Many cities adopted the system, but all have since been replaced by more practical
▼ see more




Cable car in San Francisco ©Daniel Schwen
---
Wine Country




The Napa and Sonoma Valleys are at the heart of the Californian wine country, producing wines that are praised by connoisseurs worldwide, from a perfect climate of sunny days and cool nights. The area is a forerunner in the latest grape-growing techniques and wine making, and many indivi
▼ see more




California wine country ©Nick Kinkaid Follow
---
Yosemite National Park




One of the country's premier national parks, Yosemite receives millions of visitors each year with more than four million people visiting the Yosemite Valley alone. It is home to the biggest piece of exposed granite in the world, some of the highest waterfalls, and giant redwoods that ar
▼ see more




Yosemite National Park ©David Iliff
---
Sausalito




Located at the north end of the Golden Gate Bridge, Sausalito is a half hour ferry ride from Fisherman's Wharf. The panoramic view of San Francisco Bay is spectacular, and Sausalito's sunny, inviting outdoor cafés and small shops overlooking the city are simply charming. One of the chie
▼ see more




Sausalito ©Squirrel 22
---
Exploratorium




Named San Francisco's best museum, the Exploratorium is a fun, quirky museum of science, art and human perception that features some 650 'please touch' exhibits. Located inside the Palace of Fine Arts, many of its exhibits are created by visual and performing artists as well as scientist
▼ see more




The Exploratorium ©Petr Grolmus
---
Aquarium of the Bay




The Aquarium of the Bay features 300 feet (91m) of crystal clear acrylic tunnels through which over 20,000 aquatic animals can be viewed. The aquarium offers visitors the opportunity to come face-to-face with the Bay's largest predator, the seven-gill shark, as well as touch leopard shar
▼ see more




Bat Ray at the Aquarium of the Bay ©Noahudlis
---
Alamo Square




Anyone who has ever seen an episode of the 90s sitcom 'Full House' will know what Alamo Square looks like. It is a residential neighbourhood and park in San Francisco, frequented by tourists, neighbours and dog-owners. The park features a playground as well as a tennis court. A row of Vi
▼ see more




View from Alamo Square ©Yair Haklai
---
Chinatown




A dragon-draped archway at the intersection of Bush and Grant streets marks the entrance to Chinatown in San Francisco, the oldest Chinatown in the United States and the largest Chinatown outside of Asia. Chinatown draws more tourists than the Golden Gate Bridge with its streets teeming
▼ see more




Chinatown San Francisco ©chensiyuan
---
Lombard Street




Known as the 'Crookedest Street in the world', Lombard Street features eight sharp hairpin turns. The road was designed in 1922 in order to reduce the 72 degree slope of the hill and make it more usable for cars as well as pedestrians. The speed limit is a mere 5mph (8km/h) on the crooke
▼ see more




Lombard Street ©Ramgeis
---
Ripleys Believe it or Not! Museum




Visitors at the Ripley's Believe It Or Not! Museum can be mystified and thrilled at the rare, the bizarre and the totally unexplained in the many interactive and state-of-the-art exhibitions throughout the museum. Exhibits range from a vertigo-inducing spinning tunnel to shrunken heads f
▼ see more




Ripley's Believe It Or Not ©Phalinn Ooi
---
Oakland Zoo




Boasting a menagerie of over 300 wonderful animals, the Oakland Zoo is a must for animal lovers and children. Highlights include a children's park, picnic area, wildlife theatre, carousel and a miniature railway. The children's zoo allows kids the opportunity to get close to the animals
▼ see more




Lemurs at the Oakland Zoo ©Treehgr
---
Randall Museum




The Randall Museum, also known as the Science and Nature Museum, provides plenty of enjoyable and exciting learning opportunities and experiences for children of all ages. The museum also features animals, such as birds, mice and snakes and children can even get to handle these critters
▼ see more




Randall Museum ©Zen Skillicorn
---
Childrens Fairyland




This ten-acre entertainment park on the shores of Lake Merritt features carousel rides, puppet shows, friendly animals and displays of story-book sets from well-loved characters like Johnny Appleseed, Peter Rabbit and Alice in Wonderland. Children of all ages will love a trip to Children
▼ see more




Children's Fairyland ©Ted Eytan
---
Ghirardelli Square




Just as you'll find gold at the end of the rainbow, there is surely chocolate at the end of the cable car line in San Francisco. Ghirardelli Square, located on Fisherman's Wharf, is occupied by shops, restaurants, art galleries, and of course the famous Ghirardelli Chocolate Company. Whi
▼ see more




Ghirardelli Square ©Ryan U
---
Coit Tower




This 210 foot tall (64m) tower in North Beach is the best vantage point in the city, and a great way for new arrivals to get their bearings. The art deco tower is the centrepiece of Pioneer Park, and was a bequest of Lillie Hitchcock Coit with the intention of adding beauty to the city s
▼ see more




Coit Tower ©Goodshoped35110s
---
Haight Ashbury




Legend has it that the 1960s hippy movement and resulting American counter-culture kicked off in the Haight Ashbury area. That was more than 50 years ago, but the bohemian atmosphere of this area prevails, with plenty of shops selling vintage clothing, hemp based accessories, vinyl recor
▼ see more




Waller Street ©Urban
---
Union Square




This central plaza is the modern face of San Francisco, surrounded by Macy's, Saks, Bloomingdale's, and the Levis flagship store, plus iconic hotels and quaint historical buildings. Along the west side, up the steep incline of Powell street, the famous cable cars run down to Fisherman's
▼ see more




Union Square ©BrokenSphere
---
San Francisco MOMA




The San Francisco Museum of Modern Art (SFMOMA) is one of the country's premier modern art centres, featuring important works of Diego Rivera, Picasso, Jackson Pollock, Clyfford Still, Henry Matisse, Paul Klee, Jeff Koons and iconic photography from Ansel Adams. With the recent donation
▼ see more




San Francisco Museum of Modern Art ©Naotake Murayama
---
Asian Art Museum of San Francisco




San Francisco has close ties with Asia, a legacy reflected in its sizeable Chinese and Japanese communities. The Asian Art Museum collection was funded and developed to honour this heritage. Housed in the magnificent former San Francisco city library building, this is the largest museum
▼ see more




Asian Art Museum ©J. Ash Bowie
---
Muir Woods




The closest remaining stand of Redwoods to San Francisco, Muir Woods National Monument is a great half-day excursion from the city to pay homage to these soaring giants of the forest. It's incredible to think that each tree grew from a seed no larger than that of a tomato's. Redwoods can
▼ see more




Muir Woods National Park ©Richs5812
---
Six Flags Discovery Kingdom




Located in Vallejo, Six Flags Discovery Kingdom is an animal theme park that offers wildlife experiences with a range of creatures. Visitors can feed dolphins, sea lions, seals or giraffes, or watch trained dolphins and elephants perform in shows. The park's animals include tigers, kille
▼ see more




Six Flags Discovery Kingdom ©Martin Lewison
---
Winchester Mystery House




One of the most bizarre attractions in northern California, the Winchester Mystery House was the residence of Sarah Winchester, widow of the inventor of the famous rifle. The house was continuously under construction for nearly 40 years, and it is popularly believed to be haunted by the
▼ see more




Winchester Mystery House ©Gentgeen
---
Redwood National and State Park




Redwood National and State Park is home to the world-famous redwood trees that tower up to 379 feet (115m) in the air. Home to 45 percent of the remaining old-growth redwood forests in the world, the park is the best place to see the magnificent trees. Aside from the redwoods, the park h
▼ see more




Redwood National Park ©Michael Schweppe
---
Shopping
Shopping in San Francisco is a delightful experience with varied shopping centres, charming districts and wonderful malls to keep you interested.
Some of the city's best shopping is at its museums. The San Francisco Museum of Modern Art store has an incredible selection of art books, posters, DVDs and other beautiful curios, while the Exploratorium offers an irresistible range of interactive toys, robots, experiment kits and other science themed media and curios. The Asian Art Museum has the city's best collection of books, fabrics, statues, bowls and jewellery in theme with its expansive exhibits on Asian art through the centuries.
For an authentic experience of Japanese culture with all the weird and wonderful shops that go along with it, visit Japan Center on Geary Street. This center, which meanders through several buildings on a second-storey skyway, contains dozens of stores selling everything from manga to traditional medicine. Coupled with the excellent sushi restaurants it's like being transplanted into Tokyo for the afternoon.
The prime shopping area is probably Union Square, home to boutiques and top labels. Haight and Ashbury Streets may have shed much of its hippy heritage in favour of steady gentrification but has still retained an eclectic selection of stores that makes this area one of the most interesting to shop in. In a similar vein, Hayes Valley is also a good bet for a galleries, boutiques and studios. Don't miss Chinatown for a fascinating stir-fry of Asian products, while Alemany Market and San Jose flea market - on the edge of town - offer a hugely varied range of goods.
The best of the many shopping malls are probably Embarcadero Centre and Westfield San Francisco Centre, both packed with retail brands and decent value stores.
Top purchases while in the city include music CDs and books, wine from the Napa Valley, and invariably, miniature reproductions of the Golden Gate Bridge.
Tax can be refunded if goods are shipped outside California; keep your receipts and enquire when departing at the airport.
Nightlife
The San Francisco nightlife is diverse and enticing. Each neighbourhood's bars, clubs and lounges have a unique atmosphere, and there are also plenty of cafés and performance arts venues to enjoy. The San Francisco Weekly and the San Francisco Bay Guardian have nightlife listings and are available free from bars, restaurants and street-corner boxes.
For electronic music clubs, hip hop and art lounges try the SOMA area, while the Mission and Marina districts are good for bars. Gay-friendly bars and clubs are prevalent in the Castro area, and North Beach boasts neon strip joints and bars. Hemlock Tavern in the seedy Tenderloin district hosts live upcoming bands, and Amber is a grungy lounge bar where smokers are welcome.
The San Francisco Opera stages a free performance of Opera in the Park, followed by occasional free performances throughout the city. Ballet and modern dance can be seen at the Cowell Theater and Marina Boulevard. Other live performances can be caught at San Francisco Performances in the Bay Area.
If there is one live performance to see in San Francisco it has to Beach Blanket Babylon, the longest running musical revue in history. It's a unique show that has achieved cult status with its witty spoofs of popular culture and show-stopping tunes. The costumes are outrageous, especially the enormous hats which grow in stature as the show progresses. The finale features a hat that takes up half the stage. Beach Blanket Babylon was founded by the late Steve Silver and has become a San Francisco institution, as popular with locals as the astounded and delighted visitors. The venue is at Club Fugazi in North Beach.
Gary Danko
Award-winning, top Californian chef Gary Danko has built up a culinary name for himself by combining classical French cuisine with Mediterranean and Californian cooking, incorporating major culinary traditions from around the world into his work. His fine dining restaurant is a very special experience, and not only for the exquisite food; the service is impeccable and the atmosphere quietly elegant with no hint of stuffiness. Perhaps the best way to experience Danko's ingenuity is by way of a fixed-price seasonal menu, which might include glazed oysters, guinea hen breast and chocolate soufflé. Reservations essential. Dinner nightly. Elegant dress attire requested.
Food Type:
French
Style:
Price:
4
Address:
800 North Point at Hyde Street (Fisherman's Wharf)
Website
www.garydanko.com
---
One Market
Winner of several national and local awards, One Market features upscale American fare specialising in fresh meat and fish dishes. There are remarkable views of the waterfront and historic Market Street that can be enjoyed while dining on ahi tuna steak or the daily roast. For a unique dining experience, the restaurant also features a special 'Chef's Table' located inside the kitchen from where the group is guided through the exquisite tasting menu served by the chef himself. There is live jazz every evening. Closed Sundays. Dinner Monday to Saturday and lunch on weekdays only. Reservations essential.
Food Type:
American
Style:
Price:
4
Address:
1 Market Street, Embarcadero
Website
---
Boulevard
Located in the Art Nouveau Audiffred Building near the waterfront, the mosaic floor, central open kitchen and striking decor perfectly complement the artistic dishes created by culinary star Nancy Oakes. One of the city's best restaurants, Boulevard is always packed and is ideal for a special occasion. Specialities include wood-roasted dishes like the rack of lamb, pork loin, or a variety of fish. Reservations essential. Dinner daily; lunch on weekdays only.
Food Type:
American
Style:
Price:
4
Address:
1 Mission Street, Embarcadero, SoMa
Website
www.boulevardrestaurant.com
---
The Slanted Door
Chef Charles Phan prepares real Vietnamese home cooking at The Slanted Door and his food is so flavourful and incredibly fresh that even the likes of Mick Jagger and Bill Clinton have sought it out. The establishment attempts to recreate the richness of Vietnamese street food with Western style service. The menu includes fresh spring rolls, green papaya salad, duck and grilled ahi tuna, as well as delicious desserts such as vanilla bean crème brûlée and a collection of Oriental teas. Its new location overlooking San Francisco Bay also has a to-go section of the restaurant. Lunch and dinner daily.
Food Type:
Style:
Price:
3
Address:
1 Ferry Building #3
Website
www.slanteddoor.com
---
Zuni Café
Dining at this much-loved rustic restaurant is a quintessential San Francisco experience. The eclectic Italian-Mediterranean fare includes the legendary brick-oven roasted chicken with a Tuscan-style bread salad, hamburger on grilled rosemary focaccia bread, and the classic Caesar salad. The bustling copper-topped bar serves drinks as well as the very freshest selection of oysters. It is a great place for a pre- or post-Opera House drink and is always crammed with an eclectic crowd. Reservations recommended. Closed Monday.
Food Type:
Style:
Price:
3
Address:
1658 Market Street, Civic Center, Hayes Valley
Website
www.zunicafe.com
---
Greens
With high ceilings and enormous windows overlooking the Golden Gate Bridge and San Francisco Bay, Greens boasts one of the most dramatic dining spaces in the city and offers outstanding, creative meatless dishes that have earned it a place as one of the top vegetarian restaurants in the country. Owned by the Zen Buddhist Center, dishes use the finest organic ingredients and the delicious meals attract non-vegetarians as well as vegetarians. Lunch Tuesday to Saturday and dinner Monday to Friday. There is a special fixed-price dinner on Saturdays. Brunch on Sundays.
Food Type:
Style:
Price:
3
Address:
Building A, Fort Mason Center, Marina Boulevard, Marina
Website
www.greensrestaurant.com
---
Delfina
Craig Stoll was one of Best New Chefs in 2001, and the ultra-fresh seasonal Italian cuisine, the reasonable prices and warm atmosphere have made Delfina one of the most popular restaurants in the city today, continuously abuzz with happy diners. Dishes on the daily-changing menu are kept simple but extraordinary and might include thick Tuscan soup, butternut panna cotta or roasted chicken. The handmade pastas, braised meats and fish dishes are all full of flavour. Reservations essential. Dinner daily.
Food Type:
Italian
Style:
Price:
2
Address:
3621 18th Street (Mission District)
Website
www.delfinasf.com
---
Hollywood Café
Hollywood Café is simply the best restaurant in San Francisco to get a classic all-American breakfast: Denver Omelette, Eggs Benedict with Dungeness Crab, French Toast with Fried Bananas and Blueberries, and the list goes on. Lunch is just as good with a range of excellent sandwiches, including a particularly enormous BLT. The portions are large, and come accompanied by freshly-squeezed orange juice or excellent coffee.
Food Type:
American
Style:
Price:
3
Address:
530 N Point Street, Fishermans Wharf
Website
www.hollywoodcafesf.com
---
Opaque
Imagine eating a gourmet meal in total darkness, experiencing the food and your dining partners in a whole new way. That's the magic of Dining in the Dark at Opaque, guaranteed to be one of the most interesting and enjoyable restaurant experiences of your life. The wait staff are all legally blind, but their service is impeccable, and highly skilled. They guide the dining guests to their tables, bring the food, orientate one to the table layout and cuisine, and generally serve as host and chaperone. The dishes, which guests select in the lighted lobby before being lead into the darkness, includes Ahi tuna tartar, beef tenderloin, and chocolate dessert cake. Expect to abandon your silverware around the main course when most diners report using their hands and loving every minute of it. At around $90 per person, it's not cheap but the overall experience is truly priceless.
Food Type:
International
Style:
Trendy
Price:
5
Address:
1500 Sutter St. San Francisco
Website
www.darkdining.com
---
Historic John's Grill
This is perhaps the iconic San Francisco restaurant, filled with history and mystery, and famous since 1908 for its classic ambiance of wood panelled walls and dimly lit interior. Meat and fish are the specialities here, preferably grilled. The clam chowder is wonderful too, but the real stars of the show are the lamb chops and the steak, served with gratis vegetables, bread and sparkling water. This restaurant was featured in Dashiell Hammett's The Maltese Falcon, a much loved crime classic. The fact is celebrated everywhere from the etching on the glassware to the falcon statues for sale in the souvenir cabinet. Located just off Union Square.
Food Type:
Steakhouse
Style:
Price:
4
Address:
63 Ellis Street, San Francisco, CA
Website
www.johnsgrill.com
---
San Francisco Pride Parade and Celebration
As the world's most gay-friendly city, San Francisco celebrates gay and lesbian pride with a festive procession and numerous music stages. The parade features hundreds of themed marchers and floats, after which thousands of people from every walk of life gather at the Civic Center to carry on the party in front of one of the many music stages. The area is lined with stalls selling everything from food and drink to crafts and souvenirs.


Date 2017-06-24 to 2017-06-25 Website www.sfpride.org


San Francisco Gay Pride ©Pretzelpaws
---
San Francisco Carnaval
Every Memorial Day weekend, the Mission District hosts San Francisco's version of the Mardi Gras celebrations with music and dancing, food and craft stalls, contests, street performers, and a parade with lavish floats, marching bands and colourful costumes. The Grand Parade is an exotic celebration of different traditions and cultures from around the world, with floats and dancers depicting vibrant multi-cultural themes, from samba and Chinese Lion dancers, to African drummers, and accompanied by the hip-swinging music of Latin America, Brazil, and the Caribbean.


Date 2017-05-27 to 2017-05-28 Website www.carnavalsf.com


San Francisco Carnaval ©JialiangGao
---
Chinese New Year Parade
The New Year Parade is the highlight and focus of the two-week Chinese New Year celebrations that includes the Miss Chinatown USA Pageant, the Community Street Fair and the New Year Flower Market. A San Francisco tradition since the 1849 Gold Rush, the Parade is the biggest celebration of its kind outside Asia and is listed as one of the top 10 parades in the world. Hundreds of spectators gather to watch as colourful floats, elaborate costumes, firecrackers, stilt walkers, lion dancers and marching bands go by, and wait in expectation for the world-famous annual Golden Dragon, which is 160 feet (49m) long and takes more than 100 men to carry it through the streets.


Date 2017-02-11 to 2017-02-11 Website www.chineseparade.com


Chinese New Year Parade ©David Yu
---
Haight Ashbury Street Fair
One of the city's most famous neighbourhoods, Haight Ashbury was the centre of the hippie movement in the 1960s, and the summer Haight Street Fair is a vibrant and colourful celebration of its cultural heritage and creative roots. Two stages provide a variety of musical presentations and entertainment, and the streets are filled with food and drinks vendors, art and craft stalls and street performers.


Date 2017-06-11 to 2017-06-11 Website www.haightashburystreetfair.org


Haight-Ashbury ©Isabell Schulz
---
North Beach Festival
Every year 'Little Italy' celebrates San Francisco's oldest street festival with arts and crafts, a pizza toss competition, local delicacies, Italian street chalk art, cooking demonstrations and cheese carving. The weekend kicks off with the Animal Blessing at the national Shrine of St Francis, and entertainment includes live jazz, rock, blues, salsa and swing music in a salutation to the Italian and Beat Generation history of the neighbourhood.


Date 2017-06-17 to 2017-06-18 Website www.sresproductions.com/events/north-beach-festival


North Beach Festival ©advencap
---
International Beer Festival
The biggest beer festival in the city is an annual event that features hundreds of beers from around the world, including Thailand, Japan, England and Germany as well as local brews and allows visitors to taste as much as they like. Live bands and a wide selection of food from local restaurants add to the atmosphere.


Date 2017-04-08 to 2017-04-08 Website www.sfbeerfest.com


Beer Sampler ©Quinn Dombrowski
---
Monterey Jazz Festival
The Monterey Jazz Festival is one of the oldest and most famous annual jazz festivals in the world. Throughout the decades, some of the greatest names in jazz have played including Dizzy Gillespie, Louis Armstrong, Billie Holiday, McCoy Tyner and Oscar Peterson. The main focus of the festival is jazz education with several workshops held over the weekend.


Date 2017-09-15 to 2017-09-17 Website www.montereyjazzfestival.org


McCoy Tyner ©Gisle Hannemyr
---
Travel Guide powered by www.wordtravels.com, copyright © Globe Media Ltd. All rights reserved. By its very nature much of the information in this guide is subject to change at short notice and travellers are urged to verify information on which they're relying with the relevant authorities. Globe Media and UNIGLOBE Travel does not accept any responsibility for any loss or inconvenience to any person as a result of information contained above.