Singapore
General
Weather
Airports
Attractions
Kids Attractions
Events
Restaurants
Shopping
Nightlife
---
Introduction Region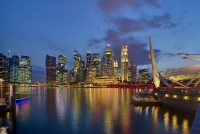 Singapore Skyline ©Nicolas Lannuzel
Beguiling Singapore is a modern city-state embracing economic progress against the backdrop of age-old tradition. Many business people and holidaymakers travel to Singapore on their way to the Far East, or as a stop-off between Australia and Europe, and are eager to see and experience this legendary hi-tech Asian city, which combines traditional enclaves with the towering steel and cement of a cosmopolitan international power-house. The customs that underpin community life emerge out of a cultural mix that includes predominantly Chinese, Indian and Malay ethnic groups.
Singapore is an island off the southern tip of Malaysia, linked to it by a causeway. It evolved from a sleepy fishing village in the early 1900s to become one of Asia's economic tigers. Sir Thomas Stamford Raffles landed on Singapore's northern bank in 1819, quickly identifying a strategic trading location. Singapore's rural landscape was transformed by British colonial rule, Japanese occupation, Communist insurrection and finally, independence. Since becoming a republic in 1965 the island has experienced increased prosperity and exponential economic growth. Shimmering skyscrapers tower above the slick financial districts and elegant colonial buildings preserve a lingering old-world charm.
Singapore's full calendar of events showcases a spectrum of cultural celebrations and shopping activities. The early summer months bustle in anticipation of the Singapore Sale - a time when tourists can cash in on the competitive prices of electronic equipment, jewellery and other merchandise. The business activity thrives amid the celebration of Chinese, Hindu and Muslim festivals that punctuate the year with their colourful representations. These include the Chinese New Year, Ramadan, Hari Raya Puasa, Vesak Day, the Dragon Boat Festival, Festival of the Hungry Ghosts and Thaipusam.
The core of downtown Singapore is formed by the Colonial District, embellished by cathedrals and cricket lawns. The notable sites of the area include the Empress Place Building and the luxurious Raffles Hotel. Although most of old Singapore has been demolished to make way for the modern city, many major landmarks within the Colonial District have been preserved. The surrounding ethnic enclaves of Little India, Chinatown and the Arab Quarter also provide glimpses into the traditions that have sustained their respective communities through the centuries.
Climate Info
Singapore has a tropical climate, meaning that it is hot and humid all year round with hardly any variation in temperature between seasons and plenty of rain, which is possible all year round, usually falling in heavy downpours. The wettest months are between November and January. There is generally more rain in the west of the island than in the east. Average temperatures range between 74°F (23°C) and 89°F (32°C) during the day with cooler temperatures at night. Humidity is constantly high, usually above 75 percent. April and May are the hottest months. The air-conditioning in most buildings provides a welcome escape from the heat and humidity, but is sometimes so cool that visitors will require light sweaters indoors. Between June and September, Singapore may suffer from air pollution due to forest fires in Indonesia. There isn't really an agreed upon best time to visit Singapore, although the weather is often at its most pleasant between June and August.
Convert to Imperial
Convert to Metric
| | | | | | | | | | | | | |
| --- | --- | --- | --- | --- | --- | --- | --- | --- | --- | --- | --- | --- |
| Month | Jan | Feb | Mar | Apr | May | Jun | Jul | Aug | Sep | Oct | Nov | Dec |
| rain (cm) | 238 | 165 | 174 | 166 | 171 | 163 | 150 | 171 | 163 | 191 | 250 | 269 |
| max temp (c) | 30 | 31 | 31 | 31 | 31 | 31 | 31 | 31 | 31 | 31 | 30 | 29 |
| min temp (c) | 23 | 24 | 24 | 24 | 25 | 24 | 24 | 24 | 24 | 24 | 24 | 23 |
| good weather | yes | yes | yes | yes | yes | yes | yes | yes | yes | yes | yes | yes |
Getting Around
Hiring a car is very expensive in Singapore. However, an extensive bus network and the reliable MRT train subway system are both cheap and user-friendly and service all parts of Singapore. Electronic EZ-Link passes cover trains and buses and prevent the need to carry loose change for fares as well as giving a slight discount on standard ticket prices. The city also has thousands of metered taxis, which are safe, air-conditioned and surprisingly affordable, driven by helpful and honest drivers. The only drawback is the long taxi queues during rush hour. Many of the tourist attractions are situated close together and walking is a safe and pleasant option if you can handle the heat.
Singapore Changi Airport (SIN)
| | |
| --- | --- |
| Location | The airport is located 14 miles (23km) from the city. |
| Time Difference | GMT +8. |
| Contacts | Tel: +65 6595 6868. |
| Transfer terminals | A free Skytrain runs between the terminals. |
| Getting to city | The MRT train departs from Changi Airport MRT Station, located under Terminals 2 and 3. Trains depart from 5.30am to around midnight. A public bus service to the city has regular departures from 6am to midnight, and can be found in the lower levels of Terminals 1,2 and 3. The one-hour journey costs about SGD 2.50. In addition, there is an airport shuttle service connecting the airport, the city centre and most hotels in Singapore; the buses leave every 15- 30 minutes. The cost is about SGD 9 per adult and SGD 6 per child. |
| Car Rental | Avis, Budget and Hertz are all represented at the airport. |
| Airpor Taxis | Taxis to Singapore central are available from outside the arrivals halls of each terminal; the fare to the city centre is about SGD 20 to SGD 50 with a travel time of around 30 minutes. |
| Airport Facilities | Changi Airport has a wide range of facilities, including ATMs, bureaux de change, business services, airline lounges/travel clubs, duty-free shops, childcare facilities and multimedia payphones for internet and emails. Other facilities include a mini-supermarket, snack bars and restaurants, gym, rooftop pool, hairdresser, laundry service, smoking room, prayer room and post office. The new Terminal 3 is a 'green' terminal with natural skylighting, a butterfly garden, koi ponds and over 200 species of foliage. |
| Car Parking | Standard parking rates at Changi Airport range from SGD 0.04 per minute at T1, T2 and Car Park 3A and 3B, to SGD 0.035 per minute at the South Car Park, with a daily rate capped at SGD 35 per day. |
| Website | www.changiairport.com |
Raffles Hotel




The Raffles Hotel is a grand Victorian edifice rising from the pavements of the colonial district. Its elegant charm has enticed writers and entertainers such as Somerset Maugham, Rudyard Kipling, Joseph Conrad, Alfred Hitchcock, Ernest Hemingway and Charlie Chaplin. Singapore Slings hav
▼ see more




Raffles Hotel, Singapore ©C1815
---
Chinatown




Chinatown is set against the backdrop of Singapore's modern infrastructure and the prosperous financial district. It is a crowded and colourful network of streets and alleyways contained by Upper Pickering Street, Cantonment Road, New Bridge and South Bridge Road. The area is a receptacl
▼ see more




Chinatown, Singapore ©Calvin Teo
---
Little India




The first Indian settlers in Singapore arrived with Sir Stamford Raffles in the early 19th century, bringing with them colourful silks, aromatic spices, incense and other accoutrements of Indian culture. They worked on the roads and helped build the infrastructure of the city, settling w
▼ see more




Little India, Singapore ©Sengkang
---
Kampong Gelam and Arab Street




Kampong Gelam is said to have taken its name from the Gelam tribe of sea gypsies who lived in the original Malay village southwest of the Rochor River. Sir Stamford Raffles allotted the area as an ethnic enclave to the Muslim population and it became the focal point for Arab trade and tr
▼ see more




Kampong Gelam, Singapore ©WolfgangSladkowski
---
Singapore Zoological Gardens




The Singapore Zoo has been thoughtfully created to simulate the natural habitats of its resident animals. Eight zones recreate the geographic regions of the animals indigenous to them, including the South East Asian rainforest, African savannah, Nepalese river valley, Burmese jungle, and
▼ see more



---
Jurong Birdpark




The park is contained within a 20-hectare (49-acre) stretch of land in the Jurong Lake area. It is one of the world's most extensive bird collections and the largest in South East Asia. Eight thousand birds of about 600 different species inhabit the park, ranging from Antarctic penguins
▼ see more




Jurong Birdpark, Singapore ©Terence Ong
---
Orchard Road




Singapore certainly is a vibrant place, and in many ways Orchard Road is the city-state's beating heart. The retail and entertainment centre of Singapore, 'Orchard' (as the surrounding area is commonly known) is as popular with locals as it is with foreign visitors, and for many years ha
▼ see more




Orchard Road, Singapore ©Gabriel Ehrnst Grundin
---
Singapore Art Museum




The Singapore Art Museum (SAM) is housed in a beautifully restored building (formerly St Joseph's School for Boys) which stands serenely on Bras Basah Road. The old colonial building contrasts pleasantly with the wide selection of contemporary and pop art. The museum has 14 galleries tha
▼ see more




Singapore Art Museum ©ProjectManhattan.
---
Singapore Botanical Gardens




Singapore's Botanical Gardens sweep across an area of 52 hectares (128 acres) constituted by primary forest and specialty gardens in close proximity to the city centre. The National Orchid Garden is the world's largest orchid garden, featuring more than 20,000 varieties set among water f
▼ see more




Singapore Botanic Gardens ©Velela
---
Bukit Timah Nature Reserve




Singapore and Rio de Janeiro are the world's only two cities to contain primary rainforest within their boundaries. Bukit Timah is located seven miles (12km) from Singapore's centre and provides a wonderful opportunity to experience the region's tropical rainforest without travelling int
▼ see more




Bukit Timah Nature Reserve, Singapore ©Leonard Reback
---
Chinese and Japanese Gardens




Traditional Chinese and Japanese landscape design is gorgeously represented in these neighbouring gardens, which provide a tranquil retreat from the city and take hours to explore thoroughly. The grounds are huge and immaculately well-maintained and will delight gardening enthusiasts. Th
▼ see more




The Chinese and Japanese Gardens, Singapore ©DaronDierkes
---
Sentosa Island




This theme park island is a popular weekend excursion and one of the most visited attractions in Singapore, receiving a whopping five million visitors a year. A day's fun could easily turn into an overnight stay in any one of the hotels or camping sites. The island is enveloped by a high
▼ see more




Sentosa Island, Singapore ©Calvin Teo
---
Changi Museum




It was here, during World War II, that Allied Prisoners Of War soldiers (POWs) were subjected to harsh treatment at the hands of their Japanese captors. Changi Prison is still in use as a correctional facility and it is now the place of execution for convicted drug offenders. Half a mile
▼ see more




The Chapel, Changi Prison, Singapore ©Whoosises
---
Pulau Ubin




The island of Ubin is Singapore's second largest offshore island and provides a peaceful interlude to the city's bustle. The island can be reached by traditional bumboat from the Changi Point Ferry Terminal and the boat ride is fun in itself. The boat docks at Ubin village, a Malay settl
▼ see more




Pulau Ubin, Singapore ©BertholdD
---
Haw Par Villa




Haw Par Villa is a theme park containing more than a thousand statues and 150 giant dioramas depicting scenes and characters from Chinese mythology and folklore. Located along Pasir Panjang Road, Haw Par Villa was previously known as Tiger Balm Gardens and subsequently renamed after its
▼ see more




Haw Par Villa ©Sengkang
---
Singapore Discovery Centre




The perfect place for active and enquiring young minds, the Singapore Discovery Centre is a great place to bring the kids for the day. Children will love the colourful exhibits which will teach them all about Singapore's past and present in fun and informative ways. With popular permanen
▼ see more




Singapore Discovery Centre ©Glen Bowman
---
Thian Hock Keng Temple




The 'Temple of Heavenly Bliss', the Thian Hock Keng Temple is the oldest and most important of the Chinese Hokkien temples in Singapore. Construction was completed in 1842, in a traditional southern Chinese architectural style, with not a single nail used in its construction. The temple
▼ see more




Thian Hock Keng Temple, Singapore ©Sengkang
---
Asian Civilisations Museum




The Asian Civilisations Museum is one of Singapore's finest, most comprehensive museums and one of the most popular tourist attractions in the city. Its permanent collection consists of furniture, jade, porcelain, fine arts, and other artefacts covering 5,000 years of the region's histor
▼ see more




The Asian Civilisations Museum, Singapore ©WolfgangSladkowski
---
Singapore Flyer




Singapore's equivalent of the London Eye, the Singapore Flyer is an enormous Ferris wheel that doubles as an excellent urban observation point. The Flyer is an incredible 42 storeys, or 541 feet (165m) high, making it one of the largest Ferris wheels in the world, a full 98 feet (30m) ta
▼ see more




Singapore Flyer ©Waycool27
---
Gardens by the Bay




Singapore's Gardens by the Bay consists of three distinct waterfront gardens in the city's Marina Bay area. The initiative was started as a means to transform Singapore from a mere 'Garden City' into a 'City in a Garden' and is intended to provide a holistic and sustainable way to keep S
▼ see more




Gardens by the Bay, Singapore ©Shiny Things
---
Geylang




Singapore's neighbourhood of Geylang is strange in that although it looks and feels like a typically 'Asian' neighbourhood, it is actually quite different from the rest of Singapore, which has seen great gentrification and modernisation over the last 40 years or so. The rows of shop-hous
▼ see more




Geylang, Singapore ©Calvin Teo
---
Universal Studios Singapore




Drawing an astounding two million visitors in its first nine months open, the theme park and resort area of Universal Studios Singapore is proving to be as popular as its counterparts in the USA. Located on Sentosa Island, home to all of Singapore's most famous holiday resorts, Universal
▼ see more




Universal Studios Singapore ©chinnian
---
Nightlife
With so many choices on offer, it can be a difficult task deciding what to do for an evening out in Singapore, and hard to know how best to experience the city's nightlife. From cultural performances and traditional dancing and music venues to nightclubs, bars and upmarket lounges, Singapore is a city that never sleeps.
Start an evening out at one of the many international touring Broadway shows or head to one of the nightlife hubs of the city, such as Boat Quay, where a variety of bars, karaoke bars, clubs, discos and lounges can be found, as well as some of the city's glitterati, who can be seen hanging out and mingling with the who's who. Muhammad Sultan Road is another key area where clubs and bars are scattered. The Zouk complex is one of the best places to go if you're looking for gay and lesbian clubs and bars. One of the largest and longest-running clubs is the sprawling Zouk in Jiak Kim Street, which hosts visiting international artists and has a variety of floors ranging from house to hip hop, pop and even a dinner-dance area. Clarke Quay is the place for hardcore clubbers, where the Ministry of Sound is based as well as a handful of hip new dance clubs. There are other areas of the city that have become eclectic in their entertainment choices and live jazz, acid jazz, international guest DJs and live music is easy to come by. Sentosa has a number of cocktail bars on the beach, and the Central Business District has plenty of chic nightclubs.
Singapore is a relatively safe place at night, even for women alone. Many clubs stay open until very late, closing at about 2am on weekdays and 4am on weekends. Taxis can be found fairly easily, but be prepared for a rush of people, and an increase of fares after midnight when the clubs start to close. Drinking in Singapore is an expensive pastime as the country's heavy sin taxes push the price of drinks up.
Raffles Grill
The 'Grand Dame' of Singapore's restaurants is an experience in elegant sophistication, fine dining and colonial charm. Impeccably dressed waiters with a daunting display of culinary knowledge, attentive yet discreet service, and courteous efficiency are backed by the majestic décor and spotless tableware. The food is similarly outstanding, and dishes like the signature smoked Atlantic salmon, the roasted rack of suckling pig, and various exquisite desserts are stylishly presented. Raffles has one of the best cellars in the country and the cellar master can select a wine to complement each course. Lunch Monday to Friday and dinner Monday to Saturday. The dress code is 'smart elegant' and booking is essential.
Food Type:
International
Style:
Price:
5
Address:
1 Beach Road (Historic District)
Website
www.raffles.com/singapore
---
Song of India
One of Singapore's best restaurants and the ideal place for Indian cuisine, Song of India transports diners to old-world colonial elegance in several ornately decorated dining rooms and a lovely garden area. Both a la carte dishes and set menus are highly praised by the Singapore dining world. A great way to experience Indian cuisine is the Journey Through India set menu option which includes six courses from different regions in India. Reservations are recommended.
Food Type:
Indian
Style:
Price:
4
Address:
33 Scotts Road
Website
www.thesongofindia.com
---
Iggys
The appeal of Iggy's is the warm ambiance of a very small venue, comfortable as a friends living room, but with much better food! The internationally inspired meals are set according to seasonal ingredients so it important to check what they are serving for the night ahead of making reservations. Vegetarian replacement meals can be made if they are notified in advance. Reservations are essential.
Food Type:
International
Style:
Price:
4
Address:
The Regent, Level 3, 1 Cuscaden rd.
Website
www.iggys.com.sg
---
Alt. Pizza
For a quick, casual bite to eat Alt. Pizza is a great option. This conveniently located pizzeria serves up crispy, thin-based pizza cooked in a wood oven, with a number of sides available. The Hangover Pizza is a great favourite! Open daily from 11am to 10pm. Reservations may prove convenient but aren't strictly necessary.
Food Type:
Pizzeria
Style:
Price:
2
Address:
Website
www.altpizza.com.sg
---
Li Bai
The understated décor of Li Bai is sleek and modern with a strong Chinese influence, with contemporary furnishings in red and black lacquer, jade table settings, and silver and ivory chopsticks. Large vases of elegant pussy willows add subtle opulence to the ambience. The Cantonese fare is traditional with a modern and innovative touch of class that includes creations such as the aromatic farm chicken smoked in jasmine tea leaves. The fresh seafood should not be missed; baked fillet of cod with honey, shark's fin sautéed with crabmeat, and Canadian cod sautéed with ginger and garlic, accompanied by the fabulous crab fried rice, are delicious. Reservations required. Open daily for lunch and dinner.
Food Type:
Chinese
Style:
Price:
4
Address:
Sheraton Towers, 39 Scotts Road
Website
www.sheratonsingapore.com/li-bai
---
Thaipusam
Thaipusam is a Hindu festival in honour of Lord Subramaniam, son of Shiva, and is a day of purification and penance during which devotees make offerings of thanks for blessings received through fulfilment of vows. The festival centres on the two-mile (4km) procession of penitents who carry kavadis (large wood or metal frames) hung with offerings such as milk, honey or flowers and decorated with bells and peacock feathers. These loaded shrines are gruesomely supported by heavy spikes, hooks and barbs driven into their bodies, and some participants pierce their tongues and cheeks with skewers and spikes. Supporters will gather around the devotees chanting prayers and encouraging them along the way. Devotees undergo a period of spiritual preparation before the procession and enter a trance-like state in order to tolerate the pain involved. Travellers who want to witness the procession should start at Sri Srinivasi Perumal Temple at about 9am in the morning to watch the preparations of the devotees. Then it is best to shadow a group of devotees as they make their pilgrimage along Serganoon Road and Tank Road.


Date 2018-01-31 to 2018-01-31 Website


Thaipusam, Singapore ©Ranveig
---
Chinese New Year
Lunar New Year is the most important festival in the Chinese calendar and is a time to exchange well wishes and gifts of good fortune. The streets of Chinatown are lit with red lanterns, twinkling lights and elaborate decorations, fireworks colour the sky and busy street bazaar stalls are laden with Chinese delicacies and symbols of prosperity and good luck. Part of the festivities in Singapore is the Chingay Parade, the largest and grandest street procession in the country, which is a multi-cultural and cosmopolitan parade featuring some of the finest performing groups from around the world. This colourful event presents lavishly decorated floats, stilt-walkers, lion dancers, fire jugglers, and music performances. Another annual New Year extravaganza is the River Hong Bao, which is a cultural event including a range of performances from top national artists, as well as art and craft stalls and floats; spectacular fireworks displays take place on the opening and closing nights. The spirit of Chinese New Year permeates Singapore, especially Chinatown, for most of January and February, making this a great time to visit the city even if you can't manage to be there for the festival itself.


Date 2018-02-16 to 2018-02-16 Website www.visitsingapore.com


Chinese New Year, Singapore ©C1815
---
Mid-Autumn Festival
Taking place on the 15th day of the eighth lunar month, this festival is sometimes referred to as 'Lantern Festival' (not to be confused with the Lantern Festival which ends Chinese New Year) or 'Mooncake Festival' in Singapore, Malaysia and the Philippines, due to the integral part moon cakes play in the festival. It commemorates the 14th-century revolution led by Yuan Zhang, who smuggled notes inside moon cakes and used lighted lanterns as a signal to launch the revolt. One of the highlights of the festival is the Moon Cake Fair, where hundreds of festive stalls line the streets of Chinatown selling an astonishing variety of moon cakes, traditional paper lanterns, decorations and other delicacies. Children parade down the streets with their brightly lit lanterns in the Children's Lantern Procession. The Chinese Garden becomes a fairyland of lights and colours for the Lantern Festival, and there is also a range of cultural shows and performances including lion and dragon dancing, Chinese instrumentalists and craftsmen. In fact, with far too much festivity for one day, the Mid-Autumn Festival is a month-long celebration in Singapore and a great period in which to visit the city.


Date 2017-09-01 to 2017-10-30 Website


Mid-Autumn Festival, Singapore ©Terence Ong
---
Festival of the Hungry Ghosts
Taoist Chinese believe that during this period the Gates of Hell are opened and the souls of the dead are free to roam the world of the living. The Hungry Ghost Festival, the culmination of a month-long opening of the underworld, is a time for people to honour and commemorate their dead. Often called the Chinese Halloween, this festival is not as scary as it sounds and is actually a festive celebration of deceased loved ones more than anything else. To appease the ghosts outdoor entertainment and lavish feasts are offered to satisfy the restless spirits and to ward off bad fortune in their lives. Celebratory dinners are held, and shows and concerts such as traditional puppetry and Chinese opera take place on every street corner. In addition, candles and joss sticks are lit in front of homes and small altars are set up where money, incense and paper goods in the shape of furniture and other everyday objects are burnt as an offering for the ghosts to use in the afterlife. Many Chinese people believe that one should not start a new business or move into a new home during ghost month as it is bad luck.


Date 2017-08-22 to 2017-09-19 Website


Hungry Ghost Festival ©Sampuna
---
Singapore F1 Grand Prix
Come and experience the electrifying atmosphere of the Grand Prix as never before - at night! The world's first Formula One night race is hosted alongside Singapore's Marina Bay, offering walkabouts, musical entertainment and, of course, all the thrills of the world's most notorious racing event. The Grand Prix is a huge event on Singapore's calendar, described as 'Asia's biggest sporting and entertainment extravaganza'. Visitors can expect huge international stars to perform, and there are always massive parades to enjoy as well. The Marina Bay Street Circuit is unique in that in between turns 18 and 19 the cars race beneath a section of the grandstand giving spectators a wonderful thrill. It is considered a difficult circuit due to being bumpy and the 10th turn has been described by F1 legend Lewis Hamilton as 'the worst corner in F1'. The heat and humidity in Singapore is also hard on the drivers. The street circuit is fantastic for spectators though, situated in one of Singapore's most attractive areas and on the coast.


Date 2017-09-15 to 2017-09-17 Website www.formula1.com


Night Racing ©wirelessed
---
Travel Guide powered by www.wordtravels.com, copyright © Globe Media Ltd. All rights reserved. By its very nature much of the information in this guide is subject to change at short notice and travellers are urged to verify information on which they're relying with the relevant authorities. Globe Media and UNIGLOBE Travel does not accept any responsibility for any loss or inconvenience to any person as a result of information contained above.