Toronto
General
Weather
Airports
Attractions
Kids Attractions
Events
Restaurants
Shopping
Nightlife
---
Introduction Region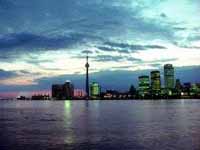 Toronto skyline
The most heavily populated city in Canada, Toronto is a vibrant and cosmopolitan place; the country's financial, commercial and cultural centre with a rich multi-cultural heritage of more than 80 ethnic groups, speaking more than 100 languages. The city has a lively stock exchange, soaring futuristic architecture, museums, art galleries, performing arts companies, fine restaurants, large shopping complexes, a waterfront and hundreds of parks.
Toronto is situated on the north shore of Lake Ontario, and sports distinctive neighbourhoods as well as the longest street in the world, Yonge Street, as its main north-south artery. Toronto's most prominent landmark is the CN Tower, which is one of the world's tallest free-standing structures, with glass-fronted elevators that rise 1,815ft (553m) to indoor and outdoor observation decks. The city also boasts the 'Skydome', which is a multi-purpose entertainment complex with a retractable roof, billed as the world's greatest entertainment centre.
In the 17th century Toronto was a small French colony; then came the American Revolution which encouraged scores of British loyalist families to flee north. Many settled beside the lake establishing a town known as York, which slowly grew in importance as an administrative and manufacturing centre. In 1834 the name was changed to Toronto, an Indian word meaning 'meeting place'. The new name proved appropriate when about a century later the city's English character began to be buried beneath the conglomeration of cultures brought in by a massive tide of immigrants from all corners of the world. Old English pubs and Victorian and Edwardian architecture survive among the skyscrapers, but Toronto is today a lively and cosmopolitan city and Canada's commercial capital.
It does get very cold over the winter months of November to March so if you are averse to chilly weather plan your visit over the mid-year period. Toronto just might be the destination that has it all - reason enough to visit and enjoy what has been described as Canada's 'world within a city.'
Climate Info
The humid continental climate in Toronto is moderated by its proximity to the Great Lakes (in particular Lake Ontario). Summer (June to August) tends to be hot and very humid, while winter (December to February) is severe with heavy snowfall. The average maximum temperature in January is 28°F (-2°C), while the average maximum temperature in July is 80°F (27°C). Rainfall tends to occur throughout the year, but summer, though the sunniest season, is also usually the wettest. Autumn is perhaps the best time to travel to Toronto, as temperatures are less extreme than in summer or winter, with mild days and cool nights.
Convert to Imperial
Convert to Metric
| | | | | | | | | | | | | |
| --- | --- | --- | --- | --- | --- | --- | --- | --- | --- | --- | --- | --- |
| Month | Jan | Feb | Mar | Apr | May | Jun | Jul | Aug | Sep | Oct | Nov | Dec |
| rain (cm) | 69 | 61 | 66 | 64 | 74 | 69 | 74 | 69 | 74 | 61 | 71 | 66 |
| max temp (c) | -1 | -1 | 3 | 10 | 17 | 23 | 26 | 25 | 21 | 13 | 6 | 1 |
| min temp (c) | -9 | -9 | -5 | 1 | 7 | 12 | 15 | 14 | 11 | 4 | -1 | -6 |
| good weather | no | no | no | yes | yes | yes | yes | yes | yes | no | no | no |
Getting Around
Public transport in Toronto is fast, safe and reliable, consisting of an integrated system of subways, buses and streetcars that reach every part of the city. The subway is easy to use, with four lines, and the buses and streetcar stations are next to every major stop, taking over where the subway leaves off. Fares are standard and a single fare will take you anywhere on a single trip; tokens can be used to avoid the hassle of having to pay with exact change. To freely change from one form of transport to another, get a transfer slip when paying for the fare. The subway operates from 6am to 2.00am, the buses and streetcars from about 6am to 12.30am (both start around 8am on Sundays), and the Blue Night Network services main street routes after 1.30am. Taxis are always available and ferries travel to the Toronto Islands. Driving a hired car is not recommended due to traffic congestion and expensive parking.
Toronto Lester B. Pearson International Airport (YYZ)
| | |
| --- | --- |
| Location | The airport is located 14 miles (22.5km) northwest of downtown Toronto. |
| Time Difference | GMT -5 (GMT -4 from the second Sunday in March to the first Sunday in November). |
| Contacts | Tel: +1 (416) 247 7678 (Terminals 1 and 2), and +1 (416) 776 5100 (Terminal 3). |
| Transfer terminals | The Airport LINK train system operates a 24-hour free service between Terminals 1 and 3, as well as to the Value Parking Lot. |
| Getting to city | The LINK Train offers free transportation between Terminals 1 and 3, the Sheraton Gateway Hotel and Viscount Station. Several companies provide bus and shuttle transit services to and from the airport into Toronto and surrounding areas. The UP Express train links the airport to Downtown Toronto in just 25 minutes. The airport is also easily accessible on various public transportation routes with providers such as Toronto Transit Commission (TTC) and GO Transit. |
| Car Rental | Car rental is available on Level 1 of the parking areas adjacent to each terminal. Rental companies include Avis, Budget, Dollar, Thrifty, Hertz and National/Alamo. |
| Airpor Taxis | There are authorised taxis available outside the arrivals halls. |
| Airport Facilities | All terminals are well-supplied with facilities, including bureaux de change and ATMs, internet access, shops and duty-free outlets, hotel reservation services, bars and restaurants. |
| Car Parking | Parking at Toronto B. Pearson International Airport ranges from C$5 for 30 minutes or C$50 per day in the Express Car Park to C$18 per day or C$90 per week in the Value Park Lot. The Daily Park Lot costs C$30 per day and is within walking distance of Terminals 1 and 3. |
| Website | www.torontopearson.com |
Casa Loma




Canada's own castle, Casa Loma, is today owned by the City of Toronto and draws plenty of interest, standing in medieval splendour on its hilltop site. The castle was formerly the home of Canadian financier, Sir Henry Pellatt, who engaged the noted architect E J Lennox to help him realis
▼ see more




Casa Loma ©nicblockley
---
CN Tower




Standing 1,815ft (553m) high, Toronoto's landmark CN Tower was the world's tallest building until 2007, and remains a celebrated icon, an important telecommunications hub and the centre of tourism in Toronto. About two million people visit the tower each year to take in the panoramic vie
▼ see more




CN Tower ©Dennis Jarvis
---
Royal Ontario Museum




The pride of this large and varied museum is the golden mosaic ceiling inside the main entrance to the building in Queen's Park, Toronto. The ceiling is adorned with patterns and symbols representing cultures from around the world throughout the ages, and is made from cut squares of impo
▼ see more




Royal Ontarion Museum ©Randy OHC
---
Toronto Zoo




The Toronto Zoo covers 710 acres (287 hectares) and is divided into 'zoogeographic' regions. It features four major tropical indoor pavilions and several smaller indoor viewing areas, plus numerous outdoor exhibits with more than six miles (10km) of walking trails. The zoo houses more th
▼ see more




Tiger at Toronto Zoo ©Roger Ahlbrand
---
Niagara Falls




Straddling the Canadian-United States border and situated between the province of Ontario and the US state of New York, the awesome Niagara Falls attracts about 12 million tourists a year. It makes a spectacular day's outing from Toronto. The Niagara River has been flowing for about 12,0
▼ see more




Niagara Falls ©Judith Duk
---
Distillery Historic District




The brick-paved streets of the pedestrianised village have been designated a National Heritage Site and are said to contain the finest collection of Victorian era industrial architecture in North America. The historic Distillery District, spread across 13 acres (5 hectares) in downtown T
▼ see more




Distillery Historic District ©Peter Kudlacz
---
Museum of Contemporary Canadian Art




Formerly the Art Gallery of North York, the Museum of Contemporary Canadian Art opened its doors in 1999 keen to display modern Canadian art that addresses current Canadian narratives and global issues. Situated in trendy downtown Toronto, Mocca boasts a permanent collection of about 400
▼ see more




Museum of Contemporary Canadian Art ©Roberta Cibin
---
Toronto Islands




A chain of small Lake Ontario islands just offshore from the city, the Toronto Islands were created from a series of continually moving sandbars connected to the mainland by a frail peninsula, which finally disintegrated after a major storm in 1858. Only a short ferry ride from the mainl
▼ see more




Toronto Islands ©Norman Maddeaux
---
Gardiner Museum of Ceramics




Housed in an attractive building across from the Royal Ontario Museum, the Gardiner Museum of Ceramics is one of the city's finest examples of modernist architecture. Giving visitors a glimpse into a universal art form that has spanned centuries, the Gardiner Museum exhibits more than 3,
▼ see more




Gardiner Museum of Ceramics ©End User
---
Kensington Market




A National Historic Site, Kensington Market embodies Toronto's multicultural society. Founded in the early twentieth century by eastern European Jewish immigrants and Italians, the area was renowned for its open-air market, reminiscent of those found in Europe. Home to immigrants from th
▼ see more




Kensington market ©Accordion Chick
---
Harbourfront Centre




With an idyllic setting right beside the lake, the Harbourfront Centre is the communal heart of the city, where locals gather on weekends for some gallery hopping, shopping, biking and concerts. Used as an industrial docklands for decades the abandoned warehouses and disintegrating facto
▼ see more




Harbourfront Centre ©Ivan Hernández
---
Hockey Hall of Fame




Any avid hockey fan must take a turn at Toronto's Hockey Hall of Fame, an ode to hockey's greatest players and most prized teams. A shrine to Canada's national sport, visitors can learn about the history of the game through memorabilia from every era, hockey artefacts from around the wor
▼ see more




Hockey Hall of Fame ©Richie Diesterheft
---
Paramount Canadas Wonderland




Boasting more than 200 attractions including 65 exhilarating rides, Splash Works and a huge variety of roller coasters, Paramount Canada's Wonderland is Canada's favourite theme park. Kids will enjoy the fastest and biggest roller coaster, the Behemoth as well as carousels, train rides a
▼ see more




Paramount Canada's Wonderland ©Jeremy Thompson
---
High Park




High Park is Toronto's largest park and features sporting, cultural and educational facilities, gardens, greenhouses, walking trails, playgrounds and a zoo. A great place for a stroll or a family picnic, High Park also features two children's playgrounds, a communal swimming pool which i
▼ see more




High Park ©Sandra McKeown
---
Jungle Cat World Wildlife Park




Just 45 minutes east of Toronto on Highway 115, Jungle Cat World Wildlife Park is one of Ontario's most popular tourist attractions. The Park is home to a diverse collection of mammals, such as wolves, skunks, lemurs and chimpanzees - though it is the collection of big cats that truly ma
▼ see more




Snow Leopard ©Tambako The Jaguar
---
Nightlife
Toronto has a very trendy nightlife, offering bars, lounges, clubs and live music venues. The city's multicultural and cosmopolitan vibe extends into its nightlife, with a variety of entertainment options in various areas of the city. Toronto's nightlife buzzes on weekends, but the city is big and energetic enough that you'll find a party any night of the week if you know where to look.
Provincial law requires venues to serve food as well as alcohol, so many pubs and bars in Toronto are as much restaurants as they are drinking holes. Little Italy has a number of trattorias that double as bars, while Greektown has its own ethnic flair and party atmosphere. Bars and pubs close around 2am. Dance clubs stay open till dawn, with late-night buses picking up after-hours commuters when the subway shuts down. Clubs come and go fairly quickly in Toronto, so check out local nightlife guides like the free weekly Now for the hottest spots.
The legal drinking age in Ontario is 19, which is well below the 21-year-old limit in the neighbouring USA, but is strictly enforced at most venues. Dress codes tend to be relaxed, but many will refuse entry for people wearing blue jeans or trainers.
Lai Wah Heen
The huge menu features the finest traditional and modern Cantonese dishes within the sophisticated setting of the Metropolitan Hotel. The menu offers a large variety of shark's fin and abalone dishes, as well as some of the best dim sum in the city, and delicious meat and noodle dishes. Service is attentive and food elegantly served. Daily lunch and dinner.
Food Type:
Chinese
Style:
Price:
4
Address:
Metropolitan Hotel, 108 Chestnut Street (Downtown)
Website
laiwahheen.com
---
Senses
Senses is a combination of bakery, gourmet food retail outlet and fine dining restaurant that makes dining here an experience for the senses. The upstairs restaurant is delicately stylish and tastefully furnished with luxurious seating, excellent service and superb cuisine. The displays of smoked salmon and caviar in the emporium below prepare the taste buds for starters such as the goat's cheese empanada, or main dishes like the leek cannelloni stuffed with ground lamb, spinach and feta. Dinner Wednesday to Sunday; bar and bistro open daily.
Food Type:
Modern Eclectic
Style:
Price:
4
Address:
318 Wellington Street West
Website
www.senses.ca
---
North 44
Named after Toronto's latitude, North 44 has been one of the city's most genteel eating places for many years and is an experience in pampering. The artistic interior bathes diners in a warm glow, the food is superb and the service flawless. The seasonal menu is influenced by Mediterranean, American and Asian flavours and might include pepper and sesame crusted tuna, lamb shank or stuffed quail, as well as a few exciting pastas and pizzas. Desserts such as the lemon meringue mille-feuille are the best in town. Reservations essential. Closed Sunday. Dinner only.
Food Type:
Modern Eclectic
Style:
Price:
5
Address:
2537 Yonge Street (Uptown)
Website
www.north44restaurant.com
---
360 Revolving Restaurant
Located in one of the world's tallest free-standing structures, the restaurant at the top of the CN Tower has floor-to ceiling windows and revolves slowly so that every part of this breath-taking view can be fully appreciated while dining in style. The food is not as high-flying as the location, but the experience is certainly a memorable one. The highlight of the dessert list is the chocolate version of the CN Tower. Reservations essential.
Food Type:
International
Style:
Price:
5
Address:
CN Tower, 301 Front Street West (Downtown)
Website
www.cntower.ca
---
Bangkok Garden
Established 25 years ago, the Bangkok Garden was one of the first Thai restaurants in Toronto with essential ingredients being delivered fresh from Bangkok to ensure authenticity. The lemon seafood soup is a great starter while the red beef curry, toasted cashew chicken, and Three Pagodas curry are all delicious. Open Monday to Friday for lunch and dinner. Saturdays dinner only, closed Sundays.
Food Type:
Thai
Style:
Price:
2
Address:
18 Elm Street, Toronto
Website
www.bangkokgarden.ca
---
Canoe
This trendy eatery is a must for anyone looking to impress, whether it be a business dinner or a romantic evening out. The minimalist décor, imaginative and inventive menu, and flawless execution will leave diners coming back for more. Flagship dishes include the seared Bluefin Tuna with broccoli hash, kumquat caramel and dandelion as well as the bacon wrapped Monkfish with smoked ham hock, white cabbage and porcini. Open for lunch and dinner from Monday to Friday. Open Saturday and Sunday for private events.
Food Type:
International
Style:
Trendy
Price:
3
Address:
54th Floor, Toronto Dominion Bank Tower, 66 Wellington St.
Website
oliverbonacini.com/canoe.aspx
---
Toronto Pride
Toronto Pride is the third largest gay and lesbian celebration in the world, attracting hundreds of thousands of visitors in the last week of June to participate in hundreds of events. The Pride week has a different theme each year which sets the tone for the hundreds of activities and events on the programme, culminating in the massive pride parade with its floats and performers, and the 'Dyke March'. The main event of the week is 'Unity', a non-stop all-night dance party featuring spectacular stage shows, billed as one of the best parties in the northern hemisphere.


Date 2017-06-01 to 2017-06-25 Website www.torontopride.com


Toronto Pride ©Joseph Morris
---
Contact Photography Festival
Taking photography far beyond the realms of the snapshot, CONTACT is the most important annual photographic event in the Americas, highlighting the enduring significance of photography in modern life and celebrating talent and innovation in the art form. The Scotiabank CONTACT Photography Festival now features more than 1,500 photographers and artists at about 175 different venues in Toronto, attracting crowds of nearly two million people, making CONTACT the largest photography event in the world. Some of the exhibitions are public installations, which decorate the urban spaces wonderfully.


Date 2016-05-01 to 2016-05-31 Website http://scotiabankcontactphoto.com/


Making CONTACT ©Mike Baird
---
Toronto Jazz Festival
No self-respecting Canadian city can be without its annual jazz festival, and Toronto offers one of the best in North America. The 10-day TD Toronto Jazz Festival attracts jazz celebrities from all over the world, and now attracts more than 500,000 spectators, many of whom visit annually for the event. There are about 1,500 musicians featured in the festival, at something like 40 locations in the city. The hub of the jazz festival is Nathan Phillips Square in the heart of downtown Toronto, which is a good place to start for those wanting information on what's showing. Check out the official website listed below for more information.


Date 2017-06-23 to 2017-07-02 Website www.torontojazz.com

---
Toronto Taste
Toronto Taste is a celebration of savoury cuisine, fine wines and stunning waterfront scenery. The annual fundraising event brings together about 70 top chefs and 30 of Ontario's premium vintners and beverage companies to provide an evening of gourmet food and drink. Toronto Taste is the single largest fundraising event supporting Second Harvest, a registered charity collecting perishable food that would otherwise go to waste and redistributes it to community organizations that feed hungry people in Toronto. The festival tends to raise money for something like 1.3 million meals for needy people, which makes Toronto Taste not only lots of yummy fun but also a seriously good cause.


Date 2017-06-04 to 2017-06-04 Website www.torontotaste.ca


Toronto Taste ©US Embassy Canada
---
Toronto International Film Festival
Toronto's famous film festival is the largest film festival open to the general public. Unlike Sundance and Cannes which see a number of independent features and world cinema, the Toronto International Film Festival has the glamour of Hollywood coated all over it, and is considered by many filmmakers and studio bosses to be a successful launching platform to begin the crazy award season that eventually climaxes with the Academy Awards in March. The Toronto International Film Festival (TIFF) screens nearly 400 films at about 34 venues in downtown Toronto, attracting audiences amounting to something like 400,000 people, of whom about 4,000 are industry professionals. For a full programme check out the official website listed below.


Date 2017-09-07 to 2017-09-17 Website www.tiff.net/tiff/


Toronto International Film Festival ©filmbuff421
---
Toronto Fringe Theatre Festival
Toronto's Fringe Festival continues to be one of North America's leading theatre experiences. Throughout the city thousands of artists perform a variety of comedy, cabaret, music, poetry, drama and the classics to their adoring crowds. What sets the Toronto Fringe Festival apart is the fact that the plays are not selected by judges of any kind, but by a lottery process which gives all entrants an equal chance to perform. This ensures a huge variety of performances, and the festival consistently leads to the discovery of new and wonderful artists and plays. For more information check out the official website listed below.


Date 2017-07-05 to 2017-07-16 Website www.fringetoronto.com


Toronto Fringe Theatre Festival ©Kevin Konnyu
---
Travel Guide powered by www.wordtravels.com, copyright © Globe Media Ltd. All rights reserved. By its very nature much of the information in this guide is subject to change at short notice and travellers are urged to verify information on which they're relying with the relevant authorities. Globe Media and UNIGLOBE Travel does not accept any responsibility for any loss or inconvenience to any person as a result of information contained above.