Vancouver
General
Weather
Airports
Attractions
Kids Attractions
Events
Restaurants
Shopping
Nightlife
---
Introduction Region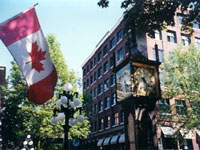 Gas Town, Vancouver ©Judith Duk
Nicknamed Hollywood North for the ever-present film crews, Canada's west coast gem of Vancouver is young, thriving and diverse, boasting the perfect combination of wild natural beauty and all the modern conveniences. Named after Royal Navy sea captain George Vancouver, who sailed into the Burrard Inlet on the British Columbian coast in 1792, Vancouver was barely even a town 100 years ago. Today, more than two million people call it home, and the shiny futuristic towers of Yaletown and the downtown core contrast dramatically with the snow-capped mountain backdrop, providing ample beauty among the bustle of Canada's third biggest city.
Approximately the same size as the downtown area, the city's green heart is Canada's largest city park, Stanley Park, covering hundreds of acres filled with lush forest and crystal clear lakes. Visitors can wander the sea wall along the exterior of the park, catch a free trolley bus tour, a horse-drawn carriage ride or visit the Vancouver Aquarium housed within the park. The city's past is preserved in historic Gastown with its cobblestone streets, steam powered clock and quaint feel, though this is combined with expensive souvenir shops and galleries aimed at tourists. Neighbouring Chinatown, with its weekly market, Dr Sun Yat-Sen classical Chinese gardens and restaurants adds an exotic flair. For some retail therapy or celebrity spotting, there is always the trendy Robson Street.
During the winter months snow sports are the order of the day on nearby Grouse Mountain, perfect for skiing and snowboarding, although the city itself gets more rain than snow. Vancouver's incredible ethnic diversity and combination of mountains, sea and city, offers visitors an endless supply of things to see and do, no matter the budget.
Climate Info
The temperate Vancouver climate is classified as oceanic, with warm, dry summer weather (June to August) and cold, rainy winters (December to February). Summer temperatures reach an average high of 72°F (22°C), while winter temperatures can fall well below 32°F (0°C).
Convert to Imperial
Convert to Metric
| | | | | | | | | | | | | |
| --- | --- | --- | --- | --- | --- | --- | --- | --- | --- | --- | --- | --- |
| Month | Jan | Feb | Mar | Apr | May | Jun | Jul | Aug | Sep | Oct | Nov | Dec |
| rain (cm) | 145 | 121 | 102 | 69 | 56 | 47 | 31 | 37 | 60 | 116 | 155 | 171 |
| max temp (c) | 5 | 8 | 10 | 13 | 17 | 19 | 22 | 22 | 18 | 14 | 9 | 6 |
| min temp (c) | 0 | 1 | 2 | 5 | 8 | 11 | 13 | 13 | 10 | 6 | 3 | 1 |
| good weather | no | no | no | yes | yes | yes | yes | yes | yes | no | no | no |
Getting Around
The integrated Translink public transport system is both highly efficient and good value. The computerised SkyTrain (light rail) has underground downtown stops as well as an elevated track. Its latest addition, the Canada Line, now connects downtown to Vancouver International Airport. The Translink system also includes buses; electric trolley buses; West Coast Express trains (weekdays only); and SeaBus passenger ferries that connect downtown to North Vancouver. The network reaches every part of the city, including the beaches and ski slopes. After midnight the regular bus system is replaced by a limited night bus service on main routes. Fares are based on a zone system and tickets are valid for buses, the SkyTrain and SeaBus with transfers valid for 90 minutes from the time they are validated. Taxis are easy to come by at taxi stands, hotels or by telephone, but can be difficult to hail outside of the downtown area. Vancouver's traffic and road network is fairly well-ordered, but hiring a car is not necessary in the city because the public transport is more than sufficient.
Vancouver International Airport (YVR)
| | |
| --- | --- |
| Location | The airport is located eight miles (13km) south of Vancouver. |
| Time Difference | GMT -8 (GMT -7 from the second Sunday in March to the first Sunday in November). |
| Contacts | Tel: +1 (604) 207 7077. |
| Transfer terminals | A courtesy shuttle is available to the Airport South terminal. |
| Getting to city | The Canada Line connects the airport to downtown Vancouver in about 25 minutes. The service runs every 8-20 minutes. Scheduled buses are available to downtown Vancouver, Whistler, Vancouver Island and Washington State. Courtesy shuttles transport passengers to the Long-Term Parking Lot, South Terminal, local hotels and other destinations near the airport. Public bus services to Vancouver, Richmond and further afield are available at the Airport Station Bus Terminal. |
| Car Rental | Car hire companies Alamo, Avis, Budget, Dollar, Hertz, National and Thrifty are represented next to the terminal building on the ground floor. |
| Airpor Taxis | Metered taxis are available around the clock outside the terminals. Look for the green signs which indicate a taxi pick-up position. Prices and journey time are higher during rush hour. A tip of 10 to 15 per cent is expected. |
| Airport Facilities | The main terminal has ATMs, bureaux de change and a bank. There is a selection of bars, restaurants and fast food outlets scattered throughout the airport, as well as a variety of shops, including duty-free, baggage storage and a medical centre. Children's play areas are also available. |
| Car Parking | Vancouver International Airport offers a range of parking options in the parkade directly opposite the terminals. Hourly parking starts at C$8 per hour, but reduced daily and weekly rates are also available. |
Stanley Park




The pride of Vancouver's network of parks and gardens, Stanley Park, covering 1,000 acres (405 hectares), is one of the largest parks in any urban centre in North America. Situated in the heart of Vancouver's densely populated West End, stretching out on a peninsula and surrounded on thr
▼ see more




Stanley Park seawall, Vancouver ©Judith Duk
---
Museum of Anthropology




In the west of Vancouver, at the University of British Columbia on the cliffs of Point Grey, totem poles mark the way to the Museum of Anthropology, world-renowned for its displays of Northwest Coast First Nations art. One of its main features is the world's largest collection of works b
▼ see more




Museum of Anthropology ©Mark Koester
---
Chinatown




Vancouver's Chinatown is not only a strong, established ethnic community, but also a popular tourist attraction and prosperous commercial district. Its bustling streets are full of colour and commerce; even the pagoda-topped telephone booths add to the atmosphere. Shop displays spill ont
▼ see more




Chinatown ©mertxe iturrioz
---
Gastown




The fascinating little historic enclave of Gastown, in the central core area of Vancouver, alongside Chinatown, transports visitors back in time to envision the city in days of old, with its cobbled streets, antique gaslights, Victorian architecture and maze of narrow alleys, courtyards
▼ see more




Gastown ©Todd Van Hoosear
---
Grouse Mountain




On Vancouver's north shore, just a 15-minute drive from the downtown area across the Lions Gate Bridge, is the year-round mountaintop playground of Grouse Mountain. Ascending the mountain is part of the adventure in the Super Skyride, a passenger tram that glides up the steep mountain sl
▼ see more




Grouse Mountain ©Paul Williams
---
Queen Elizabeth Park




Transformed from an ugly stone quarry in the 1950s, the exquisite Queen Elizabeth Park in Vancouver now boasts lush gardens bursting with flowers, live theatre, the Bloedel Floral Conservatory, a restaurant, a Pitch and Putt course and much more. The park receives about six million visit
▼ see more




Queen Elizabeth Park ©WriterGal39
---
Granville Island




What was once a run-down industrial area in Vancouver is now a thriving entertainment and shopping centre, with a vibrant market central to the island's activities, as well as the Emily Carr Institute of Art and Design, a theatre and brewery. The island is easily accessible, located in t
▼ see more




False Creek ©Harshil Shah
---
Lonsdale Quay




Situated in North Vancouver, Lonsdale Quay offers spectacular views of downtown Vancouver and its harbour, as well as the north shore mountains, and a variety of shops, restaurants and an excellent public market.

The best way to experience the quay is to catch the SeaBus from
▼ see more




Lonsdale Quay ©GoToVan
---
Capilano Suspension Bridge




Built in 1889, the Capilano Suspension Bridge is one of Vancouver's oldest and most popular tourist attractions, with plenty of activities and sights in the park for visitors to enjoy, besides the bridge itself. Stretching 450 feet (137m) across and perched 230 feet (70m) above the Capil
▼ see more




Capilano Suspension Bridge ©David Davies
---
Vancouver Art Gallery




Established in 1931, the Vancouver Art Gallery boasts thousands of national and international exhibitions by a range of artists, sculptors and photographers, housed in a turn-of-the-century heritage building in the centre of downtown Vancouver. The building also houses a cafe and shop. N
▼ see more




Vancouver Art Gallery ©Cord Rodefeld
---
Vancouver Lookout at the Harbour Centre




Perhaps one of the best ways to begin one's visit to Vancouver is with a trip up the Harbour Centre Tower to the Lookout, where one can enjoy a 360 degree view of the city, Greater Vancouver, the North Shore mountains and on a clear day, even neighbouring Vancouver Island.




Vancouver Lookout at the Harbour Centre ©Brian Chow
---
VanDusen Botanical Garden




With 22 hectares (55 acres) and roughly 11,000 different plant species, VanDusen Botanical Garden is a spectacular showcase of the natural world, right in the heart of Vancouver. Landscaped gardens are laid out exquisitely and specific areas are cultivated to demonstrate botanical relati
▼ see more




VanDusen Botanical Garden ©Brian Chow
---
Commercial Drive




Commercial Drive is as non-commercial as it gets, one of Vancouver's most eclectic, and increasingly trendy, neighbourhoods. What started out as a skid road for the lumber industry in the late 1800s, swiftly became a neighbourhood of English tradesmen and shopkeepers with the birth of th
▼ see more




Commercial Drive ©Lee Down
---
Gulf Islands




Tucked in the Strait of Georgia, in between Vancouver Island and the mainland, are the picturesque Gulf Islands. More than a dozen of these long, thin islands, and numerous islets, can be found on Canada's West Coast and each island has its own character and beauty, making them well wort
▼ see more




Gulf Islands ©BCIT School of Business International Exchange Program
---
San Juan Islands




The San Juan Islands form one of the best boater paradises in the world. The hundreds of islands are separated by nationality but are part of the same scenic and rugged archipelago, located off the northwest coast of Washington State. Much of the area is in a rain shadow behind Vancouver
▼ see more




The San Juan harbour ©Rob Annis
---
Vancouver Aquarium Marine Science Centre




Home to a vast array of aquatic mammals and animals, at the Vancouver Aquarium Marine Science Centre you'll find sea otters, penguins, dolphins, sharks, whales, sea lions and many more exciting creatures.

Exhibits, displays and programmes are geared towards kids, including Cl
▼ see more




Clown fish ©Robert Young
---
Greater Vancouver Zoo




Animal lovers of all ages will have a fabulous time exploring the Greater Vancouver Zoo. Boasting more than 500 animals from about 140 species, including lion, giraffe, black bear, bison, spider monkeys, coyotes, cheetah, hippo, lemurs and caracals, just to name a few. Children will simp
▼ see more




Lion ©Corey Leopold
---
Othello Tunnels




Just outside the town of Hope, about an hour's drive east of Vancouver, lies the Coquihalla Provincial Park, home to the celebrated Othello Tunnels.

This quintet of railway tunnels, which traverse the spectacular, steep-sided Coquihalla Gorge, were built for the Kettle Valley
▼ see more




Othello Tunnels ©Roddy Keetch
---
Nightlife
With the stunning mountain backdrop and pristine wilderness on the city's doorstep, visitors may think the locals are too preoccupied with outdoor entertainment to cultivate much of a night-time entertainment scene, but the nightlife in Vancouver is actually second to none. With plenty of pubs, clubs, lounges, and everything else in between, there is no shortage of entertainment when the sun sets on this vibrant city. Until fairly recently, city regulations forced bars and pubs to masquerade as restaurants, so you'll find many watering holes with token menus.
Vancouver's British heritage plays a part in it being a pub paradise, the heart of which is downtown, with countless pubs and bars tucked away and nestled in between shops, businesses and bistros. Chambar and Chill Winston are names to remember in Gastown's cobblestone streets, which are reminiscent of Amsterdam and bring tourists flocking here to imbibe and socialise.
Most of Vancouver's clubs and discos can be found downtown around Granville Street and Water and Pender streets in Gastown. The Roxy in Granville is a must and is one of Vancouver's top nightlife spots. Another busy entertainment district is Kitsilano, while a third is the up-and-coming nightlife district of Yaletown, which is a more upscale bar and lounge zone.
Vancouver also hosts several large festivals, including the Vancouver Fringe Festival, centred on Granville Island every September; the Vancouver International Film Festival, the Vancouver Jazz Festival and the Vancouver Folk Festival.
Brix & Mortar
Offering a warm ambiance and a diverse menu to complement its urban environment, patrons at Brix can sample anything from a Four Cheese Cannelloni to Quebec Wentzel Duck. Accommodating night owls, Brix also offers a gratifying late night menu comprising of spring rolls, Seven Spice Seared Ahi Tuna and oven baked pizza with Chorizo sausage, black tiger shrimp, fresh pineapple and the like. Brix is ideal for dinner with friends or a romantic date. Open daily for lunch and dinner.
Food Type:
International
Style:
Price:
3
Address:
1138 Homer Street
Website
www.brixandmortar.ca
---
Glowbal Grill and Satay Bar
Situated in the trendy Yaletown, the Glowbal Grill and Satay Bar serves inventive and delicious cuisine in a stylish yet sophisticated setting. With the option of formal fine dining on white linen tablecloths or funky dining, this restaurant caters to a variety of people. Try the Kobe meatballs with truffled spaghetti or the Seven-spiced rare Ahi tuna, and round off with the warm Brazilian chocolate coffee cake or the Maple Macadamia nut flan. Reservations are recommended.
Food Type:
International
Style:
Trendy
Price:
3
Address:
1079 Mainland St.
Website
www.glowbalgrill.com
---
Blue Water Café
Serving the largest selection of oysters, lobsters and prawns as well as delicious steak, the Blue Water Café is frequented by many celebrities, both local and international. With elegant décor and flawless service it's no wonder this restaurant is perfect when trying to impress a date or business associate. Try the White Sturgeon with red beet agro dolce, pumpernickel crust, chioggia beets and cauliflower puree, or the Beef Tenderloin served with porcini mushrooms, green chard and macaroni gratin with blue cheese. Reservations are recommended. The restaurant is open from 5pm till 11pm, with the Late Menu available till midnight.
Food Type:
Seafood
Style:
Romance
Price:
4
Address:
1095 Hamilton St
Website
www.bluewatercafe.net
---
Lupo
Nestled away in an old mansion located in downtown Vancouver's Yaletown district, this stylish Italian eatery evokes a 1930s charm and sophistication while serving delicious, inventive and expertly presented dishes. Try the Osso Buco, Filetto di samone or the Filetto di manzo Con porcini. You won't be disappointed. Lupo is open daily for dinner. Reservations are recommended.
Food Type:
International
Style:
Romance
Price:
4
Address:
869 Hamilton St
Website
www.luporestaurant.ca
---
Seasons in the Park
Wraparound windows afford stunning views of downtown Vancouver and the surrounding mountains at this sophisticated Canadian restaurant in Queen Elizabeth Park. Serving up tasty food at reasonable prices, Seasons in the Park is a Vancouver gem for both locals and foreigners. Try the Miso Soy Marinated Black Cod drizzled with pineapple chive vinaigrette and served with jasmine rice, and for dessert the much-loved Sunburnt Lemon Tart is a must. Dinner reservations offer views of the twinkling city lights and at lunch you can admire the leafy park and snow-capped mountains from the circular patio.
Food Type:
Modern Eclectic
Style:
Price:
4
Address:
Queen Elizabeth Park. West 33rd Ave and Main Street
Website
www.vancouverdine.com
---
Bistro Pastis
A friendly bistro donning classic white tableclothes and offering one of Vancouver's largest wine selections by the glass, Bistro Pastis is a great venue for a business lunch, after work drink or dinner with friends. A crackling fireplace creates a cosy atmosphere complimented by classic bistro fare with a contemporary twist, such as Moules et Frites, Traditional Coq au vin and Steak Tartare. As in any bistro in France there is a Plats du jour option and menus change regularly. Bistro Pastis is open for lunch and dinner Tuesday to Sunday, and brunch on weekends.
Food Type:
Café
Style:
Price:
3
Address:
2153 W 4th Avenue
Website
www.bistropastis.com
---
Pasparos Taverna
A charming Greek restaurant serving good no-fuss Greek food, Pasparos Taverna is a great place to meet with family and friends. A family business operating since 1974, Pasparos offers a warm atmosphere and mouth-watering homemade Greek cuisine, just as you'd find in Greece. With warm fresh breads, dolmades, roast lamb, superb Tzatziki, Avgolemono soup and a selection of souvlakia (kebabs), patrons are spoilt for choice. Combine that with top-notch service and a good Greek winelist (wine by the glass included) and you have all the ingredients for a successful restaurant. Open Monday to Friday for lunch, and daily for dinner.
Food Type:
Mediterranean
Style:
Price:
2
Address:
132 West 3rd Street
Website
www.pasparos.com
---
Guu with Garlic
One of Vancouver's best dining experiences, Guu with Garlic is part of a unique Japanese Tapas chain that is taking the city by storm. With a perfect ration of small portioned dishes at affordable prices, patrons can sample a handful of different dishes before getting full or feeling the weight on their wallet. The open kitchen and cheerful waiters add to the electric mood, as do the exotic cocktails and experimental drinks. Recommended dishes include the duck salad, assorted carpaccio, baked oysters, prawns and calamari. Don't miss the daily specials sheet on loose-leaf paper with even more delectable dishes. Open daily for dinner, reservations are recommended.
Food Type:
Japanese
Style:
Price:
2
Address:
1698 Robson Street
Website
www.guu-izakaya.com
---
Vancouver International Jazz Festival
As one of the biggest musical celebrations in the world, the International Jazz Festival is the most popular cultural event in Vancouver, with performances by more than 400 talented blues and jazz artists from around the world. The 10-day programme is full of famous names that play at various venues throughout the city, from formal concert theatres to open-air stages and public squares. The festival now attracts about 460,000 spectators every year and features some world-class musicians. Lovers of jazz and blues will be spoiled for choice during this summer festival in Vancouver.


Date 2017-06-23 to 2017-07-02 Website www.coastaljazz.ca

---
Bard on the Beach
One of Vancouver's most loved summer events is a picnic in Vanier Park followed by an evening performance of Shakespeare. Plays are performed in huge open-ended tents overlooking the picturesque English Bay with a mountain backdrop. Plays of past seasons have included Twelfth Night, King Lear, The Tempest and Titus Andronicus. The plays are consistently well-performed and conceived, with good actors. The picnic setting makes it a laid-back and fun way to get to grips with Shakespeare, providing a good introduction for children.


Date 2017-06-01 to 2017-09-23 Website www.bardonthebeach.org


Bard on the Beach ©David Blue
---
Vancouver Folk Music Festival
For nearly thirty years, one of Vancouver's favourite events drawing old and young alike is the annual Folk Music Festival; with a host of performers spread across seven stages, set in the heart of the Jericho Beach Park. Day, evening and weekend tickets are available at varying prices, with 'early bird' tickets on sale from April. Food stalls, a bustling market and a fantastic atmosphere add up to a wonderful weekend's entertainment, and for those who can't afford a ticket, the beach and the park on the perimeters of the fenced concert area are perfect places to still catch some of the music, picnic, or browse the many stalls lining the beach, selling anything from corn on the cob to First Nations crafts, tie-dyed t-shirts and jewellery.


Date 2017-07-14 to 2017-07-16 Website www.thefestival.bc.ca


Vancouver Folk Music Festival ©Rosalee Yagihara
---
Polar Bear Swim
Leaping into icy water in the middle of winter may not be everyone's idea of fun, but the annual Polar Bear race has been running for nearly 90 years in Vancouver. Every New Year's Day, thousands flock to English Bay to take the plunge and celebrate the beginning of the year, led by the Vancouver Polar Bear Swim Club (one of the oldest and biggest of its kind in the world). Outrageous costumes are the order of the day and many come to participate in the Peter Pantages 100 yard (90m) race, named in honour of the founder of the club in 1920. Participants must register before the event at the English Bay bathhouse on New Year's Day and receive a commemorative badge after the swim. Registration and participation in the event is free, and for those not brave enough, a good spot on the beach with a mug of hot chocolate is the perfect (and warmest) way to view the goings-on.


Date 2015-01-01 to 2015-01-01 Website


Polar Bear Swim ©jsnsndr
---
Vancouver Pride
The Vancouver Pride Week is a colourful, vibrant affair, celebrating the city's Gay, Lesbian, Bi-sexual and Transgender (LGBT) community and its many supporters in a variety of shows, festivals, parties and the ever-popular Pride Parade. Each year, a special team comes up with a theme and specific image for the Pride Week, and in recent years, the focus has been on issues and battles faced by the LGBT community, but in a more celebratory than political manner. In 2005 the theme was 'No Turning Back', a celebration of the passing of gay marriage federally in Canada and the fight it took to have the bill passed countrywide (gay marriage was recognised in several Canadian provinces prior to this). It may seem all very serious, but that is hardly the case. For a week, beautiful Vancouver is transformed into a rainbow-coloured riot, fun is the order of the day, and the more outrageous the costume, event or party, the better.


Date 2017-08-06 to 2017-08-06 Website www.vancouverpride.ca


Pride Parade ©Guilhem Vellut
---
Travel Guide powered by www.wordtravels.com, copyright © Globe Media Ltd. All rights reserved. By its very nature much of the information in this guide is subject to change at short notice and travellers are urged to verify information on which they're relying with the relevant authorities. Globe Media and UNIGLOBE Travel does not accept any responsibility for any loss or inconvenience to any person as a result of information contained above.