phoenix
General
Weather
Airports
Attractions
Kids Attractions
Events
Restaurants
Shopping
Nightlife
---
Introduction Region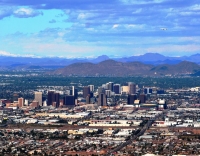 Phoenix ©DGustafson
Arizona's capital city, Phoenix, has risen from the mythical ashes of an ancient agricultural Indian village to become a sprawling modern metropolis, about the sixth largest city in the US. Its rapid urban growth has filled what is known as the 'Valley of the Sun', encompassing the neighbouring towns of Scottsdale, Mesa and Tempe as suburbs, and it is one of America's fastest-growing urban centres, claiming to have more five-star hotels than any other city in the US.
With luxurious resorts and spas, glitzy shopping plazas, upmarket restaurants and superb golf courses, together with over 300 days of sunshine a year, the area has become a popular winter getaway for the rest of the country. However, while some may know Phoenix as a retirement community, it is home to both the University of Phoenix and the University of Arizona, as well as over a dozen other colleges, ensuring a huge student population to keep Phoenix 'young'.
Phoenix has a number of interesting museums, including the Heard Museum of Native American culture and the Phoenix Art Museum. A scattering of parks, a wide variety of restaurants, and a well-developed arts community makes a vacation in Phoenix an attractive prospect for travellers of all ages.
Phoenix's greatest attraction, however, is its location: the city is surrounded by a vast cactus-studded desert and the magnificent scenery of the Red Rock Country around Sedona, whose landscape of canyons, pinnacles and red cliffs have been the setting for numerous Wild West films and novels. The Apache Trail is a winding scenic drive that passes through some of the beautiful rugged terrain of central Arizona, passing ghost towns, ancient ruins and the Superstitious Mountains.
Climate Info
With its arid climate, Phoenix has been ranked the hottest city in the United States, and one of the hottest in the world. The temperature in Phoenix registers at least 100°F (38°C) or more on an average of 90 days of the year, mostly between June and September, which are the summer months. Most days are sunny and hot, and rainfall is scarce, although there are thunderstorms sometimes between July and September, caused by humid air blowing in from the Gulf of California. Winters bring mild, sunny days, with occasional fog. Snow is rare, but has been recorded; frost is frequent in the winter months.
Convert to Imperial
Convert to Metric
| | | | | | | | | | | | | |
| --- | --- | --- | --- | --- | --- | --- | --- | --- | --- | --- | --- | --- |
| Month | Jan | Feb | Mar | Apr | May | Jun | Jul | Aug | Sep | Oct | Nov | Dec |
| rain (cm) | 21 | 17 | 22 | 5 | 4 | 3 | 21 | 26 | 18 | 16 | 15 | 24 |
| max temp (c) | 19 | 21 | 24 | 29 | 34 | 40 | 41 | 40 | 37 | 31 | 24 | 19 |
| min temp (c) | 5 | 7 | 9 | 13 | 18 | 23 | 27 | 26 | 23 | 16 | 9 | 5 |
| good weather | no | yes | yes | yes | yes | yes | yes | yes | yes | yes | yes | no |
Getting Around
Phoenix is spread out, and distances between places of interest to visitors tend to be significant; therefore, outside of the downtown area, a rental car is ideal. However, the Valley Metro light rail in Phoenix is one of the busiest light rail systems in the country, and has made getting around much easier for visitors. Valley Metro buses access areas the light rail doesn't reach and the rail and bus routes have the same basic fares: adult fares start at $2 and tickets can be purchased from vending machines at all stations. There is also a free central city shuttle bus service, called DASH (Downtown Area Shuttle), which is useful for accessing attractions like the state capitol and major shopping malls. Taxis are freely available from local companies but tend to be expensive and are not recommended for travelling long distances.
Phoenix Sky Harbor International Airport (PHX)
| | |
| --- | --- |
| Location | The airport is situated three miles (5km) southeast of Phoenix. |
| Time Difference | Local time is GMT -7. |
| Contacts | Tel: +1 602 273 3300. |
| Transfer terminals | The three terminals (Terminals 2, 3 and 4) are connected by a free inter-terminal train system, the PHX Sky Train. |
| Getting to city | The PHX SkyTrain transports passengers between terminals, parking lots, and the 44th Street METRO Light Rail, from where it is possible to connect to the city centre, all free of charge. The Valley Metro system, consisting of the Metro Light Rail and a fleet of buses, charges a standard fare of $2 for an adult. The Valley Metro bus Route 13 stops directly at Terminal 2. Airport-to-door shuttle vans can also be arranged. Many hotels and resorts provide a free pick-up service for their guests, and taxis and limousines are also available for hire at the airport. |
| Car Rental | Car rental companies include Advantage, Alamo, Avis, Budget, Dollar, Enterprise, Fox, National, Hertz, Payless and Thrifty, among others. |
| Airpor Taxis | Metered taxis are available outside each terminal. The minimum charge for an airport pick-up is $15. |
| Airport Facilities | Facilities include shops, restaurants, pet parks, ATMs, currency exchange facilities, free wifi, mailboxes, and ground transportation facilities. All terminals are fully wheelchair accessible. |
| Car Parking | Parking at Phoenix Sky Harbor International Airport offers a range of daily maximums depending upon proximity of the car park to the terminals. Parking lots are open 24 hours a day, 7 days a week. A free cell phone waiting lot is also provided. |
| Website | www.phxskyharbor.com |
The Grand Canyon




A mile deep, 277 miles (446km) long, and up to 18 miles (29km) wide, the breath-taking grandeur of the Grand Canyon is so impressive that words simply cannot do it justice. One of the great natural wonders of the world, it was formed by the cutting action of the Colorado River over milli
▼ see more




Grand Canyon ©John Kees
---
Taliesin West




Taliesin West was legendary architect Frank Lloyd Wright's winter home and school from 1937 until he died in 1959, aged 91. Today the facility can be visited as the Frank Lloyd Wright Foundation with tours providing a general introduction to Wright and his hugely influential theories of
▼ see more




Taliesin West ©Lar
---
Desert Botanical Garden




If you don't particularly like cacti before your visit, there is a good chance you'll fall in love with them by the time you leave. These Desert Botanical Gardens get high ratings not only for the size and range of the botanical collection - about 21,000 plants, representing 139 species
▼ see more




Desert Botanical Garden ©Dave Pape
---
Heard Museum




The Heard Museum is home to America's finest collection of Native American art, making this an essential attraction for visitors looking to gain an understanding of the West's original inhabitants. In total there are more than 39,000 works of cultural and fine art ranging across textiles
▼ see more




The Heard Museum ©Kirs10
---
Lake Mead and Hoover Dam




The 1.5-million acre Lake Mead Recreation Area was created in 1936 as part of Roosevelt's New Deal programme. A popular excursion from Las Vegas or even Phoenix, Lake Mead is a haven for outdoor recreation like boating, swimming, canoeing, fishing, waterskiing, and even scuba diving. Lak
▼ see more




Hoover Dam ©Raquel Baranow
---
Petrified Forest National Park




Located in the northeastern corner of Arizona, Petrified Forest National Park was designated a national monument in 1906. The trees within the park are over 225 million years old, and have over that period transformed into brilliantly-coloured minerals, the world's largest concentration
▼ see more




Petrified Forest National Park ©Finetooth
---
Kingman




Kingman is a nostalgic tourist destination in Arizona. Located in the northeastern corner of the state, between the Grand Canyon and Las Vegas, the city is a popular fuelling stop between the two destinations; however, Kingman is most famous for having been a major stop along the celebra
▼ see more




Kingman, Arizona ©JlsElsewhere
---
Pueblo Grande Museum and Archaeological Park




Located surprisingly close to downtown Phoenix, the Pueblo Grande Museum and Archaeological Park is the site of the remains of a 1,500-year-old Hohokam village. The site is a National Historic Landmark and the largest preserved archaeological site in the region. Mysteriously abandoned ar
▼ see more




Pueblo Grande ©Offworlder
---
Travel Guide powered by www.wordtravels.com, copyright © Globe Media Ltd. All rights reserved. By its very nature much of the information in this guide is subject to change at short notice and travellers are urged to verify information on which they're relying with the relevant authorities. Globe Media and UNIGLOBE Travel does not accept any responsibility for any loss or inconvenience to any person as a result of information contained above.